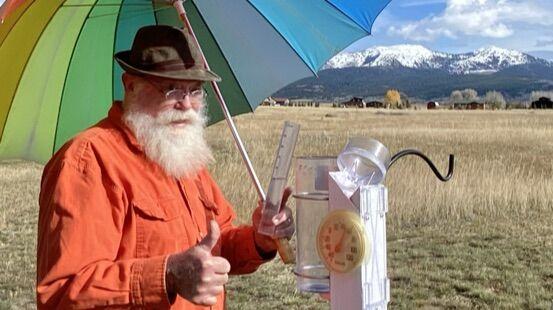 According to Dr. Van Kirk of the Henry's Fork Foundation, so far this water year, which began October 1, the reservoirs in our watershed are a few hundred acre-feet above average for this date. That's thanks to above-average rainfall this month, and the even better news is that the wetter than average trend is forecast to continue, bringing more moisture to the reservoirs and aquifers before the snowpack begins to store it until spring. And as we said in last week's blog, a double-dipping La Niña promises to produce above-average precipitation all winter. So water-wise, things are certainly looking up.
Here in Teton Valley, I measured 2.95 inches of rain and melted snow in October, a delightfully high amount for a month that typically produces 1.77 inches of water. This week alone brought over an inch of rain to my gauge north of the airport in Driggs.
According to last week's US Drought Monitor, our little corner of heaven is still experiencing moderate to severe drought conditions, with parts of SE Idaho to our south remaining in the severe drought category. Still, with this wonderfully wet October and the likely prospect of plenty of precipitation to come, the trend is in the right direction to avoid the start of a multi-year drought in 2022.