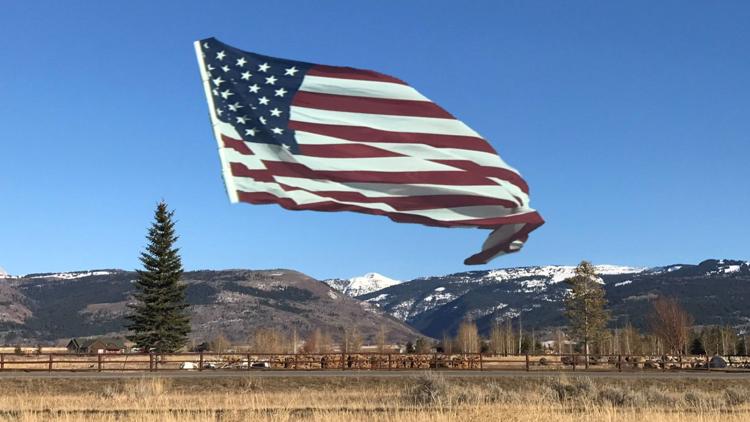 If you're new to Teton Valley, you may have noticed the wind. Yes, this is a windy place. If you've gotten here since May, you just missed the windiest part of the year. That was from December to May with March 28th being, historically, the windiest day of the year. March 28th wasn't too bad this year though; most people noticed the snow, not so much the wind. We are now in a relatively calm part of the year, believe it or not. But that's all based on long term averages which tend to mathematically wash out the occasional big gusts that last for a matter of seconds and only seem like an eternity.
At least two people on the Teton Valley Weather Facebook page this week asked me about the prevailing wind direction. That is good information to have if you are planning to build and landscape a home. You might want to consider adding windbreaks or snow fences, for example. Or you just might want to know which way to go when you search for your missing lawn furniture. We can tell you the prevailing wind direction, but remember that it, too, is based on long term averages. There are great local variations and short term changes in the prevailing wind direction that math also tends to gloss over. Wind gets funneled through canyons and swirls around mountains; it's even influenced by the differential heating of nearby plowed fields or paved parking lots. Maybe the best thing to do is check with neighbors for information about the particular piece of Teton Valley you're interested in. They will remember the most memorable (dah!) wind events, and that will give you a pretty good idea of what to be ready for. But the overall day to day wind pattern is what the prevailing wind tells us, and that's important to know too.
On the average, the predominant wind direction here is from the south and west. From late April to late June, it's more from the west, and the rest of the year, it's more from the south. Why that change happens would be a good subject for another blog or a bigger newspaper. But know that if you are building a springtime windbreak to protect young crops, plan on a west wind, and if you are planning a snow fence to keep your driveway clear, plan on a south wind. And be sure to make friends with your neighbors to the north and east so you can get your stuff back any time of year. That's how we do it in Teton Valley.