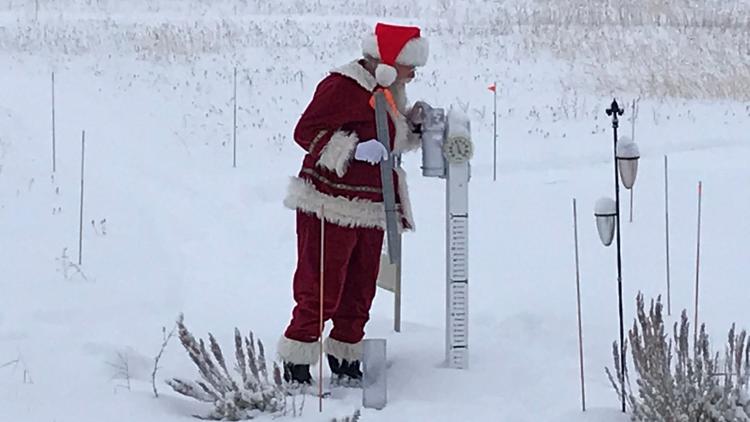 'Tis that wonderful time of year again, time to take a break from the thermometers and the long range forecasts and just say thank you. It has been an honor to be allowed to be your genial Teton Valley weatherman for going on 5 years now. I have been blessed with several interesting and fulfilling jobs in my lifetime, and being able to give back in some small measure to the people of this beautiful valley is a highlight of them all. I love it when people tell me how much the Teton Valley News Weather Blog and the Teton Valley Weather Facebook page help them with their daily planning and special events. I often don't know what to say when I hear things like that and may just say thank you or click "like," but I love to hear that the effort makes people's lives just a little bit better. It makes me determined to try even harder to get it right most of the time and do the best job I can for you, the good people of Teton Valley.
The Teton Valley News Weather Blog and the Teton Valley Weather Facebook page are ideal two way streets for sharing information and the beauty of what we're seeing going on with the weather in Teton Valley. We strive to include the same about where we're likely to be going when we head out, too. Like someone said recently, Teton Valley may stop at the border but the people don't. I think if I make any New Year's resolutions this year, they will include expanding the coverage to include more information about places we all go from time to time outside the valley.
Special thanks to Teton Valley News for starting the Weather Blog in the first place. As long as there have been people in Teton Valley, weather has been an integral part of their lives. The newspaper has included weather from the beginning, and as far as I can tell, the first on-line weather blog appeared at about this time of year in 2012 by Matthew Leach. Thanks for a great start, Matthew! And thanks to Todd Cook, the Teton Valley Weatherman who was here before me. He would ask me to write guest blogs for him from time to time, and in 2015 asked me to take over. And thanks to the great Teton Valley News editors who showed me the ropes and gave guidance as to how Teton Valley Weather could truly empower the people.
And while we're at it, a huge thank you to the great full time professional meteorologists at the National Weather Service who not only have all the good toys but also have the weather knowledge and freely share with the rest of us to make us look good. Without them, I'd know just enough about weather to get myself in trouble in a job like this. By partnering with them, I can take their thoughts about the weather for the large area they cover and tailor it to fit the special place we call home. And the same goes for the meteorologists working for other organizations, like my old friends back in Atlanta at The Weather Channel.
But the biggest thanks go to the good people of Teton Valley. The weather, the scenery, the recreation all make Teton Valley beautiful, but the community here is its true beauty. We may not always follow the same rules or do things they way they do in other places, but dang it, that's why we're a special place, and I hope we never lose that. Extra thanks to the people who go to the time and expense of setting up and maintaining personal weather stations that report on line, a rich source of current and historical weather conditions, or who become trained weather spotters, or take the time to report significant weather when they see it. And thanks to my chief proof reader and helper in everything I do, my wife Cathy. Of all the great people in Teton Valley, none are more treasured than the young people. Beginning in January, the Teton Valley News Weather Blog will be dedicated to supporting Scouting for all youth in Teton Valley. We'll see you in the snow caves!