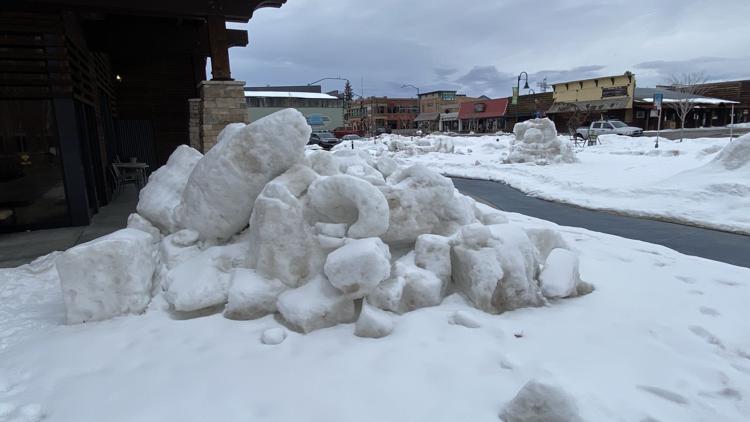 Before the new year and month began, Both my Old Farmer's Almanac and NOAA's Climate Prediction Center told us that January was going to be colder than average. NOAA went on to say that January would be an average month for snowfall while the Almanac said it would be more snowy than average and that most of the precipitation would fall early and late in the month. So how did it turn out?
Using the data from Driggs Reed Memorial Airport, the average overall temperature last month was 25 degrees F, 7 degrees warmer than the historical average of 18. The average high temperature this January was an above freezing 34, which is 5 degrees warmer than the historical average. The average nighttime low was also 5 degrees warmer than history says it "should" have been, at 11.
Well, how did the long term predictions do as far as snowfall? The airport does not report the number of inches of snow that fall each day, but at the CoCoRaHS measuring site just north of the airport, 34 inches of snow fell this January. That is over twice the average snowfall for the month. Who can forget all that New Year's snow as January began? But of the last 10 days of the month, 7 of them included at least some measurable precipitation, according to airport records, so the beginning and the end of the month were pretty snowy. Score one for the Old Farmer's Almanac.
And what does the almanac predict for February? Temperature and snowfall both above average by one degree and half an inch respectively. The snowiest time will be early in the month. There is mention of rainy periods starting mid month and sunny days the last week of February. Maybe that groundhog was right after all?
As for the Climate Prediction Center, their latest prediction is in agreement with the almanac, slightly above average precipitation and temperature. Average temperatures for us in February rise from highs of 28 and lows of 9 at the beginning of the month to highs of 36 and lows of 17 at the end. The average amount of February snow is listed at 9.6 inches, down almost 6 inches of snow from January's average.
As this February plays out along with its extra leap year day, you can keep track of what your neighbors are seeing and tell us what's going on where you are on the Teton Valley Weather Facebook page. We'll be able to compare the forecasts by various computer models, human beings, and groundhogs and see how they did.