As the first cool breezes of winter begin to chase away the heat of summer and patches of frost begin to touch some Teton Valley gardens, many of us are starting to wonder what the upcoming winter has in store for us. For many that means opening up the almanac and taking a look, but this year the answer you get will depend on which almanac you open up, and the difference will add a little more excitement to this winter no matter how it turns out.
The Old Farmer's Almanac's winter forecast for the country as a whole goes like this: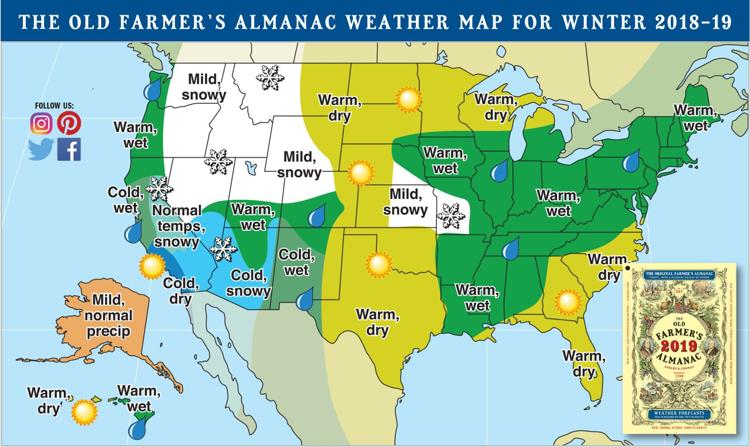 This winter, we expect to see above-normal temperatures almost everywhere in the United States, except in the Southwest, where we're predicting a colder-than-normal season. It's still wintery, of course, but it's not an especially frigid year. Our milder-than-normal forecast is due to a decrease in solar activity and the expected arrival of a weak El Niño, which will prevent cold air masses from lingering in the North.

As for snow, we expect to see below-normal levels of snowfall in areas that normally get snow, with the interior West and a small part of the nation's midsection being the snowier-than-normal exceptions.

 
But the Farmer's Almanac, a separate publication, has a different national forecast: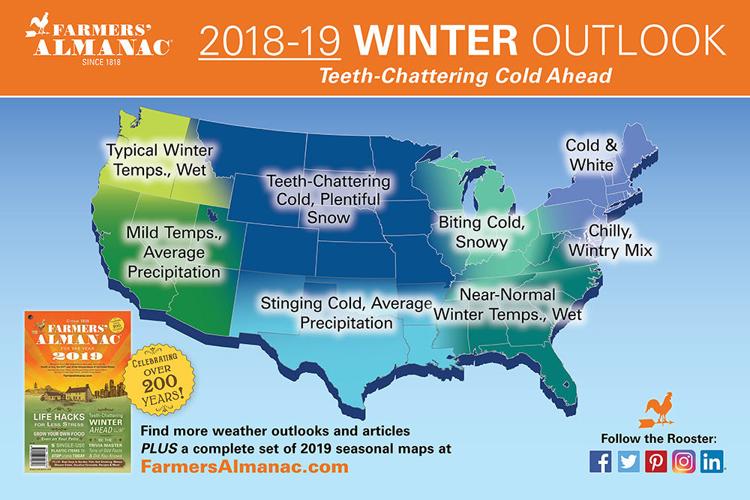 The real teeth-chattering arrives mid-February especially in the following zones:  Northeast/New England, Great Lakes, Ohio Valley, Midwest, and Southeast (yes, even the Southeast will be in the chill zone!).

 

The Farmers' Almanac, which bases its amazingly-accurate long-range forecast on a mathematical and astronomical formula developed in 1818, is also predicting above-normal precipitation (lots of snow!) for the Great Lakes states, Midwest, and central and northern New England, with the majority of it falling in January and February.
In summary:
Above-normal snowfall predicted for Great Lakes, Midwest, New England, Pacific Northwest

Frigid weather is expected in mid-February, which may also bring blustery and bitter winds, widespread snow showers, especially in zones 1, 2, and 3.

Winter will hang on with stormy conditions up through the official start of spring, especially for the East Coast.
Much to the regret of snow lovers, NOAA agrees more with the Old Farmer Almanac's assessment for us. But the Farmer's Almanac editor Peter Geiger counters: "Contrary to the stories storming the web, our time-tested, long-range formula is pointing toward a very long, cold, and snow-filled winter. We stand by our forecast and formula, which accurately predicted the many storms last winter, as well as this summer's steamy, hot conditions."
Who will win the battle of the Almanacs? Only time will tell. Stay tuned and watch it unfold on the Teton Valley Weather Facebook page.