Whether or not to travel this season might depend on the status of the covid-19 epidemic, but for many who have contacted me through Teton Valley Weather, wildfire smoke is their major concern. They are planning their first trip from the East to the Tetons this fall and are at the tipping point of canceling their trip because of air quality and want to know what I think they should do.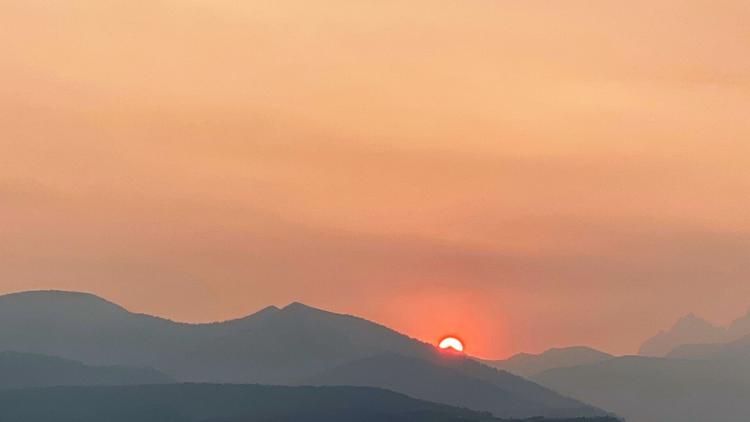 My answer is always the same. Unless you or someone in your party has a respiratory condition that might make our thin and sometimes smoky air a real hazard, definitely do not cancel your plans. Of course it is impossible to say where a new wildfire will break out and change everything, but in general, your visit might even be enhanced by a little smoke, especially at sunrise and sunset. And the views you bring home with you in photos and memory will have a unique quality that will make them outstanding from the typical postcard pictures. For an adventurous traveler, it will certainly be worth some itchy eyes for a few days. And even when the mountains are completely obscured, either by smoke or clouds, that forces you to notice the smaller, closer spots of beauty that might be overlooked otherwise.
Of course we know that the smoke represents tragedy, death, and destruction which is in no way beautiful. To a first time visitor, though, some smoke can add eerie beauty and a bit of excitement to the story of their Western experience that they will share for years to come. (There goes Grandpa again.) But even more importantly, it will raise awareness of the danger of wildfire and the impact it has for many miles around. With luck, each visitor will become one of Smokey Bear's new friends and keep us all safer.
So if you are considering a fall trip to the Tetons and Yellowstone before winter sets in, bring it on! My favorite time of year is the one we're in now, and right now, this is it. If you have a medical condition that makes it questionable, check with your doctor first. Shoot, maybe he or she will think it's a great idea and come out with you. This is the land of adventure; like the great Dave Stamey song says, "it may not be what you are looking for, but it's here in what you find." It's the West.