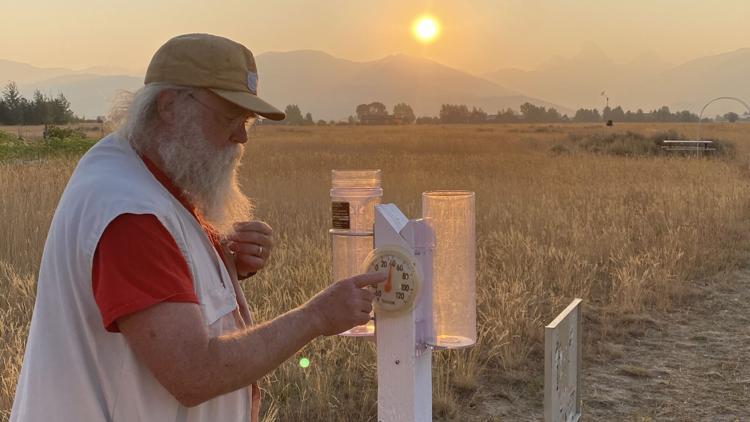 Finding long-term weather records for Teton Valley has always been frustrating. There are plenty of good honest accounts of extreme weather from solid people whom no one would question. But you know science, without verified numbers, those stories are somewhat diminished as "anecdotal evidence." But when you consider the source, any sincere investigator would be foolish to dismiss the stories about Teton Valley's summers and winters past. To me, it's the fault of the data, not the people, that the data isn't always there to verify the stories.
Take this past week, for example. Late in the week when the weather turned hot for a few days, the question of whether or not we had reached a record high for the day could not be definitely answered by the data. Regular readers of the Teton Valley Weather Facebook page may have noticed some frustration in my posts those days. And let's take two sources of historical data, Weatherbase.com and NOWData on the National Weather Service website, although there are others as well.
On Friday, the mercury at the Driggs-Reed Memorial Airport's weather station reached 87 F. On Saturday it was 91, and on Sunday it reached 85. So were those records for the date?
If you go by NOWData numbers, the answer is no, no new records were set but one tied. According to that source, the record continues to be held by 1950, when Friday's date reached 94 and Saturday's reached 91, a tie. Sunday's record stands at 89 set in 1955.
But if you go by Weatherbase data, the story is different; we set new daily high on all three days. Last Friday, our 87 beat the Weatherbase high for the date of 85 set in 2006. Saturday's 91 easily beat the Weatherbase record of 86, also in 2006, and Sunday's 85 edged out the old 84 Weatherbase record set in 2013. A hat trick, three records in a row.
I doubt that new records will be officially declared by the National Weather Service since, by the numbers on their site, none were set. But that raises the question, where did those numbers come from. Did they really have officially calibrated weather stations in Teton Valley as far back as 1904, the stated period of record for NOWData? Or were the early numbers filled in with data from nearby cities which, as you know, can be very different than Driggs. This might have seemed trivial if and when it was done, but in these days of strong attention to climate change, it is important to have accurate historical data. Blanks would be better than false numbers from somewhere nearby.
"Official" weather data is really a matter of opinion and assumption. Teton Valley Weather would much rather declare an old farmer's weather records written in the margins of his Farmer's Almanac as "Official for Teton Valley," than rely on possibly altered records from unknown sources. And you know what? When we find those, Teton Valley Weather is sure they will verify the "anecdotal evidence" we have from our long-term residents.