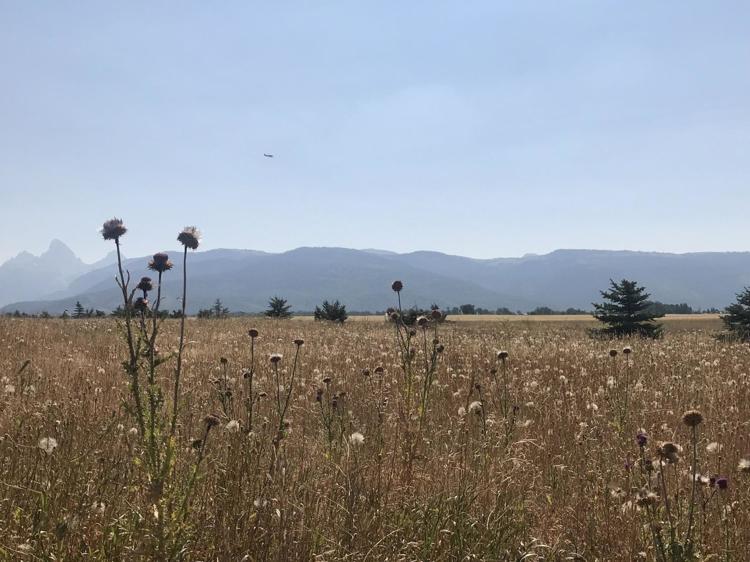 So many people have asked me, hopefully, if the really hot weather is finally over. And what about all the smoke, will it go, too? The answer to both is… I hate to say it… maybe not.
In recent days, our unprecedentedly l-o-n-g string of hot weather has backed off a bit, and temperatures are only a few degrees above normal. Normal highs for this time of year in Teton Valley are in the upper 70s F, and normal lows are in the mid 40s. It would be nice to think that the trend toward normal temperatures will bring us down into the mid to low 70s at the start of September. I wouldn't mind that one bit, but we have to remember last September. That trend didn't happen last year, and on September 3, the mercury topped 90 degrees, the last gasp of summer. That could happen again if high pressure builds back in and blocks cooler, wetter air from moving our way. Or maybe last week was the last gasp of summer this year; only time will tell. I know which one I'm rooting for.
Now as for the smoke, that is an even trickier question because it depends not only on wind and weather, but the number, size, and location of wildfires, and that is not something we can predict. Like we saw this month in Game Creek, fires can pop up suddenly, seemingly out of nowhere. And like we've seen this month with larger fires in the West, they can be incredibly difficult or impossible to contain and put out. Who can forget the report that what might have been the strongest tornado in California's history this month was on fire? There's no reason why something like that couldn't happen here too, given our hilly geography and all the dry grass and brush created by the wet spring we had. So, predicting when the smoke will be gone and stay gone is more a matter of hope than science.
People talk about "Chamber of Commerce" weather forecasts, so here's mine: Best case scenario is that we are past the really hot weather and really bad smoke, no more fires will start and the existing ones will be contained until the weather can help the firefighters put them out. Fingers crossed. And now for reality: The Climate Prediction Center is forecasting above average temperatures, but not extremely above, to continue for the next couple of weeks at least, along with normally low precipitation. What precipitation we get will likely include afternoon and evening thundershowers which is not good news for the fire situation.
So there it is: the good, the bad, and the ugly. Here we go into late summer/early fall. Fasten your seat belts and join the fun on the Teton Valley Weather Facebook page.