As I write this one morning in late April, there is snow flying and the ground is turning white. Hard to believe that it's time to be talking about thunder and lightning, but so it is. It may be early, but we have already had some pretty impressive lightning in Teton Valley this year, some this week in fact, and more is certain to come.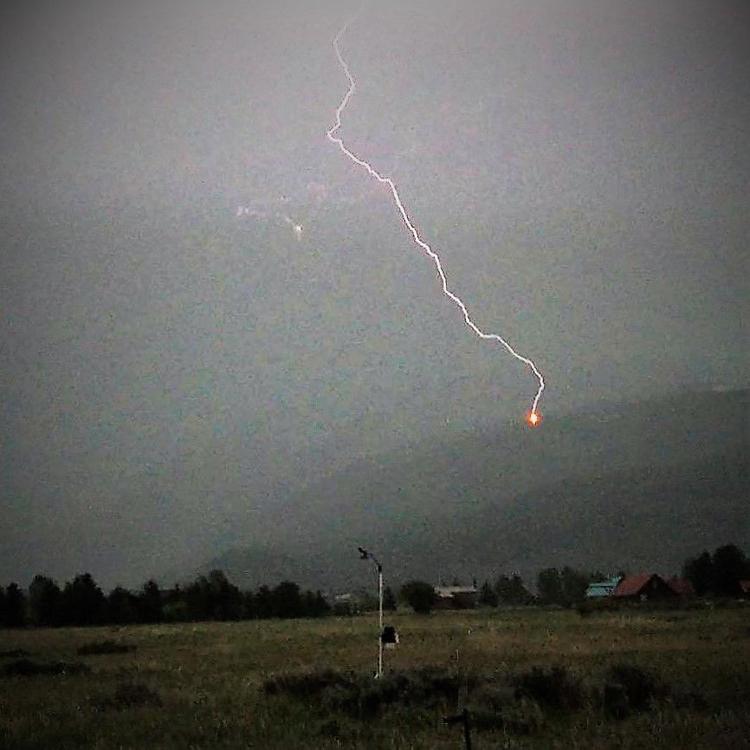 If you moved here recently from other parts of the country, you will notice that the thunderstorms we have here are different than the ones you may have been used to. We typically don't get as much rain from them as wind, thunder, and lightning. Hail may be more common than you're used to as well. Ours are sometimes called dry or high-based storms which form so high above the surface that much of the rain evaporates before it hits the ground. This is a mixed blessing at best.
One of the downsides to these dry thunderstorms of ours will become more evident later in the summer. Lightning can easily spark wildfires in the dry late summer underbrush, and without much rain to put the small fires out and plenty of wind to fan them, the little fires become big fires. Sometimes this happens with almost explosive speed, and sometimes it happens hours or even days after the lightning strike started the smoldering.
The other problem with this kind of storm is that without rain, people are not as likely to go inside during the storm. If you can hear the thunder, the storm is probably close enough for you to be struck by lightning, raining or not. Some storms can produce lightning strikes 10 miles away from the storm, even where there are clear blue skies overhead. And the fact is that while your chances of being struck by lighting are better than winning the lottery, lightning doesn't even have to strike you directly to hurt you; ground current and side flash can be ­deadly well away from the strike.
There is no safe place to be outdoors when you can hear thunder. Out in the open, on a mountain or ridge, in or on the water, under a tree, close to a chain link fence, on your deck, in the mouth of a cave, or in an open tractor are not where you want to be when you hear thunder. Even laying on the ground in your tent is not safe. In a sturdy building or metal topped vehicle is where to be, preferably not taking a bath or handling things that are plugged in.
We'll have thunder often in the warmer weeks ahead, especially in the afternoons. You won't want to stay cooped up indoors because of it, but whatever you do, you should have a plan in mind just in case. Where is the nearest safe place and how fast can you get there? The time to figure that out isn't when you hear the thunder roar, it's before. Check the forecast before you venture out on a climb or long hike, and change your plans if thunderstorms are likely to begin while you're in a bad spot.
Your Teton Valley Weather Facebook page and other forecasts can give you a general idea of when to expect a chance of thunderstorms, but the best warning system you have are your own ears. Don't wait for the rain to start. "When thunder roars, go indoors."
A particularly tragic lightning strike took the lives of some of Teton Valley's own in 1951.  You can read more about it in the August 13, 2015 edition of the Teton Valley News.