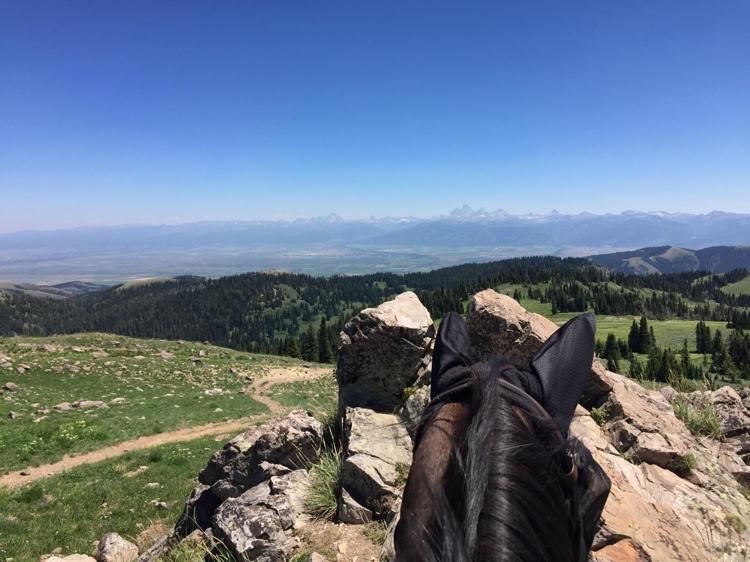 The hot dry days of summer carry the risk of wildfire. Smoke in the air can be annoying and reduce air quality to unhealthy levels, but the smoky areas are lucky compared to those threatened by the fires themselves. It's been a couple of years since parts of Teton Valley found themselves in the position of possible evacuation due to nearby wildfires. What to pack and where to go had to be figured out on 24 hours notice or less. That's difficult enough for a family, but the problem is multiplied when animals must be included in the plan. Many emergency shelters will not accept pets and what in the world do you do with your horses? That's the question I asked Sarah Stiger Ewing, a very accomplished Teton Valley horsewoman who often rides the beautiful hills around the valley and travels with her horses frequently.
One important idea Sarah points out is the need for an Evacuation Checklist. Sarah uses a checklist any time she travels with her horses and refreshes the list after every trip. An Evacuation Checklist is even more extensive, containing everything the horses and humans might need for more than a month long trip. Corrals, hay, water for the horses, computer, hard drive and power cords, important papers like insurance policies and passports, books and family heirlooms for the humans. This checklist would be difficult to come up with in the hours before an evacuation is ordered. Now would be a good time to start working on it if you don't already have one.
Which brings us to Sarah's second point. Like we say in Boy Scouts, "Be Prepared!" Sarah knows it takes a good 2 days to pack her trailer for an extended stay away from home. Start packing early, big things first, and follow your checklist carefully. Planning ahead and being ready will leave you in better shape than trying to do it all in the last minute confusion.
Whether you have livestock or not, emergency checklists and preparing early are good bits of advice for everyone. Instead of corrals and hay you might need to substitute carriers and pet food, but the idea is the same. And the really good news is that here in Teton Valley, the basics have already been done for you. Check with Teton County Idaho Emergency Management. You might be surprised at the resources they have to help you with your emergency planning. Prevention, too.
Some people have told me that they don't like to think about terrible events like wildfire and that planning for it might somehow make it happen. Personally, I have found just the opposite to be true. You know how it never rains when you remembered to close your windows and bring your raincoat? Enough said.