On a cold windy afternoon last week, the Teton High girls' soccer team beat Sugar-Salem 1-0 in a surprise upset to claim the district title and a berth to the state tournament.
The Diggers beat the Timberwolves twice in regular season match-ups, but after Teton beat South Fremont on Oct. 12 for a spot in the district championship, the girls were ready.
"This was the one game we knew we needed to win," said Coach Cathy Thomas. "They played with a lot of heart."
The conditions required that the players give it their all. "The wind was such a factor and really upped the intensity," Thomas said. "It was tough to judge the direction of the ball."
With about 15 minutes left in a game in which Sugar made far more shots on goal than Teton, sophomore Bobbie Guffey was the player who finally found the back of the net. Sophomore and keeper Grace Zogg earned the distinction of player of the game with several close saves.
Senior and captain Maggie Graupner had to sit out most of the season after spraining her ankle early on, and Thomas said she returned with phenomenal games in the district tournament.
"She's such a strong leader, it's infectious across the field," Thomas said about Graupner. "She makes a big difference out there."
The girls are hitting the road early on the morning of Oct. 21 for the 8.5-hour bus ride to Post Falls for the state tournament. They play McCall-Donnelly at 11 a.m. on Thursday morning. The tournament will be held on turf fields, a different experience for players accustomed to grass, although most of the girls have played on turf in Jackson at some point.
"It's been such a different season," Thomas reflected. "We had no idea what the season would look like or if we'd even have one, so we decided in August to be grateful for whatever we got. So far so good. Every game has been a huge blessing."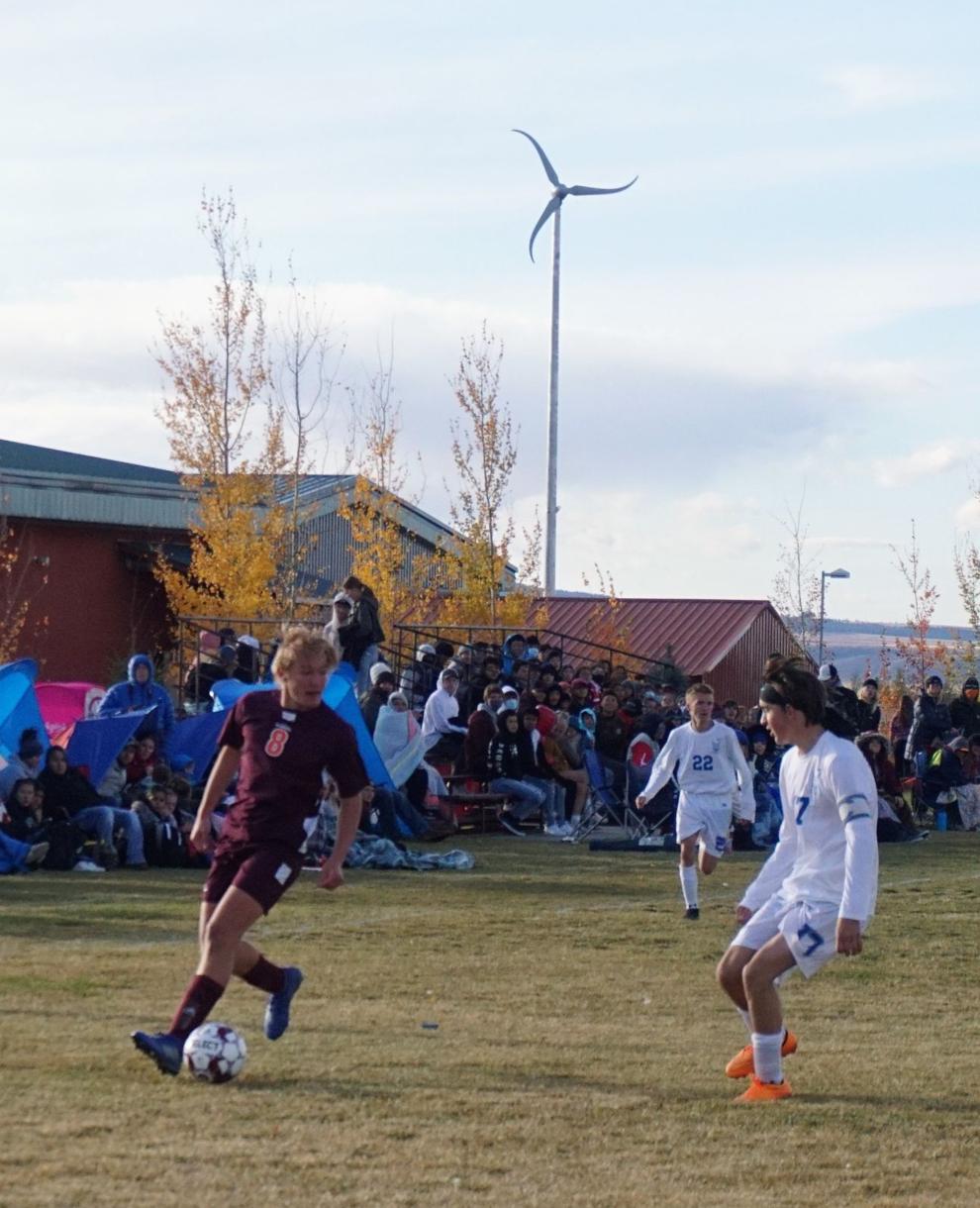 Boys' team ends season
The Teton boys' soccer team played their own district championship game, also against Sugar, soon after the girls finished. Unfortunately, although the boys have a 1-1 record against Sugar this season, the Diggers took the title for the fourth straight time on Wednesday.
Halfway through the first half, a Digger landed a header in the goal, and despite a drawn-out battle in the wind for both teams, the game ended with a 0-1 score. The players finished the game exhausted from fighting the headwind and each other.
With such a small conference (South Fremont didn't field a boys' team this year) there is no second slot in the state tournament for the district runner-up.