Mark Goddard estimates that he's put 500 hours of donated labor into the 5th Street Skate Park in Driggs since its inception in the early 2000s. That trend continued last month as the professional park builder logged another week plus of work, adding a sweeping corner and tall extension in the northeast corner and patching some of the concrete seams throughout the park.
"This park is a labor of love and has been a whole community effort," Goddard said. In 2017 he raised over $3,000 through the Tin Cup Challenge for a park addition and finally had the time earlier this summer to make it happen. Walters Ready Mix donated a load of park-specific concrete, Grande Rental helped out on material costs, the City of Driggs kicked in some free equipment use, and several volunteers offered up time, wood, or brownies.
Goddard no longer lives in Teton Valley but holds a lot of pride and affection for the skate park. He heard reports this spring that the park was busy throughout the height of the COVID lockdown, with socially distanced skaters, bladers, and bikers making frequent visits to the park and surrounding trails.
"It was ground zero for physical activity in the valley," Goddard mused. That hasn't changed this summer; the park is rarely empty and most evening it fills to capacity with skaters and spectators.
"People are really happy about the addition," said skateboarder Corey Jackson one evening after airing off the tall new quarter pipe. "It makes the park wider, flows better, and gives more space for spectators."
Driggs boasts a very large park (around 13,000 sq. ft. of bowls, ramps, stairs, and boxes) relative to its population.
"My joke on the forums for a long time was that Driggs had more square feet of park per resident than any town in the country," Goddard said. "It definitely gives us bragging rights."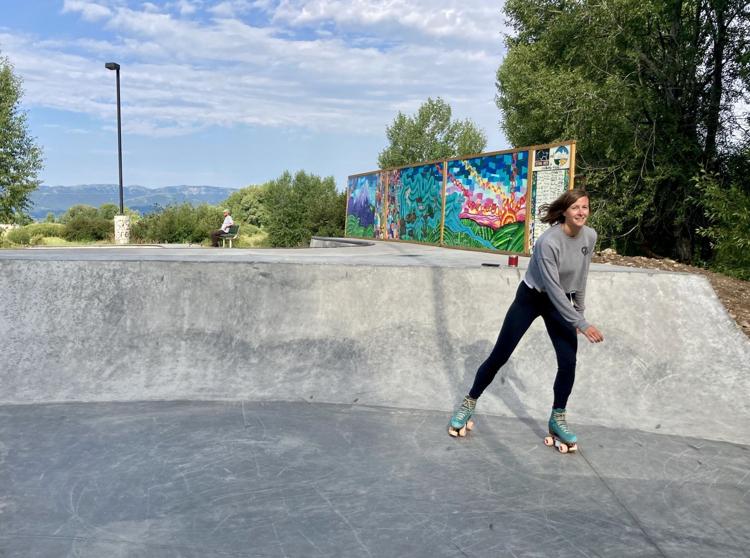 He added that the level of community support throughout the park's history has yielded an "absurdly cheap" park; just over $100,000 in actual dollars have been spent on the park, and the rest came about through sweat and contributions.
"It's great to have the opportunity to build stuff there," Goddard said. "I don't usually have input in park design, I just go according to the plans, but with this project I got to talk to the guys and ladies there and get a feel for what everyone wanted to see."