Bill and Katie McNamara returned from a belated honeymoon in New Zealand at the end of February, ready for their second year of operating Wheel Wranglers, a mobile bike rental service in Teton Valley and Jackson Hole. When coronavirus reached the Tetons, they suddenly had to adjust to a new reality.
"We had to be nimble and pivot to serving the local community," Katie said.
The Victor residents launched Wheel Wranglers in April of 2019, with the mission of connecting people to mountain adventures on bikes. They have a full fleet of mountain bikes, road and gravel bikes, pathway bikes and cruisers, and kids' bikes available to rent, and they deliver everywhere in the Teton area. Some of the McNamara's favorite moments from the busy first summer were when they set people up with bikes that enhanced their Teton experience in a way that might not have been possible or accessible otherwise.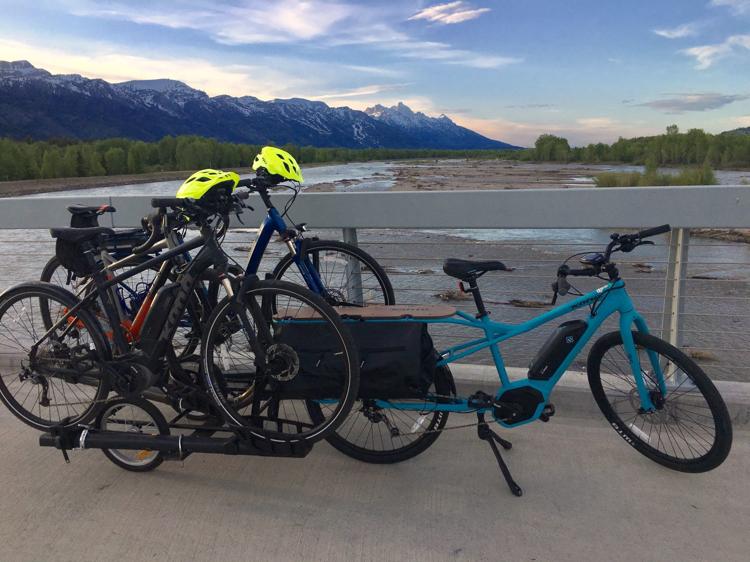 With a business model based mostly on visitors, the McNamaras knew this spring that they had to make a quick shift to stay afloat and support locals during what promised to be a tough time.
"It was a lot of brainstorming and a lot of experimentation," Bill said.
They dreamed up the Rec League, a six-week membership program in which locals paid a low bike rental fee that could later be applied toward a purchase.
"Maybe people lost their jobs or were working fewer hours, and they wanted to get out and ride but didn't have a bike or didn't have the right bike—Rec League was really affordable long-term access to getting out and staying healthy on a bike in challenging times when purchasing a new bike might not be an option," Bill said. The program quickly sold out.
This weekend Wheel Wranglers is promoting its own version of a Ride'n'Dine: $100 for a three-day mountain bike rental and a $20 gift card to Wildlife Brewing in Victor or Cutty's Bar and Grill in Jackson.
"It's a way to get out as trail conditions allow while also supporting local businesses," Bill said. For more information on the promotion, visit wheelwranglers.com.
Katie credited the Teton Regional Economic Coalition, Downtown Driggs Association, and Jackson Hole Chamber of Commerce as being critical resources for small businesses navigating uncharted territory.
"We are honored to be a part of a vibrant small business community in the Tetons," she said.
Fresh from a stint as the executive director of Teton Valley Aquatics, Katie said that nonprofits are encouraged to think like businesses, and in her opinion that idea works in the opposite direction too.
"We believe in thinking about the business as a force of positive change and we're very mindful of our social and environmental impact," she said.
They took their cues from other bike shops in Teton Valley and Jackson Hole by supporting local trail and adaptive nonprofits, on top of volunteering at the Music on Main bike valet, building bikes for Subs for Santa, and hosting a free maintenance clinic with Jackson Hole Babe Force.
"Before our first sale we were making donations," Bill said. "That's who we are."
This year they've added bike sales to their offerings, and will have a storefront in Jackson, although mobile rentals will still be the main focus. Wheel Wranglers is now a Guerrilla Gravity demo center, meaning it's the only outfit in Idaho or Wyoming where people can try out the Colorado-based, American-made carbon mountain bike brand. They also carry Felt, Marin, and Kona, bikes that for the most part aren't sold in other local shops, from companies who they feel match their mission. Fortunately, Bill said, they've been able to retain their employees, and local bike shops are actually seeing increased demand this season, the Jackson Hole News & Guide reported last week.
"Cycling is booming and availability is, ah, interesting," Katie said. "This is a constant for shops in North America right now. For the last few years it was tariff issues and now this."
Kids' bikes especially have been very hard to come by, but other than that Wheel Wranglers has been able to get what it needs from its brand partners.
"There's this really exciting dynamism to being an entrepreneur," Katie added. "We just approach every problem with a 'how fascinating' mindset."