Shortly after Dr. Rebekah Donley and Crystal Wright opened the doors of Victor Physical Therapy and Wright Training, I was able to attend a midday fitness class with Wright, who is already a well-known figure in Jackson. It was soon clear that Wright has seen a whole lot of people like me come through her gym: endurance athletes who have an aversion (an intense aversion, in my case) to weight-lifting. She didn't make me feel bad about it though. She offered quiet, clear form corrections and reassurances that it's okay to not have a lick of upper body strength (but that I should probably get a gym membership).
Strength training as injury prevention is Wright's passion; even in high school she aspired to open an injury prevention center. She barrel raced and ski raced through her youth and then became a professional big mountain skier, racking up palmares that included two Freeskiing World Tour overall titles. But she got hurt. A lot. Her injuries pushed her toward strength training, and that led her to open a gym in Jackson.
"Helping people heal helped me heal," she said.
She fields a lot of questions about what kind of classes she teaches at Wright Training. Each brand of class or routine (e.g. Cross Fit, TRX, Barre) has its pluses and minuses. She adapts ideas from other workouts to fit her model, but said the difference with Wright Training is that the focus at her gym is getting clients outside and strong for their pursuits in the mountains, rather than getting them strong for the gym.
"Everyone tries to find a niche," she said. "I like looking at the body as a whole and catering to different people in classes. I like working with all demographics—teen racers, pregnant women, people over 80."
People interested in a membership in Victor can use their punch cards at either location, and the open gym is available to members from 6 a.m. to 9 p.m. "So it's like a 24-hour gym, except, not really," Wright laughed. She and other trainers are available for private coaching or small group training. A full schedule of offerings can be found at jhwrighttraining.com/victor-idaho.
The Jackson gym partners with an in-house physical therapy clinic and a Pilates studio, so it was natural for the Victor gym to share a roof with Rebekah Donley's new physical therapy clinic, Victor PT.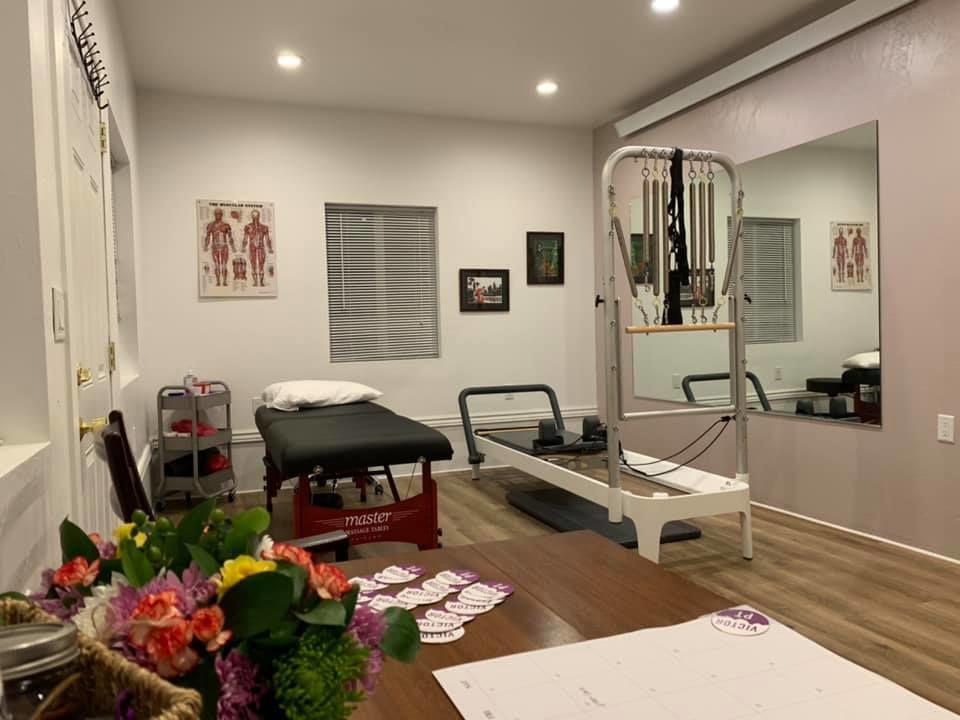 "When I practiced in Jackson, I sent a lot of patients and coworkers to Wright Training to achieve their goals and continue healing," said Donley. "A lot of the time people leave PT and get re-injured. I'm a firm believer in us all working together and combining forces for rehab and injury prevention."
Both Wright and Donley recently moved over Teton Pass to Victor. They found themselves in similar places in life, raising young children and wanting to commute less, and it made sense to join forces in the big building at 293 Cedron Road.
"It takes time to build a relationship with a PT, to understand their craft, to learn to trust each other," Wright said. "Rehab can be a conservative field."
Donley is anything but conservative. She enjoys trying out all kinds of wellness and fitness practices, and offers rehabilitative Pilates and manual therapy. One way she sets herself apart is that she specializes in trigger point dry needling, in which she inserts needles through the skin into muscular tissue to release tightness and pain and allow increased mobility.
Donley has worked in both conventional PT practices and ones with a fitness element. Her first internship in her hometown of Sandpoint was at a clinic attached to a gym, which at the time felt really cutting edge, she said. It's still not the norm, although there are other providers in the Tetons that offer both. In conventional clinics, she'd wonder, after discharging a patient, how are they doing? Now she can keep better tabs as a patient continues to train next door.
Her clinic is small but welcoming and well-appointed. The Pilates apparatus looms in the corner next to a full-size mirror where patients can examine their own movements. Victor PT is not under contract with any insurance companies, which Donley says is liberating. She doesn't have to charge for the additional administrative costs of dealing with insurance, but she can help people seek reimbursement from their providers via an itemized claim form. In Idaho patients can go directly to a physical therapist for an evaluation and don't have to be referred by a doctor. Working outside of the constraints of insurance plans means she can focus on wellness and help people achieve goals beyond basic rehabilitation.
"I can work on anyone's goals even if they're not addressing a dysfunction," she said. "Life goals, like playing with your grandchildren, climbing the Grand, not missing a day of work, whatever it is. I'm treating the individual, not an insurance policy, so we can build a relationship to get where you want to be without the insurance middle man."
She wants people to give her a call at (208) 270-7242 or email her at info@victor-pt.com and decide if her services mesh with their goals.
"I'm flexible, available for communication," she said. "We can assess if this is the right fit or I can direct you to the best care whether that's a doctor or another PT. I'm looking forward to making connections in the valley."