460 baker reflects on the Coupe du Monde 
460 Bread co-owner Jerod Pfeffer is freshly returned from the Coup du Monde de la Boulangerie in Paris and is enjoying leisurely mornings and adequate sleep after a year of intense training for the competition. While working the busy season at the bakery. And moving business operations across town.
"It felt like I had three full-time jobs for a long time there," he said. "It's really nice to be back down to one."
In 2018 Pfeffer tried out for and was accepted as one of three members of the Bread Bakers Guild Team USA. The team competed at the Coupe Louis Lesaffre regionals last summer and qualified for the Coupe du Monde, the World Cup of baking. They've been preparing for the competition since, with rigorous practice sessions in California, where the Bread Bakers Guild is headquartered. Pfeffer, as small-town Idaho baker with only ten years of experience, sometimes felt green training next to his teammates, who hailed from Chicago and Minneapolis and had substantial resumes.
The team capped its hard work with a trip to France in January, where they threw themselves into the eight-hour contest, shaping loaves and elaborate pastries in a kitchen that was foreign in every sense of the word.
"It may seem like there are four team members—three competitors and our coach—but Team USA was so much more than that," Pfeffer said. Former team members, mentors, family, and friends, which in Pfeffer's case included his wife and daughter, business partner, and his wife's business partner (watch for the Teton Valley Magazine feature on the experience, due out this summer), crowded the expo center to watch and cheer on the bakers.
"It's not often you bake in front of a cheering audience," he laughed. "It was so nice having supporters, after we felt like we were doing all our training in secret. There was a big American cheering section."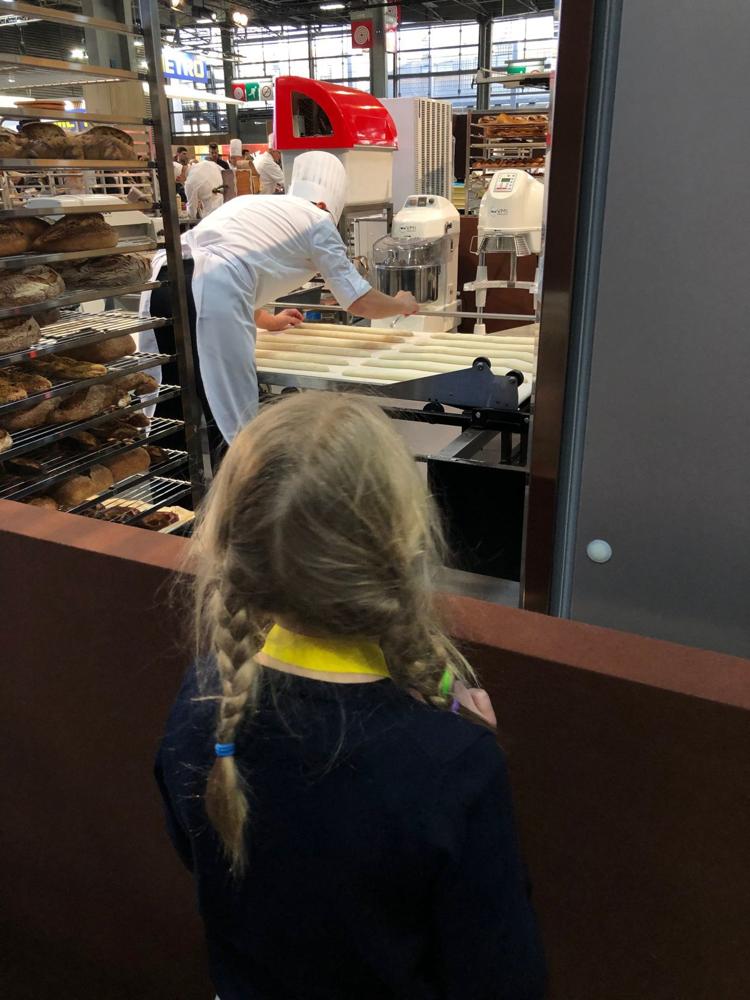 Traveling to the competition was not without its trials. Pfeffer flew with five 50-pound bags of ingredients. A delayed take-off in Jackson meant he missed his connection to Amsterdam, and during the delay blocks of frozen infused olive oil melted and left an aromatic film on the contents of his suitcase. To make matters worse, the team's pallet of ingredients never made it out of customs. They had to scrounge and borrow to account for the loss, but fortunately the tight-knit international community of bakers came to their aid.
Team USA was slotted into the first day of the three-day competition, which was both a positive and negative; it was a relief to get the pressure and anticipation out of the way early in the weekend, but none of the equipment had been proven. The kitchen was colder than anticipated, and Pfeffer's mixer wouldn't turn on five minutes before the start. Fortunately they were at Europain, an industry trade show, and there were equipment brand representatives available to troubleshoot.
Despite all those challenges, Pfeffer said Team USA had a perfect run on Jan. 11.
"There was nothing we could look back on and say, 'if only that hadn't happened.' We didn't make mistakes. In practice we'd go over the time limit by an hour, things can happen, but at the competition we got it done in time, we did our best," he said.
Team USA did not snag a podium spot; gold went to China, silver to Japan, and bronze to Denmark. The word at the awards ceremony was that the scores were higher and the competition tighter than any in years past.
"We were definitely contenders," Pfeffer said. He acknowledged that a win would have been amazing but said that wasn't the main point. "I don't want to say 'it's about the journey,' but it kind of is. Ultimately this year of training is what we get to keep."
He added that the intensity of competition can be hard on industry friendships and relationships, but he's grateful that he still considers his teammates lifelong friends. While every baker is allowed to participate in two World Cups, that's not happening for the Driggs baker.
"It's really brutal, and such a huge time commitment," he said. "And the Bread Bakers Guild pays for travel and everything, so it wants to put energy and support into new team members."
He's definitely interested in working as a team mentor, however. The governing body has announced that the Coupe du Monde will increase in frequency to once every two years, so Team USA will need more alumni to contribute their knowledge and experience.
Pfeffer and his family had aspirations of spending some time in Paris doing fun touristy things, but Team USA got laid low by a flu after the event, and Pfeffer admitted that after spending what felt like two weeks in a pressure cooker, he just wanted to curl up in bed.
Now he's focused on finishing up the new industrial space on Moraine Court in Driggs. It's probably around three times the size of the old 460 Bread bakery, with ample storage and processing space as well as efficient new pieces of machinery, including a thermal oil oven from the Czech Republic that can fit 180 baguettes in one go, and a multi-stage proofer for letting dough rest or rise in peace. While 460 now has the space to scale up production considerably, Pfeffer said that's not really the point at a regional bakery.
"You still want the bread to be fresh on the shelves each day, so we're never going to take over the world," he said. "And why shouldn't my village have the best bread in the world?"
While people sometimes ask if his participation in the World Cup of baking means that he has fully mastered the craft, Pfeffer said the event actually brings together the most enthusiastic students of baking.
"If you felt like you didn't have anything to learn, you wouldn't be there," he said. "The attributes required are passion, humility to learn, and commitment, and that really encapsulates what the competition is—it's the distillation of those qualities into their most intense form. We're all out there pushing ourselves and the craft."