Coping with big accumulation in a small valley
Days or even weeks of unrelenting snow are nothing out of the ordinary for Teton Valley, but this winter the timing of the storms and increasingly busy roads have made for challenging work conditions for plow drivers, tow companies, and emergency responders. 
On the evening of Jan. 4, Heather Frei, the dispatch supervisor at the Teton County Sheriff's Office, had a weather map pulled up on one screen in the office. The map showed the eastward creep of the next large storm off the Pacific, which would result in another multi-foot dump, only days after the last snow event had subsided.
Frei and others in dispatch try to gather as much information as possible on storm warnings and road conditions to provide to the public on the TCSO Facebook page. Most of it comes straight from the Idaho Transportation Department's 511 site; Frei wishes more people would use that resource instead of calling the sheriff's office with road-related queries. 
"What people need to know is that there's only one person in dispatch, taking all these calls," she said about the perennially understaffed department, made up of dedicated individuals who work 12-hour shifts and field the sad, stressed, panicked, or (occasionally) irritating calls of the community. "We don't have a crystal ball when it comes to road conditions and closures." 
Staying on Top of the Snow 
As a dispatcher watches the weather radar through the wee hours of the morning, others are assessing the conditions and getting ready to head out into the fray. Jay Mazalewski, the Driggs public works director, along with his counterparts in the other cities, at the county road and bridge department, at ITD, and at private snow removal companies, wakes up at 3 a.m. to determine whether to send out the plow trucks. 
Some operations may have a more sophisticated accumulation gauge, but Mazalewski simply walks out into the road in his Driggs neighborhood and checks the depth with a snow stick. If three or more inches have fallen, he deploys the city's crew of plow drivers; if not, snow removal will wait until later in the morning. 
The last two rounds of storms have had weird timing, he said. "A few mornings, at 3 a.m. there has only been an inch or two, and then the snow starts really falling later in the day. It just keeps coming at inopportune times. We're trying to stay on top of it, but Mother Nature controls it." 
That makes for more challenging work for the plow drivers, who have to navigate busier streets later in the morning while focusing on the city's top priority: safe routes to the hospital and schools. Once those are clear, they can move on to residential roads, parking lots, and pedestrian routes. 
Also due to the timing of the past month's storms, plow drivers across the valley worked nonstop through the holidays; Teton County public works director Darryl Johnson reported to the county commissioners on Jan. 10 that no one in the road and bridge department had had more than a single day off since before Christmas, and several drivers hadn't even had one. 
The county is hosting a plow work session on Jan. 26 to discuss equipment inventory and limitations, and to reevaluate the plow criteria sheet, which dictates which roads are plowed and how often. 
Unlike Teton County, which limits its plowing to once a day due to safety concerns and the sheer volume of roads it is responsible for, Driggs will make multiple passes through the day if the storm continues. Trying to keep the roads clear is only one of the five-man public works crew's responsibilities; the water, sewer, and waster water systems all need to be maintained and checked daily. 
"People can be frustrated, when they get stuck or when they have to shovel their driveway again after the plow comes through. All we ask is for patience from the public as we work through this," Mazalewski said.
Once the storm hits and the phones start ringing rapid-fire, Frei said her dispatch training kicks in and "it's all about prioritizing." 
"If you call because you've slid off the road on 7000 and you're uninjured and there's no road blockage, and meanwhile there's a four-car accident on the highway, I'm going to put you on hold," she explained. "Some people get frustrated about that, but we're doing as much multitasking as we can." 
Once on the scene of an accident, officers are similarly running through their list of priorities, said Sergeant Kendall Bowser. 
"We check the critical safety factors—whether someone is trapped in the vehicle, whether there was a hazardous material spill—then go to community safety, or how not to cause more danger, making sure we are positioned safely, directing traffic logically, making sure there isn't anyone wandering around the scene," Bowser explained. "And then working to benefit the community and not cause further delay for people—it's not their fault there was an accident."
He reminds drivers that stopping distances increase when the road is snow or icy. "It doesn't matter if you're in a huge 4WD truck—that doesn't affect your stopping or turning capabilities." 
Frei noted that, more and more, local officers are giving out citations when the driver appears to be at fault in a winter accident—they're not just letting slide-offs slide, so to speak. 
"People are on their phones, not paying attention, or driving unsafely for conditions, or following too close, and they're getting tickets now," she said.
Vehicle Removal and Recovery 
Often arriving simultaneously to the scene of a crash or slide-off is a tow truck driver.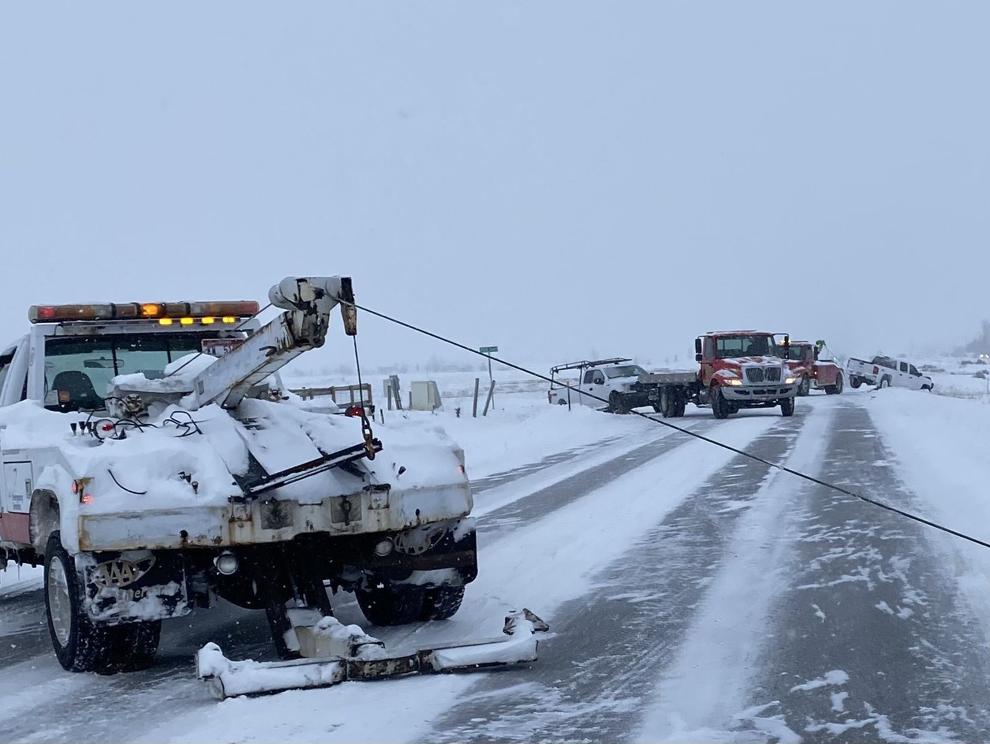 "We are considered first responders," said Matt Sullivan, the manager of WreckerBoyz Towing. It's the valley's largest tow company, although that's not saying much; the company has a crew of three drivers, and with round-the-clock response times, those drivers worked for four or five days straight over the holidays. 
"The calls just did not stop last week," Sullivan said about the stretch between Christmas and Jan. 1. "It's just never ending in weather like that. And I don't ever want to leave anybody out there, it's our goal to make sure everyone is okay."  
On Dec. 30, when the roads were at their worst, WreckerBoyz responded to 17 calls. That included managing the scene at a multi-car accident on the highway and also rescuing a series of re-routed drivers who had slipped off the frontage road into the extremely deep shoulders. The crew finally shut down operations late on New Year's Eve to get a few hours of respite.
WreckerBoyz owner Tyler Hammond said that drivers get mixed responses from their customers; some people are frustrated or angry, or feeling intense emotions from having been in an accident. Others are patient, appreciative, and friendly.
"Unfortunately sometimes we have to be therapists at accident scenes. And we don't have therapists," Hammond said. "At a scene we arrive and the first thing we ask is, 'Is everyone okay?' We're not here just to take your car and your money. We're here to take care of the community." 
Sullivan echoed that message: "When we're on scene, we have multiple tasks going at one time. Our first priority is to make sure the customer is okay, in a safe place, and we're watching oncoming traffic, alerting the police, keeping bystanders away, and doing the job itself. There is so much to pay attention to." 
Both the sheriff's office and the tow company agreed: people should avoid unnecessary travel when the conditions "get a little western." 
"When it's a whiteout, there is no reason to drive unless you're going to the emergency room," Sullivan said. "Work isn't that important, buying groceries isn't that important. When we have to respond in conditions like that, it gets dangerous for us too. And then you have people flying through an accident scene. People need to slow down." 
Tow truck operators and other first responders are too often hit or even killed in secondary accidents while they're on scene. Hammond emphasized that drivers must respect all emergency vehicles, plows, and tow trucks. 
With a fleet that includes come-alongs, quads, and a partnership with AJ Woolstenhulme, who operates a draft horse team, WreckerBoyz is prepared not only for highway tows but also unmaintained road rescues. Every winter there are a few foolhardy souls who don't know any better than to drive onto a closed road, where a tow truck can't save them. 
"We're not just tow truck drivers, we're certified for recovery work. That means we're specialists, and our main game is doing things no one else can do," Sullivan said.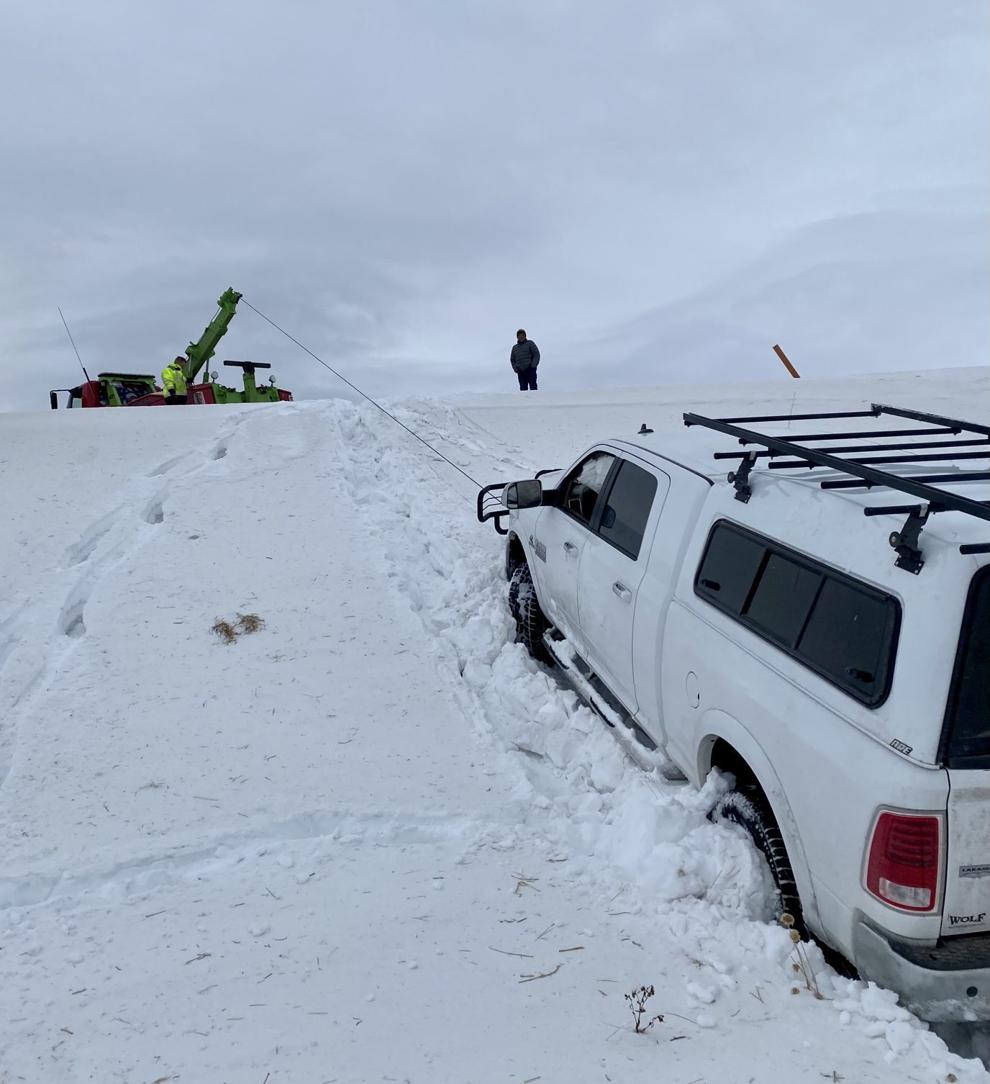 It's the interesting extractions that keep Hammond glued to the job after 20 years, like the six-hour challenge of rescuing a car that had flown off a cliff on Pine Creek Pass and was stuck in thick willows in the creekbed below the road (Sullivan was lowered 70 feet down in a harness to perform that maneuver).
"Just when I think I've seen it all, something new comes along," Hammond said. "I love that aspect of the job." 
It's a good reminder to be honest to the tow company about the situation you're in when you call them. 
"You would not believe how many people say that they have one tire off the road and then we find them and their car is on its roof," Sullivan said. Different calls require different equipment and if a driver understates an accident, a wrecker can waste time and fuel responding without the right set-up. Dispatch feels similarly but sometimes in the opposite direction—don't exaggerate your emergency, just be honest. 
"We have to prioritize the situations from most dangerous to least, with unreliable information from the reporting party. A lot of times we have to read between the lines on calls," dispatch supervisor Frei said. 
Now that the storms have abated for the time being and municipal and county snow removers are mopping up the aftermath of a series of multi-day storms, new difficulties emerge: persistent plow piles left by residents or private contractors in public right-of-ways. 
"When people pile up snow on sidewalks or in the street, it gets dangerous," Mazalewski said. "It causes three issues: piles block sight lines, piles migrate into the travel lane, and piles make the sidewalks or pathways impassible for pedestrians."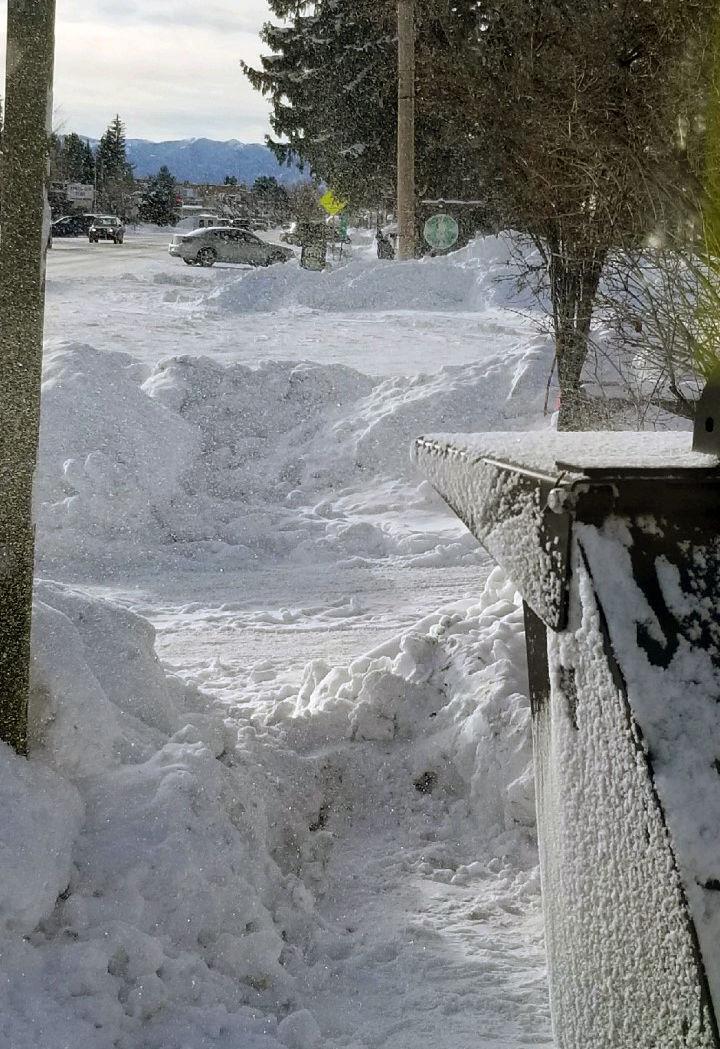 Tracking down the culprits is hard, because it's not always clear who is responsible for a pile. Driggs and Victor together have hired a new code enforcement officer, Robert Boyles, and Mazalewski said that Boyles will be attempting to provide education, followed by enforcement, on misplaced snow. (Driggs offers a designated snow storage area for all businesses on the northwest corner of the city park.) 
And as with other large vehicles on the road, Mazalewski requests that people behave safely around the plows, motor grader, and skid steer. "They're heavy pieces of equipment that can't stop or accelerate quickly, so give them space. If you run into a plow, you'll lose."