Sara Madsen wore long earrings that hung down below her U.S. Forest Service hardhat. Sometimes her fingernails were painted red and she often wore silver rings on her fingers, her strong arms draped in the standard issue long sleeve Nomex yellow shirt that was tucked into her small frame. Her olive green pants were always held up with a belt that was fastened with a gold buckle shaped like an Idaho potato, a gift from her father.
Madsen was in her first year as a member of the Helena, Montana Hotshot Crew, having previously served two seasons with the Island Park, Idaho-based Centennial Type 2 Initial Attack Crew. She worked a chainsaw while holding the fire lines, changing out her work boots for cowboy boots at the end of the day. "Bad ass is an understatement. She was beautiful chaos," said Brecken Dalley, 21, of St. George, Utah, a former member of the Centennial Crew who is serving with the Boise, Idaho Hotshots this fire season.
Madsen, 24, died near mile marker 25 in Fremont County, Idaho just as the bend in the road turns east and the Tetons start to slide into view. It was early Wednesday morning, Sept. 2 when her truck flipped as she apparently overcorrected at the wheel. The day before she had been texting with her mother about coming home for a short break from fighting fire.
Last Thursday afternoon, her mother Mary Madsen pulled the clean yellow shirt and olive pants off of the clothes line in her backyard in Tetonia. She sat down next to Sara's dad, Jerry, and quietly folded the clothes in her lap.
"This was impressive to me about Sara," said Mary, running the coarse fabric of the yellow shirt through her fingers, feeling the hard woven wool. "Who wants to put on a long sleeve shirt and pants in the middle of summer and fight fires in Arizona? But I look at firefighters like I look at health care workers and think, someone has to do it, someone has to be out fighting," she said with a small smile.
Madsen grew up in Teton Valley. Her birth was announced in the local paper, along with older brother, Joe, 27 and younger sister, Sydney, 21. She attended Tetonia Elementary School, had her award-winning artwork hung at Trails End Cafe, now Badger Creek Cafe. She was a team captain and soccer star at Teton High School and graduated in 2014. She worked with local businesses who helped form her love of the outdoors into a vision of a future career, from teaching ski school at Grand Targhee, interning with Friends of the Teton River, and working with the Teton Basin District Forest Service building trails. She was often the only high schooler on the job who could drive a stick shift, much to the chagrin of the boys who had to ride shotgun next to the quiet, fair-haired girl who could drop the hammer into fourth in one smooth motion.
It would be correct to say that Sara Madsen all at once fit and then broke the mold by Teton Valley standards.
"She had a million-dollar smile, was all muscle and she took her job seriously," said Jay Pence, Teton Basin District Ranger and a friend of the family whose own sons grew up with the Madsen siblings. "When she graduated from high school, she came to talk to me and wanted to get a natural resource degree. Later, she said she wanted to do fire. It speaks volumes to her work ethic to get on a hotshot crew," he said of her serving with the Helena Hotshots. "They need strong, passionate people because fires demand that kind of skill and commitment."
Josh Parker was Madsen's supervisor on the Centennial Crew. He was working the Smoky Hollow Fire when he stopped on a ridge line last Wednesday to check his cell phones before dropping back down into the wilderness. That's when he got the message from Madsen's dad. Within a half an hour of receiving the news, he made the call to pull his crew off the fire and get people home. "We are standing down for seven days, which is a sacrifice for the work, but we are a family, and family comes first. We will deal with this as a family." The Pioneer Peak Hotshots, an Alaskan crew, slid in for Centennial, because that's what family does.
Chelsea Vidaurri, 35, from Rockaway, New Jersey and a crewmember on Centennial, was working with Parker when he told her the news. Word spread to Dalley who was in Nevada and to Kate Bushman who was on a fire in Utah. Together, these four women—Sara, Kate, Chelsea and Brecken—were a unique force in the fire community. They referred to themselves as "The Coven," dismissing the notion of witchcraft that the word is commonly associated with and embracing the definition of a tight-knit group of women who fiercely and unapologetically supported one another. Within 24 hours, three of the four friends were together in their collective grief and shock.
"You get your fair share of shit as a female," Dalley said of working for the Forest Service as a female firefighter. "You are going to get it harder because you are female and when you are a strong, independent female, that scares the shit out of people," she said, while sitting with Kate and Chelsea on the banks of the Henry's Fork on Saturday morning, skimming through photos, sharing tears and a shared love for Madsen. "To have a female on saws is a big deal because cutting is hard. She never quit and always pushed."
"The first time I saw Sara, she was taking her dirt bike off the back of her truck wearing flannel, jeans and boots and I was like, 'Oh my god, what a bad ass,'" said Vidaurri, as Bushman and Dalley nodded and laughed.
"It was so instantaneous," said Bushman, 27, of Logan, Utah, and currently serving on the Logan Hotshot Crew. "There was no competition between us," she said, acknowledging that not every woman you work alongside in fire becomes a friend.
The women had plans to reconnect after fire season and travel together, hot springs definitely, maybe South America. For the last two years they celebrated a new holiday in which they combined Halloween, Thanksgiving and Christmas.
"The last time I saw her was in Tucson on the Big Horn Fire," Bushman said. "Our crews randomly parked next to each other and we had to play it cool to show that we weren't too excited to see one another. Sara later came over to me with the biggest smile on her face to say hello. We found each other later and talked about how much we missed each other. We couldn't hug because of COVID, which sucked. We talked about off-season plans. That was in June."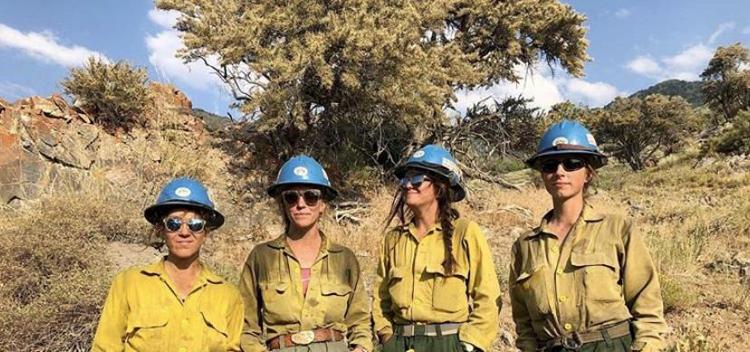 Pence, whose eldest son is currently a Forest Service wildland firefighter, said, "When you are on a fire crew, that is your family. There is a lot of camaraderie with that. But when you get done with work, you need to recharge. Our son would often come home late to get out of the fire situation and recharge." Pence paused, thinking about Madsen coming home that evening. "It's obvious to me that her family was just as important to her as her crew and that home was a place she could rest and recharge."
Madsen was described by many who were interviewed for this article as kind, independent, a brilliant practical jokester, confident and capable. She decided at a young age that she would be a vegetarian and held true to her conviction through adulthood, even as her dad fried bacon in the morning, he said laughing.
She started hiking and camping alone in the backcountry when she was a teenager, her mother insisting she take bear spray while she only talked about her hope to see the bears in the wild. She walked up the peaks of the Tetons and then broadened her reach to some of the highest peaks in North America, including Pico de Orizaba, an 18,500-foot volcano in Mexico. She ended up marching out of that mountain barefoot, but you will have to ask her dad for the rest of those details as only a father can tell that story in all its glory.
She had just graduated from Montana State University with an environmental degree, but when Pence followed up with her after she received her diploma, Madsen still had her heart on fighting fires.
"She was an old soul with a good smile," said Fred Thompson, Madsen's superintendent on the Helena Hotshot Crew. "Sara had a soft voice and, when she spoke, you were wise to listen. She made a large impact in a short amount of time."
And while Madsen will be remembered as an extraordinary person, Mary offered a slight critique of her daughter.
"When Sara would come home, I knew she was home in a matter of minutes because her shit was everywhere," said Mary through tears and a smile. "I would yell, 'Sara don't forget this, and don't forget that.' And she would say, 'I know mom,'" said Mary, rolling her eyes like Sara probably did every time her mother picked up her laundry around the house.
"I would have given anything to have all her shit everywhere on that Wednesday morning," said Mary.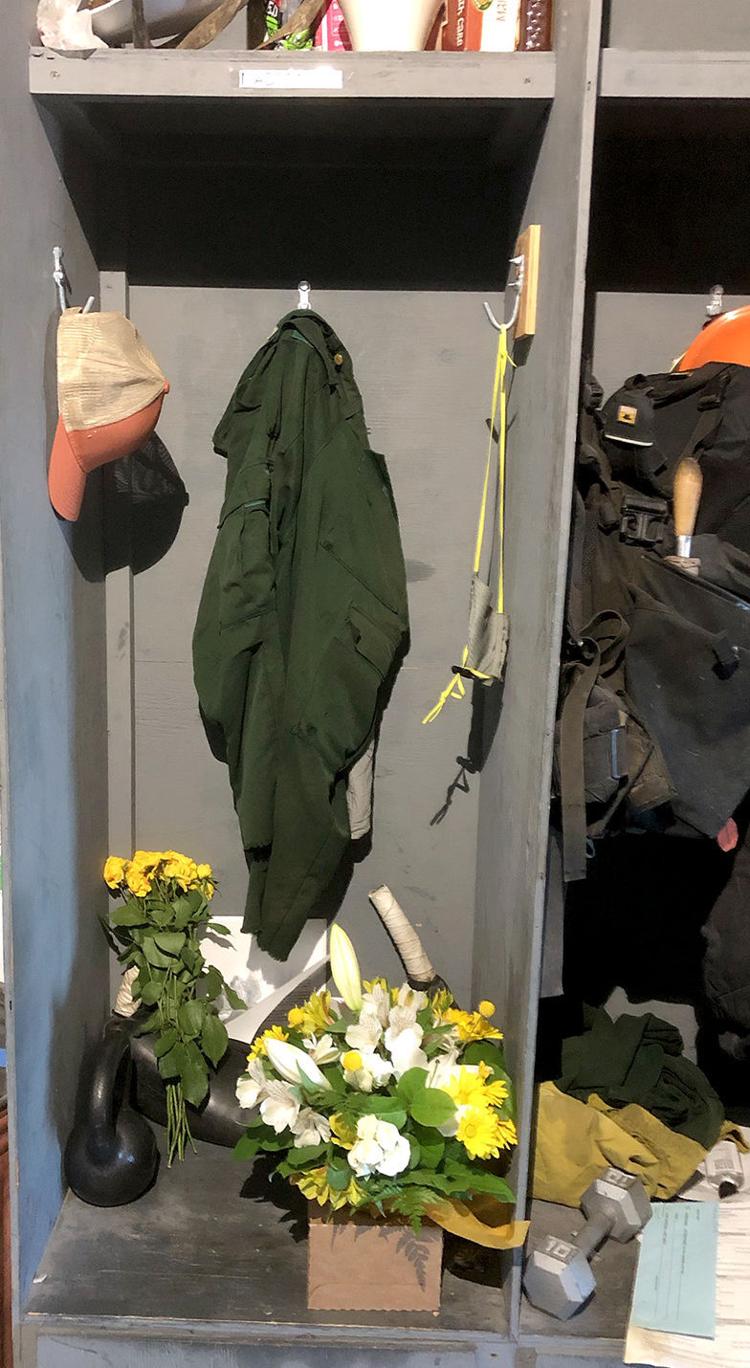 An outdoor tribute for Sara Madsen will on Saturday, Sept. 12, 2020 from 2 to 6 p.m. at Mary and Jerry's home in Tetonia, 650 Sandcrane Lane. Invited attendees will speak around 4 p.m.. Light refreshments will be served and masks are encouraged.