Taxing district provides mosquito prevention and mitigation 
The Teton County Mosquito Abatement District may be one of the more low-profile taxing districts in the valley, but it packs a big punch when it comes to disease management and pest control.
West Nile virus became a public health concern in the mid-2000s, and Idaho led the nation in cases, reporting 996 cases to the Centers for Disease Control in 2006. In 2007 Teton County saw its first cases of the virus, which caused fatigue, fever, headaches, and sometimes even nervous system maladies like encephalitis. The virus is transmitted by several species of the Culex genus of mosquitoes, two of which can be found in the Tetons.
Approved by local voters as a ballot initiative in May of 2008, the MAD is funded with property taxes and has operating budget of less than $500,000. Since its establishment, the district has contracted with vendor Allen Loe, an industry leader in mosquito abatement.
Loe got his start in 1979 as a hungry graduate student in the south who found a note on a bulletin board advertising for a Jeep driver. After spraying for mosquito larvae out the back of an old postal Jeep, Loe was hooked and went from working in the public sector to founding what would become the largest private mosquito control company in the country, Vector Disease Control International. He eventually ended up in Teton County and fell in love with it. He sold his business in 2011 and stayed in Tetonia to provide abatement to the community where he felt most at home.
"When we first came here, the mosquito population was unbearable in some parts of the county," he said. "The first few years we had to treat mosquitoes from Felt all the way to Victor."
With an integrated pest management program, the MAD focuses on the entire lifecycle of the mosquito, from habitat to eggs to larvae to pupae to adults, as well as public relations and outreach, and disease monitoring.
Surveillance kicks off in May as the snow melts and leaves behind standing water. "Pools, ponds, and puddles" is the abatement mantra; irrigation ditches, swamps, artificial containers, floodwater sites, and retention ponds are all checked and controlled for larval mosquitoes. (With 2021 being such a dry year, mosquito production has been less than normal.)
The larvicide that the MAD uses is a naturally-occurring soil bacteria that is refined into a concentrate and put in a liquid, pellet, or granular form, then applied to water. Another option is to add a kind of alcohol to bodies of water that forms a film over the surface and prevents the larvae from breathing.
"A lot of industries have moved forward with technology, but in mosquito abatement you're still out in the field, slogging around in the marshes, using very advanced tools," Loe said wryly, waving a cup on a stick that is used to sample water for larvae.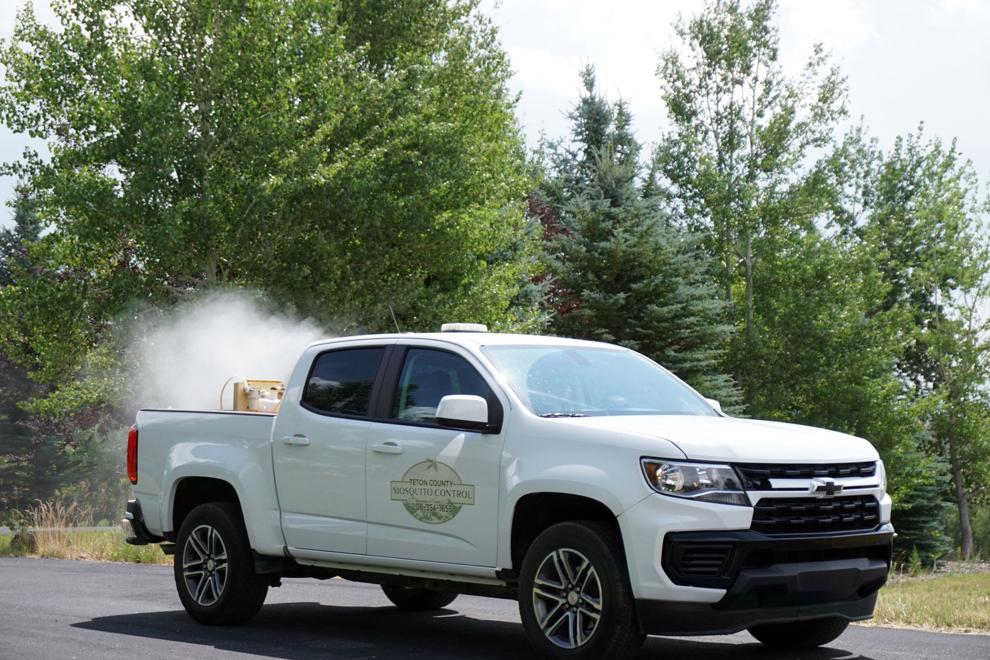 It's easier to find and control larvae than adults, which can fly three to five miles or be carried distances by the wind. Operations manager Cristy Manning, who oversees adult surveillance and control, often traps mosquitoes to gauge whether new species are moving in or if any are vectors of disease. Then carefully managed spraying comes into play; the MAD staff uses trucks or ATVs to spray a very diluted solution of adulticide. The droplets are minuscule and drift across the kill zone to land on mosquitoes. Loe's preferred analogy is to describe the dosage as "equivalent to a spoonful of sugar spread over 10,000 bowls of cereal." The trucks have GPS units that produce detailed maps of control routes.
"We only use pesticides approved for public health use and apply it only when and where surveillance tells us it's necessary. We've worked closely with environmental groups, Friends of the Teton River, organic farmers, beekeepers, and make sure they all know we have their best interests at heart," Loe said.
"We try to abide by the wishes of landowners as much as possible," he added.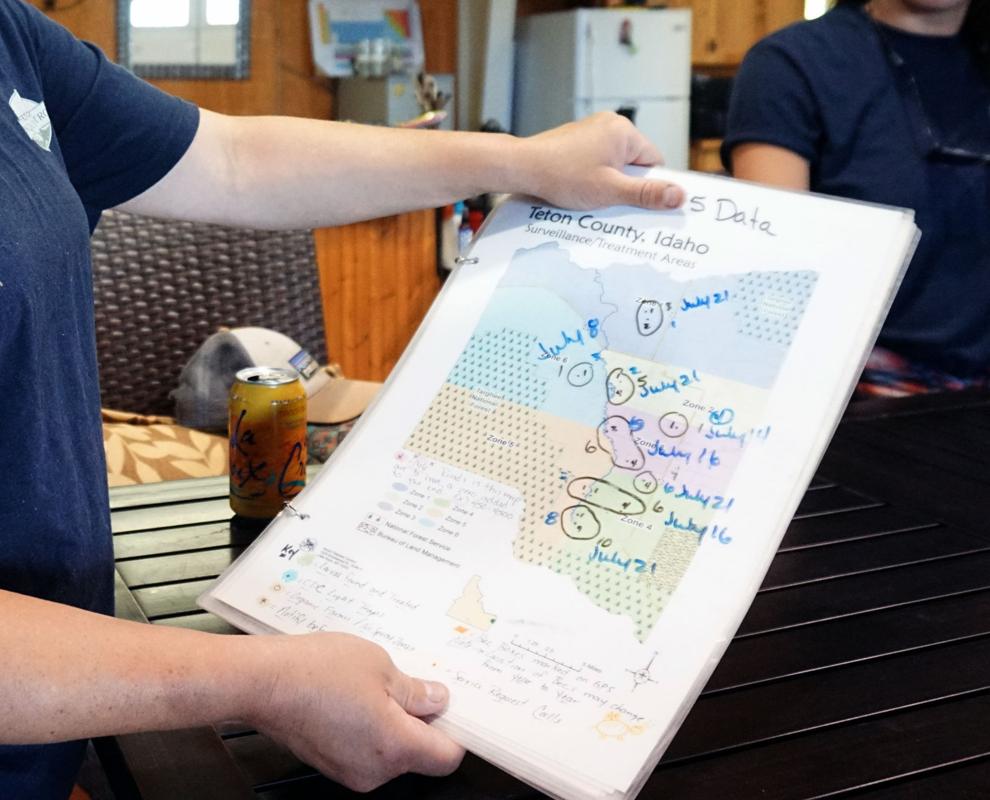 That means keeping a directory of people who don't want any treatment on their property, and maintaining open lines of communication with those who want to be alerted beforehand. Residents can even fully opt out of the program and the taxing district, but that requires putting together a plan for management, submitting it to the MAD board, and receiving state approval.
"We don't want people to go through that," Loe said about the opt-out process. "We'll work with them so they don't get sprayed but we can still monitor."
The value of an established program, Loe said, is that over the years the need for big measures decreases. The Teton MAD hasn't done an aerial spray in five years, and is using approximately half the pesticides it was a decade ago to manage mosquito populations. Since the operation began, no human cases of West Nile virus have been reported.
"What people see, the trucks driving around the county spraying, is the last, itty bitty part of the program," Loe said. "You grow more efficient and effective. You begin with an unabated native population and start trying to control that, you learn the habitat, learn the county, learn what species live there, what peak season is. As the program is put in place, what you see is a shortening season, and in the peak season the peaks are lower."
As a taxing district, the MAD is led by a board of trustees; board president Dan Burr, Dr. Summer Winger, Sean Moulton, Glenn Moradian, and Jack Liebenthal guide the administrative and fiscal side of the operation, with county employee Ronn Carlentine serving as the director.
Liebenthal was one of the unlucky few in Teton County to be diagnosed with West Nile Virus in 2007. He said that, despite suffering a serious allergic reaction to a mosquito bite as a kid at summer camp in Indiana, then coping with the pests while stationed at an Army base in Alabama, he wasn't bothered by mosquitoes.
"When I got such a serious disease as West Nile, I got a new perspective on the harm they could do. This isn't malaria country, but I've learned that protection against skeeters can be important anywhere," Liebenthal said.
The district offers other services on top of abatement, such as sponsoring a free tire disposal day at the county transfer station to encourage people to remove tires, which can offer perfect mosquito pools, from their property. For large outdoor events like weddings or reunions, the district will come out and do a preventative spray that lightly coats surfaces in order to deter mosquitoes for a couple of days. Visit tcmad.us/service-request or call (208) 354-1655 for a site visit or to submit a no-spray request.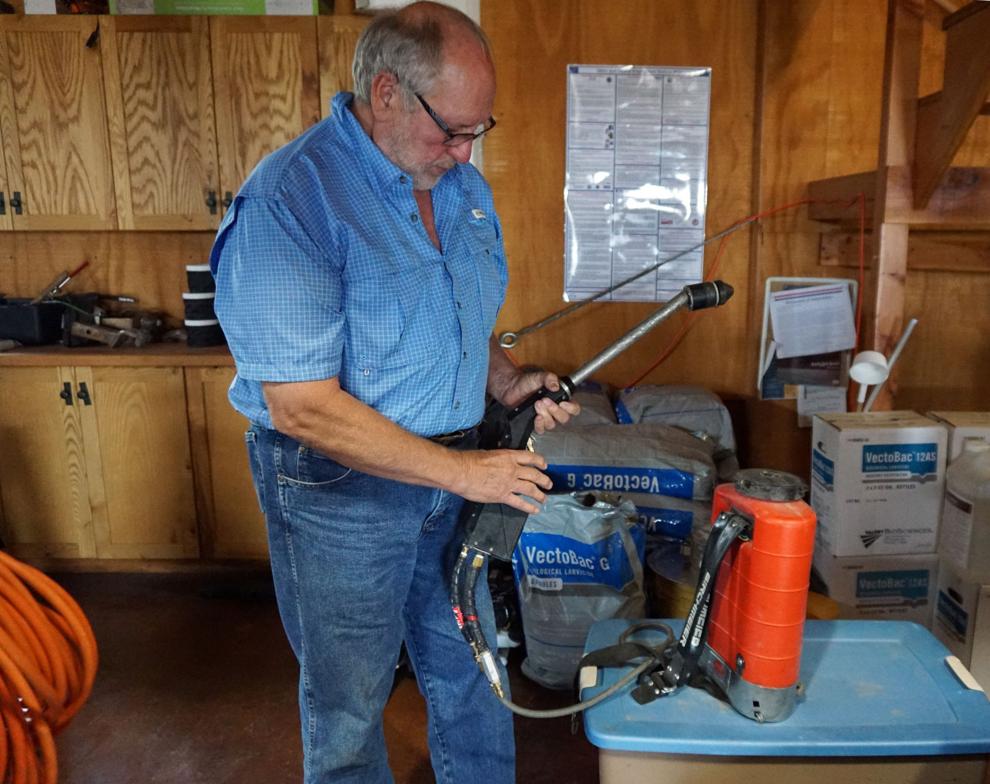 "People pay taxes on a lot of services, and you hope you never need police or fire at your house, but mosquito abatement is another service available, and we take pride in being able to respond to people's requests and offer that," Loe said.