Local cyclist wins thousand-mile race in Central Asia
Victor resident and ultra-endurance cycling legend Jay Petervary has returned from Kyrgyzstan with the crown.
He finished the thousand-mile Silk Road Mountain Race in eight days, carrying all his gear on his bike and sleeping three or four hours per night except for the final night, which he rode through.
"What an experience," Petervary told the Teton Valley News last week. "I haven't pushed myself that hard in a very long time, and I'm happy with my performance. As for Kyrgyzstan, I would go back in a second, for the scenery, the terrain, the challenge, and the people."
The racers left Bishkek, the capital of Kyrgyzstan, on Aug. 18 and immediately started up a 10,000 foot climb. Petervary said he passed all but one racer on the initial climb, and then overtook the final man on the steep, rocky descent.
"The first couple of days I played games with the guys behind me," he said. "I had a few hours' lead on them and maintained it, using the patience I've gained through experience to wait them out."
Petervary didn't know what to expect going into the race and knew there could be perils out on the course, but said he felt extremely welcomed by the people there.
"The hospitality from people was amazing—everyone was warm, kind, and inviting," he said. "I have never felt so safe in the backcountry coming across a vehicle's headlights at 3 a.m. In the US I would be nervous and looking for a place to hide."
He said that the high point of the entire race was when a twelve-year-old boy rode out on horseback to escort him into Checkpoint 2.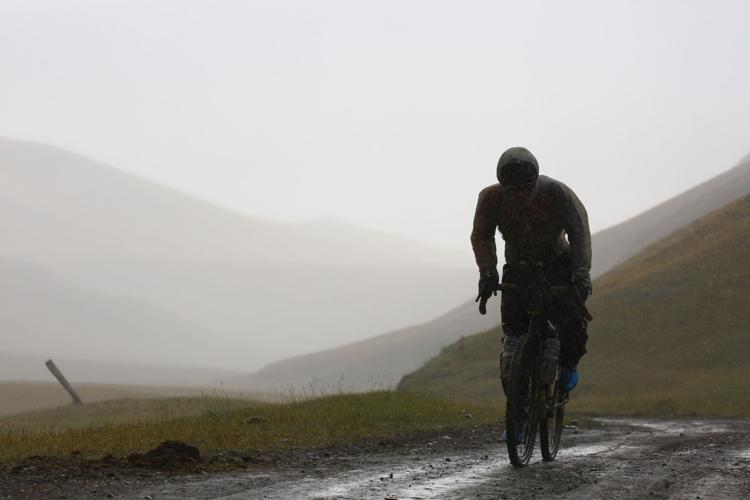 The temperatures hit both extremes during the high-altitude ride through the Tian Shan mountains and Petervary was rained on, hailed on, and snowed on. He had to ride for 100 kilometers without water and then climbed a mountain pass in a snowstorm. He said the landscape was massive.
"Everything was enormous, vast to a point I couldn't even comprehend. Being out there I felt so small and exposed, I loved it. But just when you think you're in the middle of nowhere, you see a man on a horse or a yurt near the path," he said.
After an especially hard day in the saddle, Petervary found out that one his competitors was within 40 kilometers of catching him, so he decided to ride through the night to the finish. But first he had to contend with a 20-kilometer hike-a-bike up a mountain.
"The hike-a-bike felt very familiar, like a trail in the Rockies, so I put my bike on my back and marched," he remembered. "I never took it off my back, moving forward for hours and hours. A crazy tailwind pushed me upright. Near the top was a chossy couloir and I had to take mountaineer steps up to the saddle."
The descent down the other side was even more treacherous, as Petervary picked his way down deep loose scree switchbacks with the strong wind plaguing his every step. Then he had to make it across a series of waist-deep, rushing streams in the cold early morning.
As the sun came up, he was finally back on roads that he could ride, and wanted to speed through last sixty or so miles, but there were three 3,000 foot climbs in a row between him and the finish.
"It was mentally exhausting. I was so cooked," he said.
Finally Petervary rolled across the finish line in Chong Kemin, with a winning time of eight days, eight hours, and 15 minutes. Only 29 of the 98 starters finished the race.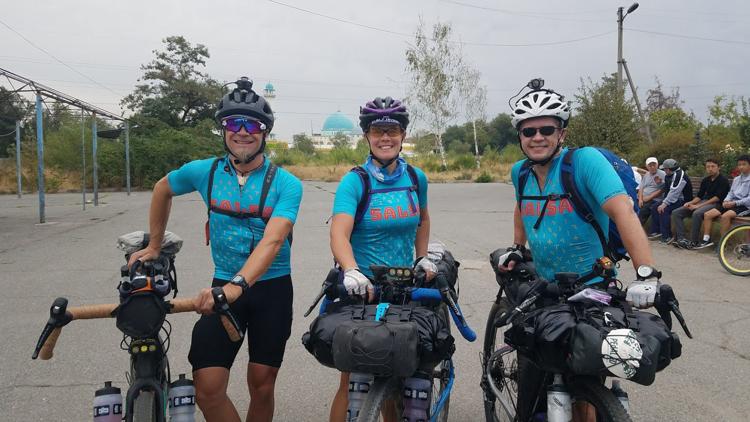 "The Silk Road Mountain Race was the real deal," he said. "There aren't many opportunities left to race in such remote places on such challenging terrain with minimal information. I feel so fortunate to have had the experience."