Cecily Costa might be new to Teton Valley, but she's far from a novice when it comes to excellent food. Her new endeavor — Food Shed Idaho — is bringing unique, high-quality ingredients to local tables from around the neighborhood and the world.
Costa, a graduate of the California Culinary Academy and 25-year veteran of the inimitable San Francisco food scene, left California in 2019 with the intention of driving around the country for a year. Accompanied by her canine sidekick, she traversed the nation visiting family and friends: exploring, learning, and brainstorming about what her next chapter might hold. "I gave myself a year," Costa explained. "When you drive 40,000 miles, you have a lot of time to think."
Her travels came to an unexpectedly abrupt end with the emergence of COVID, a disruption that she forged into opportunity. Costa decided that the place calling her back was Teton Valley, and she listened.
Costa bought a spot in downtown Victor, and launched Food Shed Idaho: a specialty grocer offering an array of locally and regionally-sourced high-quality foods that aren't available from other vendors in the valley, in addition to imported items from small operations across the country and globe. "These are all products that I know and love. Most of the places I've been to, and I have known some of these producers for fifteen or twenty years," said Costa.
She has explored the region to discover Idaho producers making excellent products that aren't found in other local stores. One example is Hillside Grain: an artisan flour mill located in Bellevue, ID, offering all natural, stone-milled flour that is entirely grown, processed, and packaged in state. Costa is also working on forging partnerships with Teton Valley ranchers in hopes of offering community access to locally-raised beef, pork, chicken, and more.
Food Shed Idaho is also selling gourmet imported goods from Italy including pasta, extra virgin olive oil, balsamic vinegar, olives, preserved vegetables, and more. Costa believes that by dealing with producers and consumers directly, and eliminating other middlemen, she can provide excellent products with a reasonable price tag. "I want to allow people to buy better food at a similar price," she said. Other gourmet items include beans, lentils, rice, honey, seasonings, chocolate, granola, and nut butters.
In addition to the imported and regionally-sourced lineup, Costa is offering her own freshly-baked goods. (In the spirit of the holiday season, and as a celebratory introduction, she'll be giving shoppers a free cookie with every order this month.) Informed by her own sensitivities to dairy and gluten, she's dedicated to crafting delectable options for customers with or without similar dietary restrictions.
Costa is offering an entirely contact-free shopping experience to ensure customer safety. Order online at www.foodshedidaho.com and schedule a pickup time at the storefront on Highway 31; just look for the blue house with the green shed.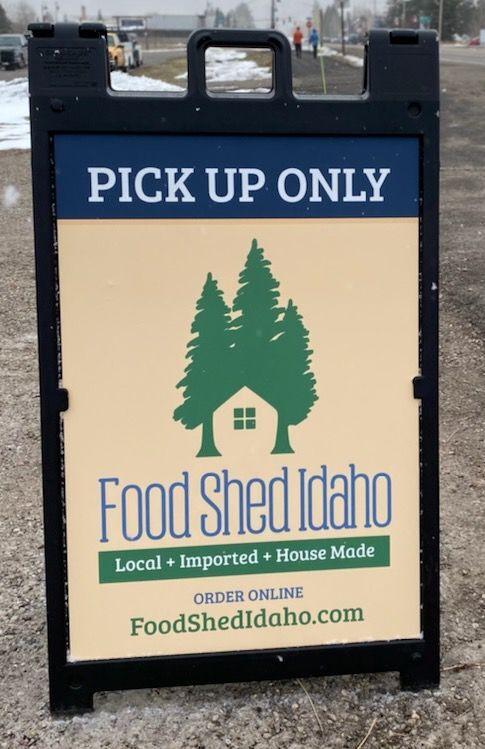 Plans for the coming year include a brick-and-mortar shop with opportunities for in-person shopping, as well as an expansion of baked goods and pre-made meals. Costa is eyeing the future of Food Shed Idaho with a balance of enthusiasm and caution. "Of course I want this to work, but I'm also seeking sustainability. It's about mindful, purposeful growth," she said. "But when you believe in something so passionately, you just know that it will work."