On June 17 the Victor Planning & Zoning Commission will consider a subdivision concept plan application for Kylea Drive Subdivision, a 70-lot neighborhood on 18.4 acres of vacant land northeast of the Settlement in the west part of town.
Crewsen West LLC, the owner of the two lots that will be subdivided, purchased the property in January of this year. The proposal from Crewsen West and Harmony Design & Engineering lays out 70 lots that are approximately 0.15 acres each with 35 attached houses, which totals 70 residential units.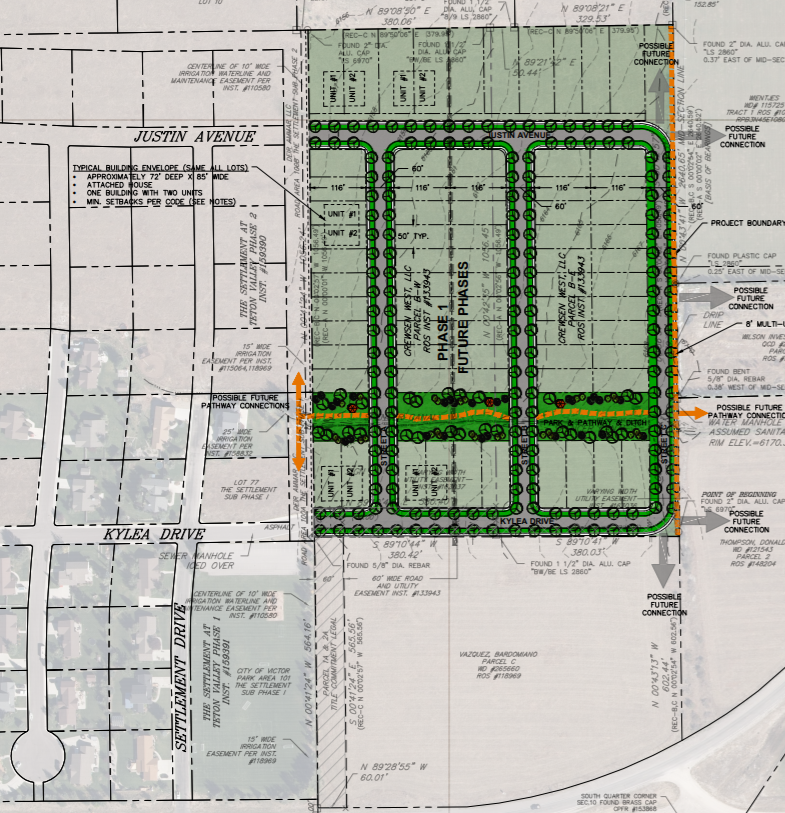 An attached house, according to Victor's code, is a building type that accommodates two connected residential units. It is different than a duplex because the units are located on two separate lots and share a common wall along the lot line.
The grid of streets within the subdivision will connect to the Settlement as well as possible future development to the north, south, and east. The developer intends to include an open space park and pathway along the existing Spencer Canal.
The same land was once the site of a proposed 54-lot subdivision, Buffalo Creek Village, which received final approval from the Victor City Council in April of 2008. The plat was never recorded with the county, but a faded real estate sign advertising Buffalo Creek lots still stands on the property, near the Settlement park.
P&Z is the deciding body on the concept plan, but the subdivision will also undergo review for preliminary and final plat with P&Z and the city council. To submit comment on the application, email planner@victorcityidaho.com by 5 p.m. on Thursday, June 10. The public hearing will be held at 7 p.m. at the old Victor City Hall on Elm Street on June 17.