Photographers get unique chance to observe iconic valley species
With fall comes the migration of sandhill cranes through the valley, and in the evenings you can hear their primeval croak as they fly overhead. To celebrate their passage, the Teton Regional Land Trust is holding a week of workshops that lead up to the Greater Yellowstone Crane Festival, which will happen in the Driggs City Plaza on Sept. 15.
As part of the festival, Mary Lou Oslund and Linda Swope will host a free photography workshop on the evening of Sept. 11. Two landowners have granted TRLT access to their contiguous restored wetlands for the workshop. Participants will have the special opportunity not only to learn from two professional photographers and a naturalist, but also to observe the cranes and whatever other wildlife will inevitably traipse, fly, or float by, on private property not open to public access.
The two properties, both in conservation easements, make up a large chunk of uninterrupted wetlands, and also happen to have sweeping Teton views. TRLT executive Joselin Matkins took Oslund and Swope on a tour of the sites last week to show them where they'll lead participants.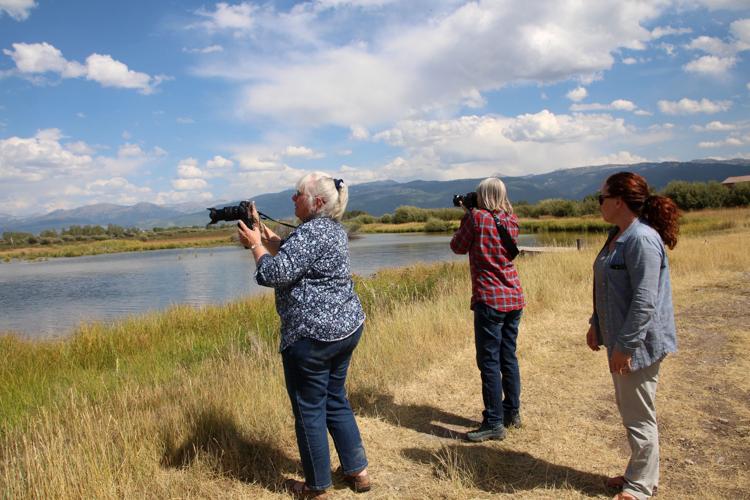 "It's like a mini wildlife refuge out here," Matkins said, surveying a marshy stretch of land hidden from South Bates Road. As if to emphasize her point, a flock of ducks exploded into flight from the water nearby.
There are only a couple public places in the valley where the viewing is this good: the Fox Creek East Access Area and on the river itself. (Matkins highly recommends floating the Teton from South Bates to Bates on a fall evening; cranes fly over in hordes as they travel from the barley fields west of the river to the ample wetlands east of the river.)
Wetlands are an important resource for cranes preparing to migrate south to New Mexico or Mexico. But it's not just the roosting ground that draws such a high percentage of the Greater Yellowstone crane population every year—it's also the nearby barley fields.
Those fields were once native grasslands where the cranes stocked up on calories before heading south. They've adapted to the emergence of agriculture and now barley cultivation is an essential piece of the habitat puzzle. That's why, Matkins explained, a big part of TRLT's crane project is preserving farms.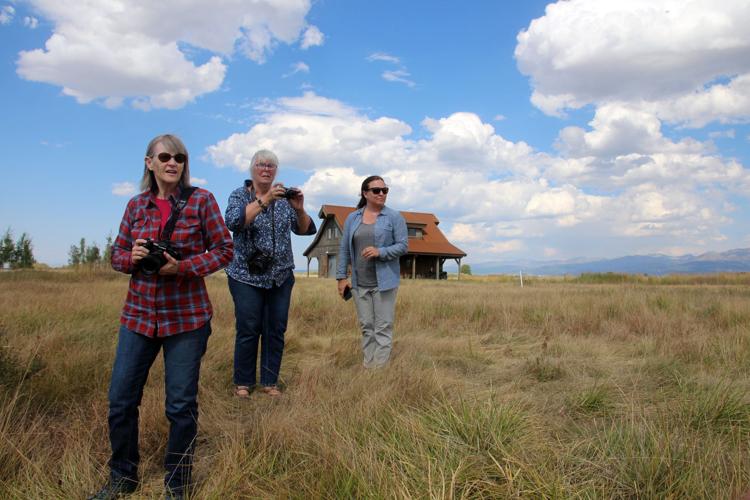 There will be some class time during the photography workshop but Swope said she'll be eager to get outside.
"We can still be teaching as we go," she said, and looked through her viewfinder at a distant crane. "Obviously we're hoping to spend most of our time out here."
Oslund said she and Swope have worked and taught together before, so Swope was the first name that came to mind for the workshop. They expect a range of interests and abilities but only have one rule: no cellphone cameras. Oh, and wear autumn-appropriate clothes and footwear. And be stealthy; disturbing the wildlife disrupts the experience for creatures and appreciators alike.
The workshop is capped at 25 people and is designed for ages 16+. Swope said the level of instruction will depend on who shows up.
"We might get passionate photographers with expensive high-end DSLRs or a bunch of bird watchers with point and shoots," she said.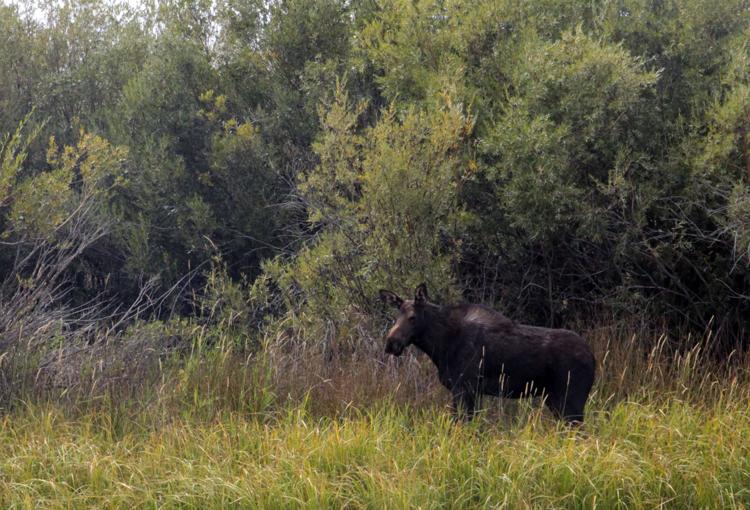 Not that there's any problem with point and shoot cameras. Oslund uses both, and said the benefit of a point and shoot over a DSLR is the ability to take panoramas.
On their site visit the photographers saw several groups of sandhills, their heads bobbing above the tall barley. Cranes have started trickling into the valley but will show up in force once harvest season begins; the cranes prefer to graze in fields that have been cut.
"They're tied to human civilization because they're tied to agriculture," Matkins explained.
TRLT has worked with Idaho Fish & Game and Intermountain Aquatics to plant 10-acre barley plots near restored wetlands, to give the cranes another food source and to draw them away from farmers' fields.
"That's the message of the crane project," Matkins said. "We want to keep the cranes, keep the farmers and the land, and encourage responsible development. The more that we put homes in the center of large agricultural operations, the more disturbance there is, so we want to keep famers on the land."
Cities around the world hold crane festivals, and the founder of the International Crane Foundation is interested in expanding festivals in the U.S. Matkins is currently on what she calls a crane road trip, vising other towns in the Rockies that host festivals.
"The idea for the festival is to raise awareness of this iconic species and our opportunity to conserve really treasured natural resources, wildlife, and farmland in the valley," Matkins said. "It's also about combining art, creativity, and nature, to bring out the essence of human spirituality and our capacity to find it in nature."
A donor who supports TRLT is also on the board of the ICF and provided the seed funds for the festival.
"It's great to see financial support so we can bring in a wider suite of community partners," Matkins said.
Those partners include the Hispanic Resource Center's Folkloric dancers, poet Matt Daly, plein air artists Sue Tyler and Susan Rose, nonprofit Dancers' Workshop, other conservation groups, and local food vendors. For a full rundown of festival offerings, visit tetonlandtrust.org/event/greater-yellowstone-crane-festival.