One of Teton Valley's biggest growing pains, the lack of affordable housing, was at the center of lively debate between community members and community leaders at the Teton Geo Center on May 25.
The panel consisted of Betsy Hawkins, executive director of the Community Resource Center of Teton Valley, Doug Self, the City Of Driggs community development director, August Christensen, the Driggs City Council president, and Shawn Hill, the executive director of Valley Advocates for Responsible Development. The panel was hosted by Brian McDermott, director of the Teton Regional Economic Coalition.
"Housing is, I think, the most significant impediment to a healthy society and a healthy community here," said McDermott.
He stressed the impacts that a lack of housing supply has had on local businesses' ability to hire help as the valley enters a potentially record-breaking tourism season.
"Why can't we find employees? Because the employees have no place to go," said McDermott.
With such an impactful issue at hand, the lack of affordable housing has shown itself prominently in the day-to-day lives of Teton Valley residents.
"In the last two weeks we have had six people say that I'm moving away, there is nowhere to live," said Hawkins. "A number of people are facing end of May evictions"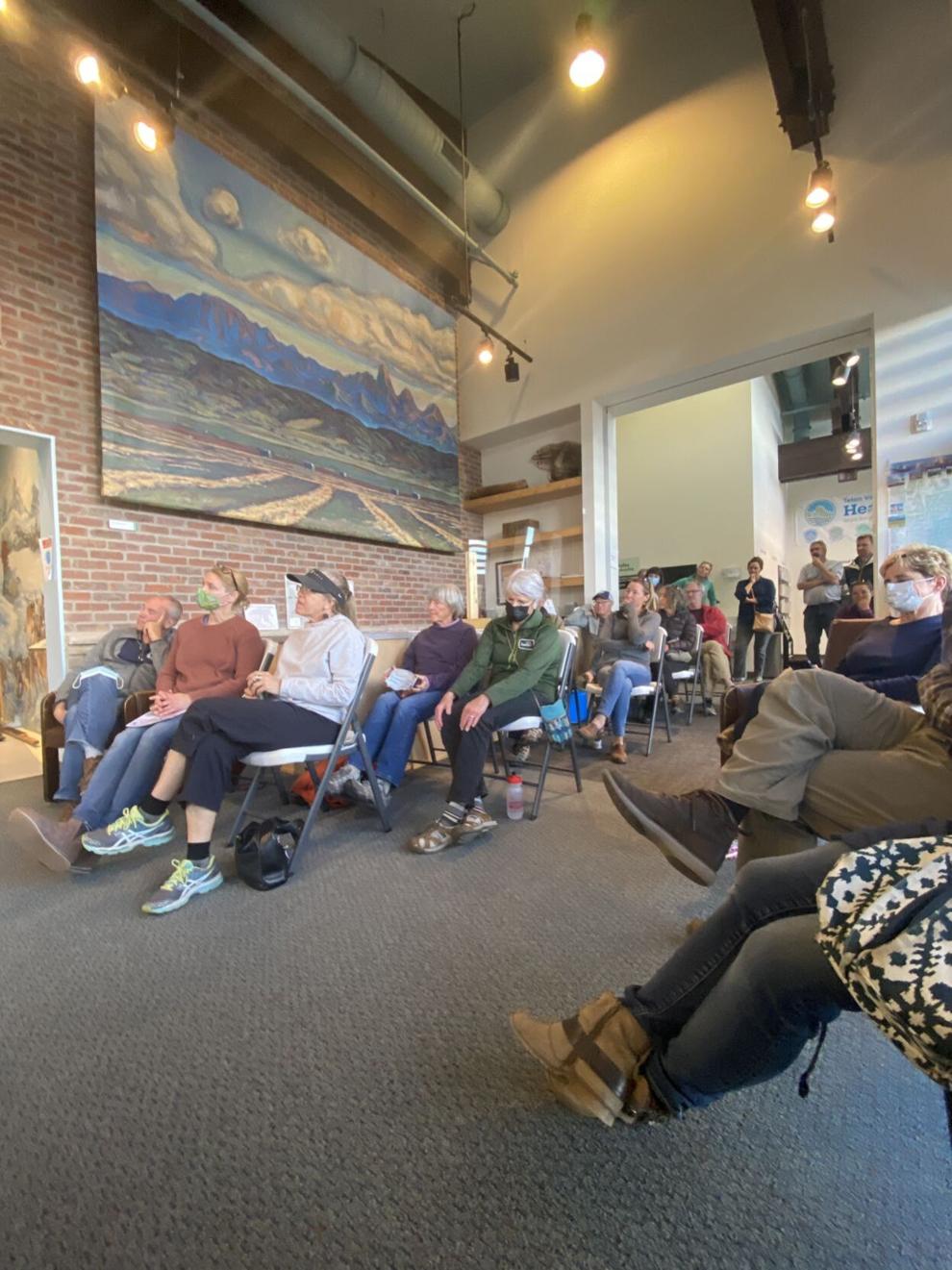 The reasons for displacement are just as divisive as the effects they are causing. On the CRC's "In Search of Housing" survey, respondents have an opportunity to explain why they are being displaced.
"All too often the answer has been that the property is being sold, or converted to an Airbnb," said Hawkins. "This is what they are being told by landlords."
There was a wide range of ideas and potential solutions that the panel presented to attendees. Strategies discussed included both short-term fixes and long-term changes.
Long-term housing availability has become so dire that finding temporary housing to get by in the meantime has become just as crucial as finding a long-term solution.
"Moving a family one month to the next is not ideal, but there are people who have good long-term jobs who don't have a place to go," said Hawkins. "So, yes, it's better than nothing."
Shawn Hill shared a perspective that focused on ownership in small mountain towns.
"In big cities, housing authorities or housing organizations are focused on housing the very poor," said Hill. "In mountain towns, housing authorities or housing organizations are focused on housing the middle class."
Hill helped assemble the Teton County Idaho Affordable Housing Strategic Plan, a document that helps determine how to go about fixing the supply and demand problem Teton Valley faces. It was authored using data from the last Housing Needs Assessment, done in 2014.
"What we decided to do is come up with a housing supply strategy in order to house the middle class," said Hill.
"This is based on the need presented in the last Housing Needs Assessment which was done in 2014," said Hill. "Since 2014 my guess is that the needs have gone up significantly."
The Housing Crisis Task Force, which Christensen formed in April after she learned of several valley families that were losing their rental homes due to real estate transactions, is trying to gather information from second-homeowners about their interest in offering short-term solutions to the housing crunch. The task force put out a survey, which can be found at driggsidaho.org/housingcrisissurvey
In an open letter to the Teton Valley News published on April 21, the task force pleaded for sympathy from local second-home and short-term rental owners.
There have been few results, but the results that have happened can inspire hope across the valley, said Christensen.
"I just recently heard of a story where somebody from these discussions that has a short term rental reached out to someone they know who is in need of long-term housing who has been displaced, and they offered them to long-term rent on a month to month basis until they find a longer solution," said Christensen. "I hope this story inspires others!"
McDermott stressed the motivation community leaders aim to have when talking about solutions.
"We're not about building wealth, we're about creating a healthy society where everyone has an opportunity and a decent income," said McDermott.