Lack of relocation options reveals valley-wide problem 
There are nine mobile homes that sit along Highway 31 just beyond the Willow Creek subdivision on a strip of land next to the Teton Valley Resort in Victor. Last Wednesday, residents returned to the neighborhood to find envelopes taped to their front doors with the word NOTICE in all caps.
"I asked last year, what were the plans that they had for us," said Jaime Mendieta, 51, as he stood in front of the home he's lived in with his family for the last 21 years. "They (Teton Valley Resort) said they had no plans for us."
On Wednesday, June 10, Teton Valley Resort management sent out what they said was a third notice for the residents of the nine homes to vacate the land that they have rented, many for over 15 years. Without rental agreements from either the previous land owner or Teton Valley Resort, community members said they have been paying $500 a month to rent the land. This rent was raised in 2018 by the previous land owner, Kip Blair, from $275.
General manager Keith Larsen provided the Teton Valley News with a copy of the contract that Teton Valley Resort holds with the owner of each trailer, passed down from the previous landlord, but he said the turnover is high in a few of the units and he isn't sure that every tenant is aware of those written agreements. The 90-day period given in the eviction notice came directly from those contracts, Larsen said.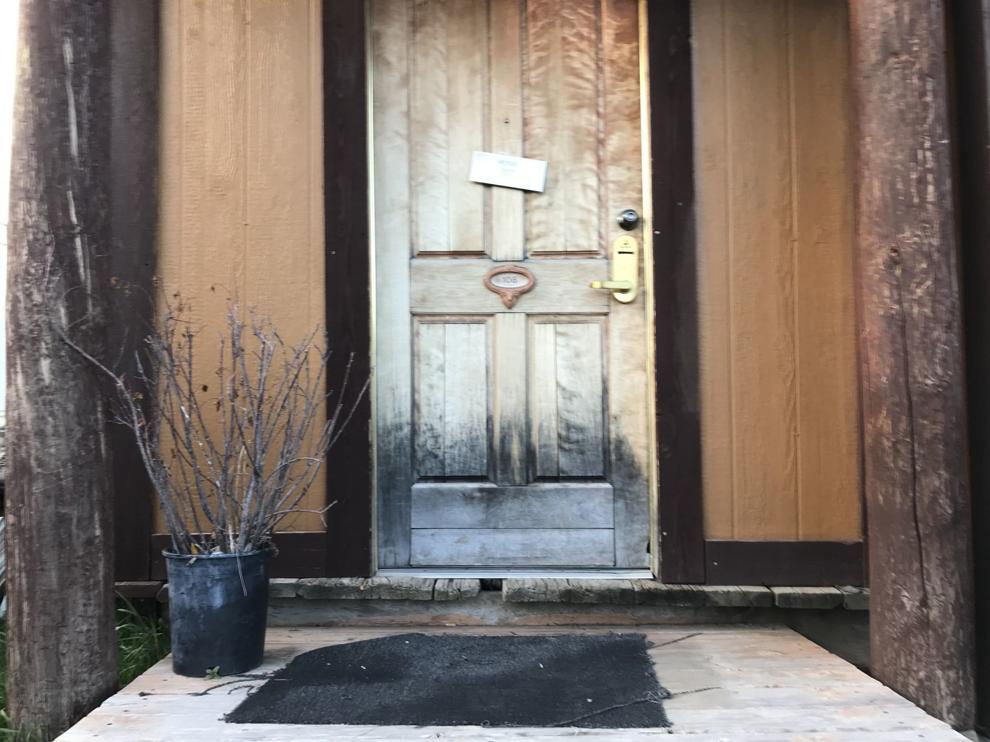 Mendieta walked around his home with his wife and 15-year-old daughter who will be a sophomore at Teton High School in the fall. She was born in this house, said her mother Fanny Cortes, 42. Mendieta said he knew that the new owners did not like the look of the neighborhood homes. They built a wall behind the homes to hide them from the RV park guests. Mendieta, proud of his place, said he made improvement to his mobile home in the hopes of showing the new owners that he took their comments to City of Victor staff to heart when the neighborhood was described by Teton Valley Resort owners as a "dilapidated, unsightly trailer court." He put in new floors, new drywall, and new windows, and is in the process of installing a new roof.
"They were never truthful with us," Mendieta said. "If they would have been honest, I wouldn't do all this," he said of improving his home rather than looking for another place to live.
Standing in his daughter's room with new windows and new curtains, Mendieta looked at his wife and she looked back with the same sense of shock that has not fully settled with both of them.
"They are really worried and angry," said their daughter of her parents. "I feel worried and scared we'll get kicked out and have no place to go."
"How come no one was telling us anything," asked Cortes. "The old owner said he would never sell this property, now…" she said, trailing off. "It's really sad, but that's our life and we have to get out of here."
The notice of eviction came in both English and Spanish versions. The notice indicated that this was the third and final notice, with a home visit and a mailed notice serving as the first two heads-up that the RV park was making a move to develop the land that Randy Larsen of Rexburg had purchased in early 2019. Mendieta and Cortes said they never received the first and second notices despite their addresses being correctly listed on Wednesday's notice.
Keith Larsen told the TVN he had attempted to serve the notices in person several times, but that the residents of the park seldom answered the door. He thought that they were probably all at work during the day.
On June 5, 67-year-old Mario Hidalgo walked over to the resort's main office with his son, a graduate of THS and the last remaining child of nine living at home with his parents. He and is wife are home all, most days given their ages and health. Hidalgo paid his rent and then asked the staff person if the company had any plans with their property. The staff said no, there were no plans with the property at this time.
On June 10, Hidalgo went back to the office at the resort to report that the water was not working in the neighborhood, a common issue he said. He came back to his home and the notice of eviction was taped to his door.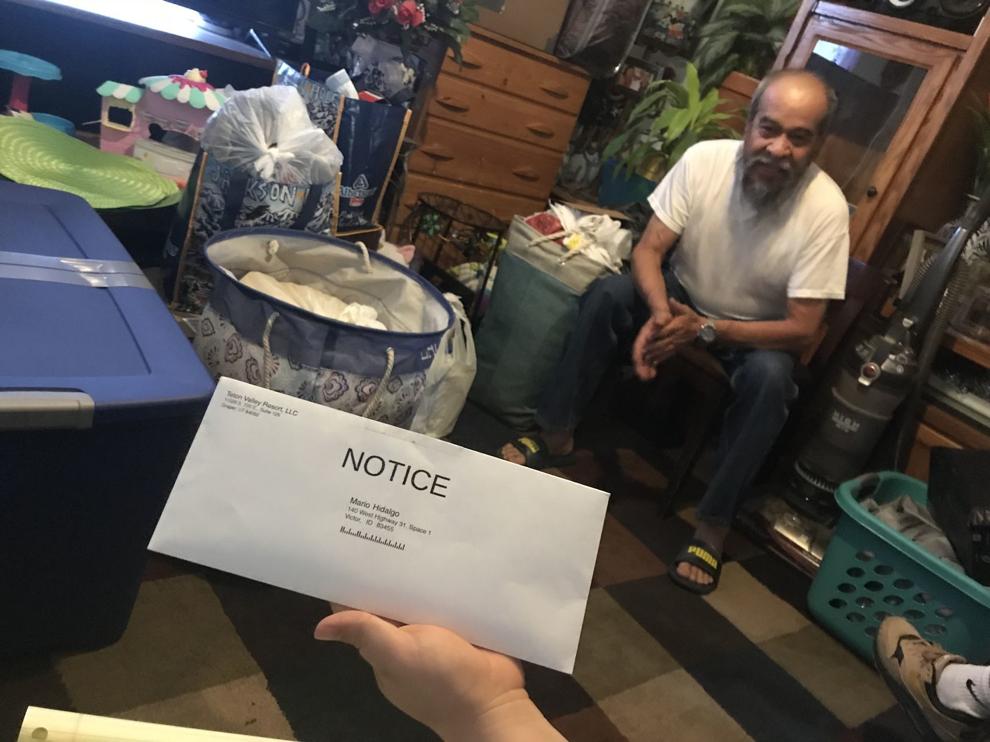 "It was a surprise," he said, sitting in his living room surrounded by house plants and too many framed pictures of children to count. "It was a surprise because we never expected it. We never thought they would ask us to leave so soon. That was the only letter." He and his wife Celerina Jimenez, 61, said they hadn't received of any kind of prior notice.
Jimenez said inside the envelope were two phones numbers to call, a Utah number for Spanish speaking residents and the cell phone of Keith Larsen. Hidalgo's son Dario Hidalgo, 19, called the Utah number, which was the number of a friend of Larsen's who helps him communicate with Spanish-speaking tenants. The man eventually called Dario back and offered phone numbers of moving services. Larsen said the number he provided is that of a local mover whose service is relatively affordable.
"Not having a home, is not having anything," said Dario, looking at his father.
Jimenez apologized for offering up her "troubles." "We come here to work really hard so we can survive," she says. "It's really sad to live this way, but there are no illusions about this way of life. A lot of families are struggling."
Hidalgo agreed and said that even if he finds a place to move, what about his neighbors? Could he leave them behind?
"If these were white families, this would be a different story," he said.
But if Jimenez, Hidalgo, Mendieta, Cortes and members of their family could ask for anything, it would be time. They all acknowledged that the law was the law and that they had to move, but more notice and certainly more time to uproot their lives after decades this neighborhood would be helpful.
Hidalgo waved off the suggestion of asking for an extension. "(Teton Valley Resort) already has their plans, they want to start construction."
Further down the neighborhood, a resident exited his car in front of the home he's owned for 20 years. He had a Community Resource Center of Teton Valley pamphlet tucked into shirt pocket. Representatives from the local nonprofit had been visiting with residents that day, offering their services for assistance. The man didn't want his name in the paper, but he was the only one in the neighborhood that evening, both on and off the record, who said he wasn't surprised to receive the notice.
"I expected it," he said. "I asked the new owners around December if they had plans for this property. They said no, but I didn't believe them."
The man said he didn't know what he would do next, but if there was anything that he needed he said that was time. "Three months is too soon," he said of finding a new place to move his home. "But that's what the law says and we have to do what the law says because to them, they are giving us time."
Resort manager Keith Larsen said he and owner Randy Larsen recognize the challenging position they've put their tenants in.
Larsen said it was a hard thing to do, serving the notices.
"They're good neighbors and good tenants," he said. "It's not my call though. I know what the owner wants to do over there eventually, and we thought it was better not to prolong it and then have to evict them in the fall as winter was coming. We're trying to be judicious, and the owner is concerned for their welfare."
Larsen added that he and Randy have been brainstorming ways to ameliorate their tenants' hardship, if they're unable to find housing in time. Larsen has spent weeks calling different land owners in hopes of finding someone who will accept a relocation of some of the trailers, at least the ones that are still movable, but hit a series of dead ends on that front.
The Larsens are considering the possibility of aid payments and plan to offer discounted short-term housing in the RV park to the displaced tenants. They also rushed the purchase of three large dormitory-style mobile homes as interim housing. Unfortunately, Larsen learned that city code does not allow those new units on the recreation-zoned resort property; the old mobile homes are not in compliance with the zoning but were grandfathered in.
Larsen is now looking into the possibility of hooking up the five-bedroom homes on an adjacent 12-acre county property that Randy also owns.
"We had hoped to have that wrapped up before we served the notices," Larsen said. "And we're open to assessing the situation if our tenants can't move in 90 days."
A Trailer Park By Any Other Name
The expansion at Teton Valley Resort was the topic of several Victor Planning & Zoning Commission meetings and Victor City Council meetings in 2019, as Larsen was seeking to rezone the property that included the mobile home park. Even though the application explicitly included references to removing the trailers in order to build more RV bays and rental cabins, the meeting minutes show that the inevitable eviction of nine families was barely discussed by the commission, council, or members of the public.
Starting on June 11, news of the eviction notices spread on Facebook and one concerned community member started a GoFundMe to help the families with moving expenses. Unfortunately there are limited venues for relocation of their trailers. If salvageable, the owners of the trailers could relocate them to an existing mobile home park, but there are rarely vacancies in those parks.
Cities in general have worked to whittle down the inventory of mobile home parks within their jurisdictions, and Driggs and Victor are no different.
Mobile homes are defined as transportable homes that don't meet the Housing and Urban Development Manufactured Home construction and safety standards passed in 1976. No new mobile home parks are allowed per Victor and Driggs city land use code, although there are some locations that operate under a similar lease-lot model. Many of those lease-lot properties, such as the Gemstone Subdivision in Driggs, are owned by the nonprofit Karl Johnson Foundation, which is not currently accepting lease applications. The Karl Johnson Foundation also operates some of the largest mobile home parks in the valley.
Former Victor city planner Brittany Skelton told the TVN last week that mobile home parks need to be destigmatized, because newer models can be some of the most affordable and environmentally friendly housing options available. The phrase "trailer park" has repeatedly been used as a pejorative by residents and Victor officials when describing the Meadows, a cottage court development of manufactured homes at the western gateway of Victor. Those 14 units were installed in 2018 and rent is $1,200 per month for a two-bedroom unit. The cottage court, which is closer to downtown than the Teton Valley Resort mobile home park and is visible from the highway, has received ample public vitriol, particularly from Valley Advocates for Responsible Development, which has said its mission is to ensure no more "eyesores" like the Meadows get through the development application process.
"If it's impossible for people to stay in a stable rental market for more than a couple years, a monoculture can develop in these recreational mountain towns," Skelton said, naming other destinations in Colorado and Idaho. "The more unstable a place becomes for its least resourced people, the more quickly the sense of community will erode for everyone."
The densest residential zones in Driggs and Victor allow single-family houses to be built on lots as small as 3,000 sq. ft, but that zoning only exists in a few locations in either city, mostly encompassing existing mobile home parks, apartment complexes, and already-developed single family residential neighborhoods. One new method of packing more homes into a small space is the cottage court, but the cities have strict design guidelines for those units that make them more expensive to construct than a mobile home park. The county does not restrict manufactured and mobile homes as long as the necessary permits are in place.
Both cities are in the midst of updating their comprehensive plans, which is an opportunity for community members to reflect on how much density they want to see in town. Driggs community development director Doug Self predicted that with Driggs' update, there will be expanded options for smaller lots near the downtown core.
The Teton County Joint Housing Authority is pursuing several housing strategies, including applying for a low income housing tax credit, encouraging people to build backyard cottages or garage apartments, and persuading the Karl Johnson Foundation to reengage with Teton Valley. However, none of those actions solve the immediate need caused by the displacement of the residents of the mobile home park.
No one in the neighborhood on Thursday evening talked about being offered short-term homes at the RV park as Larsen suggested in his interview.
The Community Resource Center had boots on the ground Thursday afternoon, said executive director Betsy Hawkins. The local nonprofit was doing its best to assess the needs of the residents and to determine the best response.
"This is our world." said Hawkins. "This is what we deal with all the time. And it's very, very, very unfortunate."
Hawkins said she and her staff are working to connect others who could help including the City of Victor and Valley Advocates for Responsible Development, and relying on the community to continue to raise funds to provide for U-Hauls and storage units. She said that what makes this situation unique is the fact that many in this neighborhood own their homes.
"It might be different if they had a contract," she said. "But they basically don't have any rights. We just want to extend our services. We don't have a magic bullet, but we want to support them through the transition."
On Friday afternoon, Teton County Sheriff Tony Liford said the situation in that neighborhood was "a nightmare." He said he would not be evicting anyone unless he had a court order adding that a notice from a landlord held no legal weight with his office. "And if this was happening in the winter, we wouldn't evict even with a court order."
Some of these interviews were conducted with the assistance of a Spanish-speaking translator, Monica Carrillo of the Family Safety Network.