Last Thursday, Jim Wood met with dog handlers Deb and Joe Hurlburt of the nonprofit Idaho Search & Rescue Dogs in the main parking lot of Horseshoe Canyon. Their mission was to find some rumored-of grave sites nearby, the resting place of a couple residents of the former coal mining town of Sam.
Wood has been researching Sam for ten years officially, with a plan to publish a book on the history of the ghost town, but it's been a passion of his since childhood. He was born and raised at the mouth of Horseshoe Canyon and spent much of his time exploring the old foundations and mine vent shafts in the nearby mountains.
Wood was a member of the local historical society, then moved to Rigby and joined the Upper Snake River Valley Historical Society, which he participated in for 15 years. He said he has followed his grandchildren across the region, which eventually led him and his wife Debbie to Twin Falls. He's still plugging away at his Sam project, however.
"There have been other things written about Sam, but we want to tell the personal side, what life was actually like living and working there," Wood said.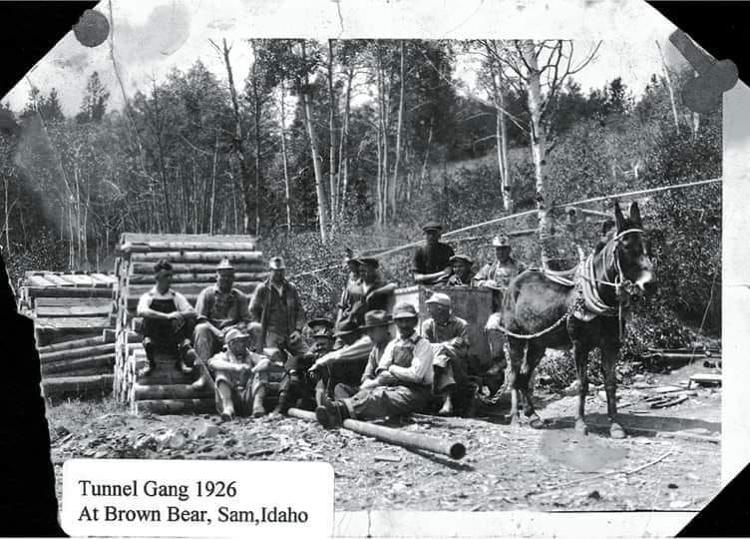 Around 20 years ago Wood interviewed two people who had lived or worked in Sam and kept a record of those conversations. One interviewee, who had attended the K-6th grade Brown Bear Mine school, told him that two people were buried in Sam—a casualty of a mine accident and a child who had drowned in the creek. Wood remembers as a kid finding two large, unusually placed rocks in the same area and wanted to satisfy his suspicion that the rocks, which have since disappeared, may have been grave markers.
That's what brought him to Horseshoe Canyon on July 30.
"I've been looking forward to this day for a year," Wood said.
He recruited the Hurlburts after reading an article about their plans to do cadaver dog work with the Oregon-California Trails Association and find emigrant graves in the City of Rocks area. They haven't been able to do that work yet because of COVID, but Deb said they might head down in the fall.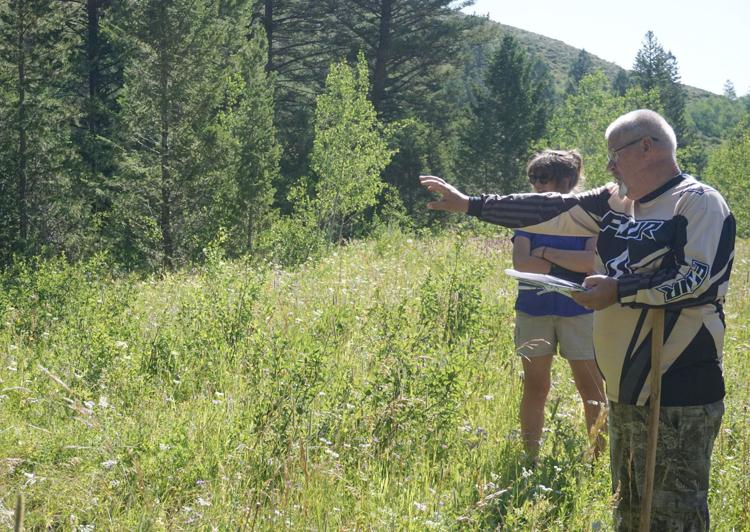 Without giving the dogs much indication of where the grave sites might be, Deb and Joe, as well as Lori Blackburn, a dog handler from Oregon who was in Teton Valley to participate in a seminar with the Hurlburts, separately worked the dogs through the area past the intersection of Old Horseshoe Road and Horseshoe-Packsaddle Road.
Each dog dropped down to the marshy area below the road, a result that Deb said was unsurprising.
"Scent behaves like water, and water acts as a sponge for scent," she explained. If bodies were buried in the bank above the creek, the scent of the cadavers would naturally seep into the water.
The dogs also consistently alerted in the same vicinity that Wood's research showed held the graves.
"Their whole body behavior changes when they're hunting for scent," Deb said. "They all conveyed to us in their own ways that there were human remains somewhere. It was very interesting and fun to watch."
The likely next step is to enlist people who use ground penetrating radar to search in a narrower area. Deb said that cadaver hunters in eastern Idaho are very fortunate to be able to call upon the significant resources of the Idaho National Laboratory.
Wood hopes that with the discovery of the graves, the local historical society can fundraise to mark, fence, and beautify the site. Another benefit of confirming the location of the graves, Deb said, is that if future cadaver work is necessary in Horseshoe Canyon, there will be a record of the pre-existing remains off Old Horseshoe Road.
"So often when we're called out to locate human remains, there's more of a somber tone," Deb said. "Being able to deploy dogs on these searches gives more levity to the event. It's nice to be used in these kinds of circumstances."