Upgrades considered at city hall
At the Tetonia City Council meeting on April 12, the council considered a request from the city staff to make some electrical upgrades to the aging building, which has limited outlets, old baseboard heaters, and insufficient power flow to the shop.
The existing baseboards have melted power cords and get in the way of furniture in the small administrative building.
"Honestly I'm scared to turn the heat up too high," city clerk Jacque Beard said. "I just run my little space heater all day." She added that running equipment in the shop regularly flips the circuit breaker.
The council okayed a quote from an electrician for radiant heaters, then proposed a more in-depth look into other possible improvements.
City looks to spend ARPA funds
The city staff and government then discussed where to direct the approximately $60,000 that has been allocated to the city through the American Rescue Plan Act. Around $17,000 of it has already been put toward the city's water SCADA (supervisory control and data acquisition) system, which helps public works director Braiden Klingler monitor and address system problems efficiently.
Klingler and Beard told the council that another $20,000 of those funds could go to a sewer SCADA and land app SCADA (to monitor the recycled water that is applied to leased farm land). The rest could be dedicated to upgrading the city's meters to radio reads. Right now around half the meters throughout the city have to be read manually, a time-consuming process for the public works director.
Replacing the meters does take additional man hours, but, as Beard said, "It would save a lot of staff time in the long term."
The council mulled over a few other uses, if any funds are leftover, like a project to improve the city's water lines by insulating them and eliminating dead lines. Also, Councilman Blaine Ball pointed out, the sewer lines could use a flush and a camera. "It's going to be expensive but it is recommended three to five years, and I don't know when any of them have been done," he said.
Food for Good comes to Tetonia
Starting immediately, Tetonia will have a distribution location for Food for Good, the Community Resource Center's food rescue program. From 4 to 6 p.m. on Wednesday at Tetonia Elementary School, anyone and everyone is welcome to come pick out food that is perfectly edible but a bit past its prime. The food is rescued from local grocery stores, bakeries, restaurants, gardens and farms; food that is past the point of freshness for human consumption goes to livestock or compost.
If there's leftover food after the Tetonia distribution, it will be saved and refrigerated at city hall to be picked up at residents' convenience.
Beard told the city council she was very excited to assist in the effort, and appreciated that the food is available for anyone to take, with no eligibility requirements.
City will celebrate Arbor Day
Next week the City of Tetonia will celebrate Arbor Day by planting donated shrubs and trees and offering free household garbage drop-off opportunities.
From Monday through Thursday, households can bring their trash and sorted recyclables to city hall to be taken for free to the county transfer station. Drop off on Monday and Tuesday is from 8 a.m. to 2:30 p.m. and on Wednesday and Thursday from 9 a.m. to 4:45 p.m.
On April 27 and 28, citizens are invited to join in a day of service and pick up trash around the city between 9 a.m. and 5 p.m. Garbage bags and gloves are available as a courtesy at city hall.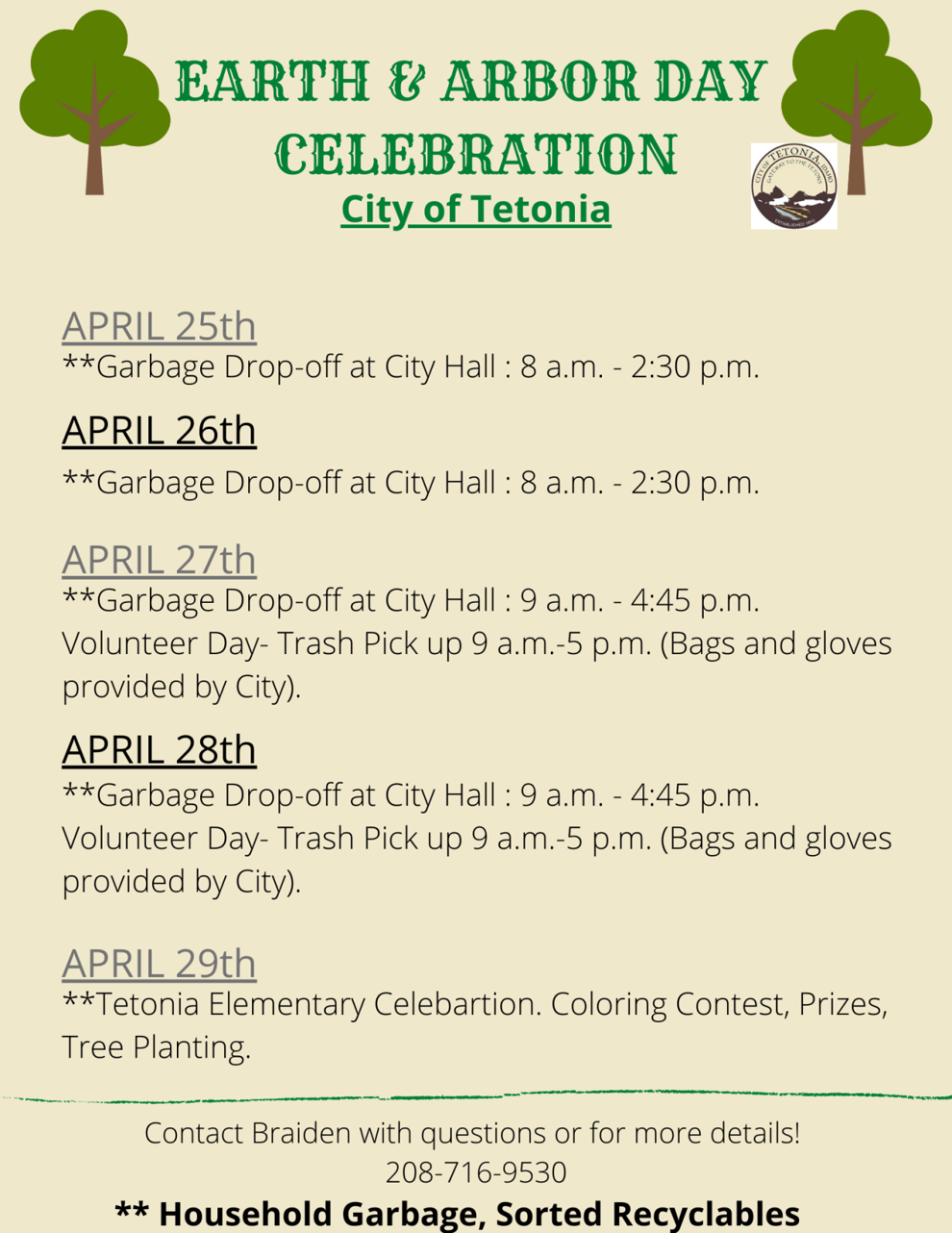 On April 29, Arbor Day, Tetonia Elementary students will take part in a shrub planting ceremony thanks to MD Nursery. With help from a $300 Idaho Nursery and Landscape Association grant, the city will also hand out Douglas fir seedlings for students to take home and plant.