Lars and Jennifer Magnusson of Blixt & Co, the local shooting reserve, have leftover game birds every season; sportsmen at the estate take what they want of the processed fowl and then the rest goes into the freezer. They usually donate meat to their church, but decided last week as the COVID-19 crisis unfolded to give out meat to anyone who wanted it.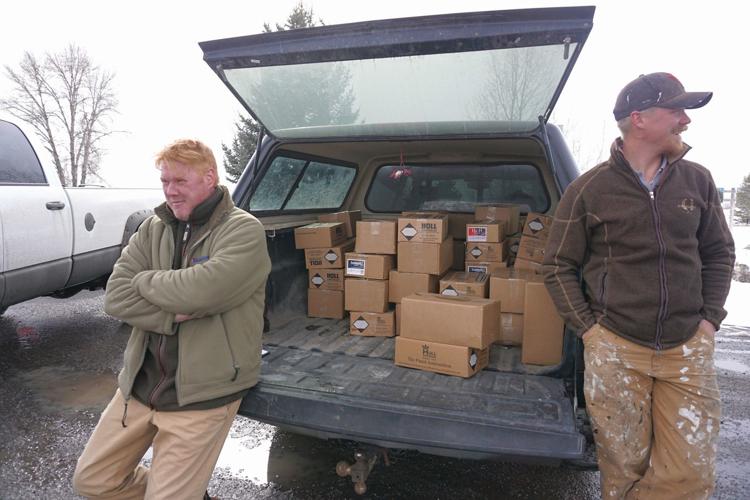 Lars and some of his team posted up at the pull-out in Tetonia giving out boxes of vacuum-sealed, frozen pheasant legs and partridge breasts. People trickled by, picked up some bird, and asked about the Blixt operation, and wondered how to cook game fowl. Lars recommended brining, braising, and grinding the bird to make rillette, a coarser version of pâté. Or, he added, he often shreds the meat for tacos. Just watch out for bird shot.
"I'm excited to see the recipes," he said.
Creative cooking is definitely one diversion during social isolation, so I thawed and brined some legs. I didn't own a Dutch oven so I texted my friend who has a well-stocked kitchen, and lo and behold, she offered me her extra one to keep.
I browned the legs in butter then sautéed some onions and garlic. I deglazed the pan with white wine then added carrots, potatoes, and shiitake mushrooms (not my first choice for this but I already had some dried on hand). I used the water from hydrating the mushrooms instead of stock, rested the legs on top, and put the whole mess in the oven for awhile.
As usual, I overcooked the bird but it was still flavorful, and the vegetables were exquisitely rich. I was lucky to have some crusty bread on hand, and a captive audience who couldn't be picky about what we ate.
I welcome more suggestions for cooking game bird.