I have always loved the shape of Idaho—so much more interesting than so many of our rectangular neighbors in the West and Midwest. Some have described it as a fist with the index finger pointing up. Lay it on its side and it resembles a handgun.
But Idaho wasn't always so distinctive. When Abraham Lincoln signed the act creating Idaho Territory on March 3, 1863, it was a large rectangle that included Montana and most of Wyoming. It was a fascinating journey getting to where we are today.
From 1849 to 1850, the southeast corner of Idaho was part of the large provisional State of Deseret (meaning "honeybee") established by the Mormons. But Congress was not fond of the Mormons and chipped away at their proposed state, giving portions to surrounding territories, including Idaho, and leaving what is now Utah, "the Beehive State."
Until 1863, Idaho was part of Washington Territory. When Idaho petitioned Congress to create a new territory, two competing versions of its territorial boundaries were presented to the Senate. The first was created by Lieutenant John Mullan and would have kept the Idaho panhandle and part of Montana in Washington Territory leaving southern Idaho and Wyoming as the new Idaho Territory.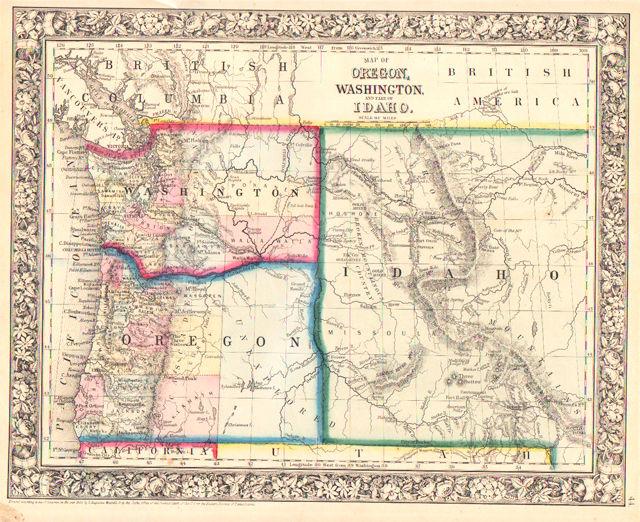 The people in western Washington were eager to get rid of present-day Idaho and Montana. Washington's territorial capital was in Olympia, but the discovery of gold in Idaho caused an influx of population further east. Eventually, Walla Walla became more geographically centered for the capital, but only if the Idaho panhandle was retained. Mullan owned property in Walla Walla and was working to establish it as the capital.
At the same time, Mullan's political rival, William H. Wallace, was promoting his own plan with the Senate. Wallace was Washington's territorial delegate to Congress and, as a resident of Puget Sound, wanted to keep the capital in Olympia. Wallace's plan gave Washington its current boundaries and created a very large new Idaho Territory that included not only all of present-day Idaho, but also virtually all of Montana and Wyoming. On the last day of the 37th Congress, debate went well into the night. After midnight on March 4, 1863, Wallace's bill was passed by Congress and later that day was signed by President Lincoln.
Mullan had hoped to become governor of the new Idaho Territory, but was again outmaneuvered by Wallace. Wallace was already a close friend of Lincoln and a fellow Republican whose plan had prevailed in Congress. Lincoln appointed him Idaho's first territorial governor on March 10, 1863.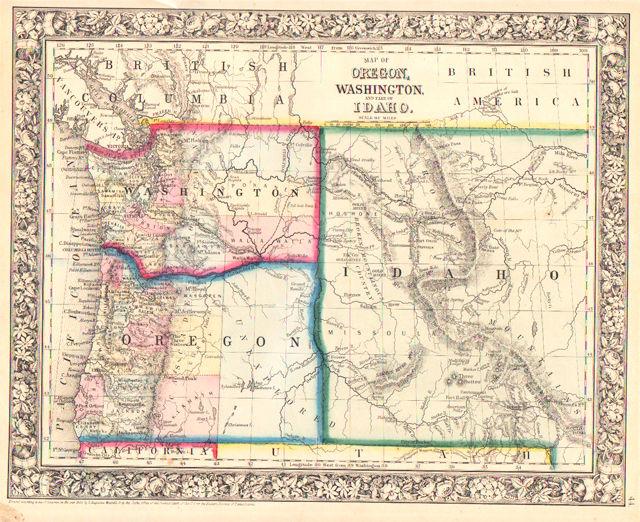 Lewiston, on the western edge of this vast new Idaho Territory, was selected as the capital. When the territorial legislature met in the winter of 1863, at least one delegate from present-day Montana, reluctant to travel across the treacherous Bitterroot mountains, journeyed all the way to the Pacific coast then took a boat up the Columbia and Snake rivers to Lewiston. It didn't take long for those first legislators to unanimously request their own territory. The very next year, Montana withdrew from Idaho Territory. Idaho wanted the Continental Divide to become the border between the two territories, but Montana's proposal to establish the Bitterroot Mountains as the boundary was approved by Congress before Idaho could even communicate its objection.
As we celebrate Idaho Day on March 3, we are reminded that Idaho's boundaries were determined by greed, power, politics, and discontent, but also perhaps by the same Divine Destiny that formed this great nation. We may live in two time zones, but one state. We may be separated by steep mountains and deep canyons, but joined in purpose. We are One. We are Idaho.