At a Town Hall meeting on August 10, 2015, nearly 50 concerned citizens filled the room in the Teton County Commissioner's Chambers for a 2-hour Q&A session on the Packsaddle Road proposal. Representatives of the landowner assured the public repeatedly that there was no development plan for the 4,500 acres to be serviced by the new gravel road, but still, it was clear folks were anxious about the development endgame. Will the property be carved up into 20-acre ranchettes? Could it become another major golf course development like River Rim?
The Packsaddle Road proposal struck fear into the hearts of many because the rural character of Teton Valley is not only part of our shared heritage, but also key to its economic vitality. Teton Valley's existing character and charm is what makes it unique; it is the reason why most of us live here, and it represents the proud heritage of the valley's homesteaders and their descendants.
Our economic destiny lies in our ability to preserve the things that Teton Valley special. Moose, elk, bears, and other wildlife wander through the valley and up into the world's most famous national parks. The Teton River and its tributaries provide some of the best fishing on the planet. Fields that roll up to the the iconic Teton peaks is a scene that cannot be found anywhere but here. Outdoor recreation opportunities are limitless, with world-class skiing, hiking, and biking being located right out our back door. The more we embrace the things that make Teton Valley special, the stronger our economy will become. To do this, it is absolutely essential that we produce a Land Use Code that is transparent and predictable in achieving these goals.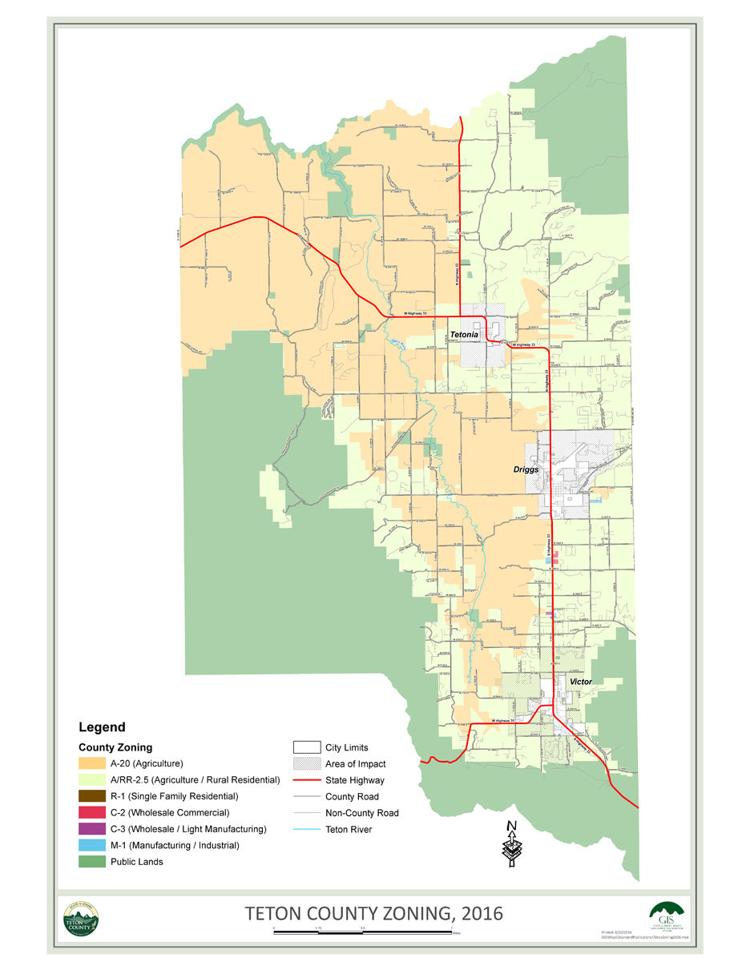 Transparency and predictability will also provide security and protect property rights. If you have ever bought a home or property, then you know how important it is to understand what can and cannot happen on lands near your property. This is essential to securely enjoying your property rights and maintaining property values. If we ensure that the vision for the specific areas in the Comp Plan are held forth in the code, we can make certain that our valley's character — and our property rights — are protected. This, in turn, will help create a stable real estate market, as land is more marketable and valuable when there is predictability in terms of what can and cannot be built next door.
Large tracts of land are necessary for viable farming and ranching, and large-acre zoning is necessary to promote farming and ranching. However, agriculture in Teton Valley presents many challenges, and sometimes farmers and ranchers need to sell off a homesite or two in order to stay afloat, especially during low crop yields or fluctuations in commodities markets. At the same time, we must remember that the purpose of selling a homesite in rural areas is to promote farming and ranching - not large scale development. If large development is proposed - it should be reviewed as such through the proper channels. Approvals of conventional subdivisions can be quite burdensome for landowners, and other options should be available for large land splits that allow agriculture to flourish. If farmers and ranchers want to get out of the business, they should be able to sell their land in a strong real estate market. Preserving Teton Valley's agricultural heritage is key to maintaining this strong, stable market.
So how do protect Teton Valley character and a strong real estate market? The answer is by adopting a Zoning Map and Land Use Code that reflects the "character mapping" in our Comprehensive Plan. Current zoning of 2.5 and 20-acre zones are spread haphazardly throughout the valley does not reflect its unique characteristics. The "Framework Map" in the Comp Plan, however, was created to reflect the unique characteristics of Teton Valley, such as the foothills, the river bottoms, and the large farms and ranches in the northern and western parts of the valley. New zones, such as the Foothill, Agricultural Lowland, and Rural Area zoning districts, were created in the draft code to reflect the Comp Plan framework. In addition, "Waterway Corridors" were included in the Comprehensive Plan to protect the sensitive environments of creeks, wetlands, streams, and rivers.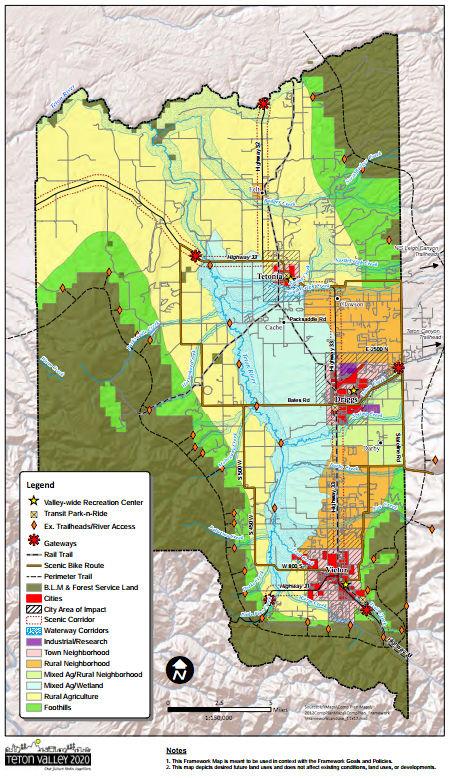 In these districts, the Comprehensive Plan clearly recommends low density development. This is not only seen as a way to protect the character of these lands, but also to maintain a stable real estate market. By keeping rural lands rural, we can protect our cherished agricultural heritage, but also create narrowly-tailored land-splitting options to enable the continuation of farming and ranching without destroying the character of the valley. Rural zoning districts in the Land Use Code that truly seek to preserve agricultural and allow low-density residential development will promote economic development, rural heritage, natural resource, and other goals in the Comprehensive Plan.
For more of a detailed analysis about about the Foothill, Agricultural Wetland, and Rural Agricultural, and other Comp Plan areas, visit VARDdecodingthecode.com.