This Monday, Teton County began work to repair and stabilize the Cache Bridge over the Teton River. The project will close a section of 4000N starting on July 13 and is expected to go through the end of September.
The concrete bridge, one of only four over the Teton River that the county maintains, was built in 1956. The Idaho Transportation Department inspected the bridge in 2013 and found it to be structurally deficient because of concrete cracking on the deck and piers, as well as erosion and scouring of the abutments.
In 2014 the county was awarded a local highway technical assistance council grant to rebuild the bridge deck. Then the project sat in the LHTAC queue, until the funding cycle came around this year. Public works director Darryl Johnson, who wasn't even employed at the county when the grant was awarded, has been shepherding the $500,000 project through the evaluation and design process. The county contracted with Stanley Consultants for engineering and inspection and Cannon Builders for construction.
Work started this Monday, July 6.
"We had to let the water come down before we started," Johnson said. "The construction window is pretty small in this part of the world."
The closure of just a short section of 4000N, a major collector road, will necessitate around a 10-mile detour. There will be multiple ways to bypass the closure; drivers can use roads that hug the Big Holes or Old Rightaway and 6000W to Bates as the southern reroute. Highway 33 will serve as the northern reroute.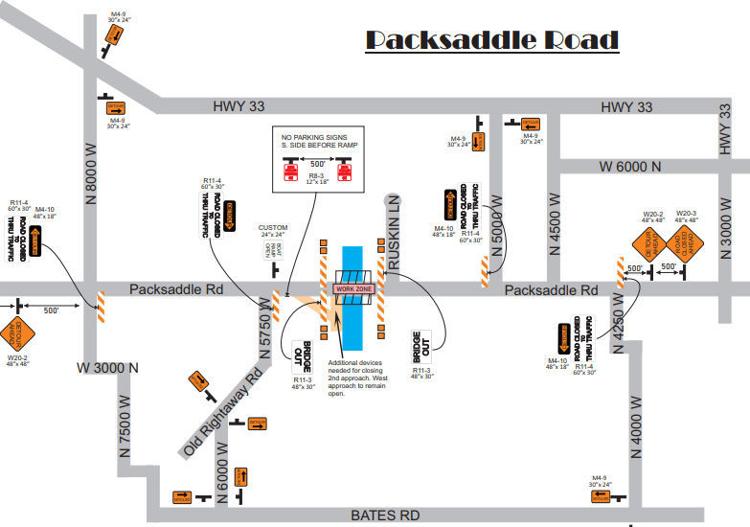 Johnson acknowledged that the bridge closure will be inconvenient for residents of the Packsaddle area as well as recreationists and farmers seeking access to the Big Holes or the fields west of the river. Before the school year starts, the school district will revise its bus routes that are impacted by the closure.
There will be signs posted at all the boat ramps above the Cache Bridge warning of construction. During the majority of the project, boaters will be allowed to pass under the bridge; the contractor will provide notice at access points on the days when that passage is closed.
"While we're pouring the bridge deck we don't want to run the risk of falsework falling on boaters," Johnson said.
The road is scheduled to reopen by Sept. 30. Project updates will be available on Teton County's website.