Driggs auto shop selected for Glacier National Park bus restoration
Winslow Bent, the founder of Legacy Classic Trucks, loves to ponder the history of old American trucks in Teton Valley.
His Driggs-based business specializes in the restoration of antique trucks, including Dodge Power Wagons, a truck produced from 1945 to 1980 and one of the first four wheel drive vehicles available to consumers.
As a car enthusiast and hobbyist mechanic, Bent would go to car shows in the 1990s and 2000s and leave unimpressed.
"What story does a Corvette have?" he wondered. "Not much of one. The truck is uniquely American and tells the story of this place all through the last century. Old timers in the valley used to do crazy things with their trucks."
Fifty or sixty years ago, Power Wagons and other trucks were the best bet for driving into fields to feed stock during the winter or running phone lines from Newdale into the valley. "It's fascinating, whether it was building dams or logging or farming or ranching, it was all done on the backs of old trucks," Bent said.
He would see those same trucks rusting in fields, engines teeming with mice, cushions rotting away, and windshields shattered by bullets. Now he collects the salvageable ones and brings them back to his shop on Rocky Road Industrial Loop south of Driggs.
Each truck has its own unique and sometimes strange story; Bent has found moonshine bottles in a truck from Dubois, Wyoming, and while disassembling a WWII army truck he unearthed a German harmonica that had been lodged between the dashboard and the windshield.
A Wyoming resident, Bent was managing restaurants when he was abruptly laid off in 2008 following the economic downturn. He decided to restore a Power Wagon in his garage in Wilson, and made a bit of money when he sold it. Per his wife's request, he moved operations out of the garage, first into a shop south of Jackson and then in 2012 to the current location in the industrial park across the highway from the Spud.
Now Legacy Classic is eyeing expansion. Working with Northworks Architects and Shaw Construction, Bent plans to build a large retail space and additional shops closer to the highway, just off the frontage road, with the hope of encouraging foot traffic, selling soft goods and limited edition items from local craftspeople, and offering a new event venue for the community.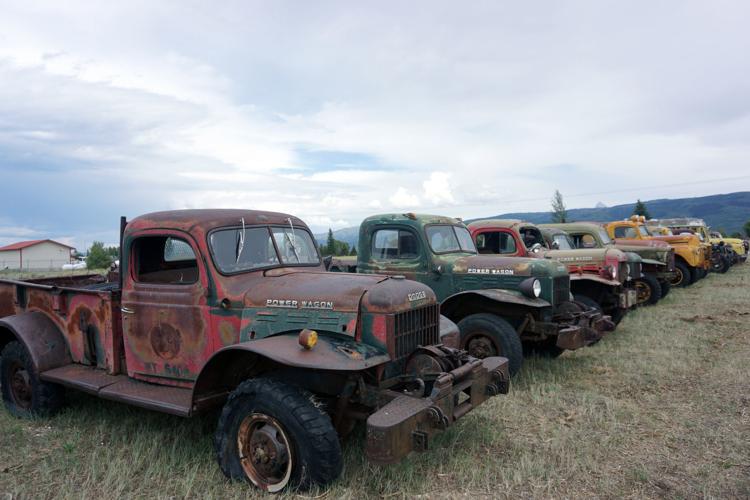 The Teton County Planning & Zoning Commission will provide scenic corridor design review of the new building plans on Aug. 13 at 5:15 p.m. at the county courthouse.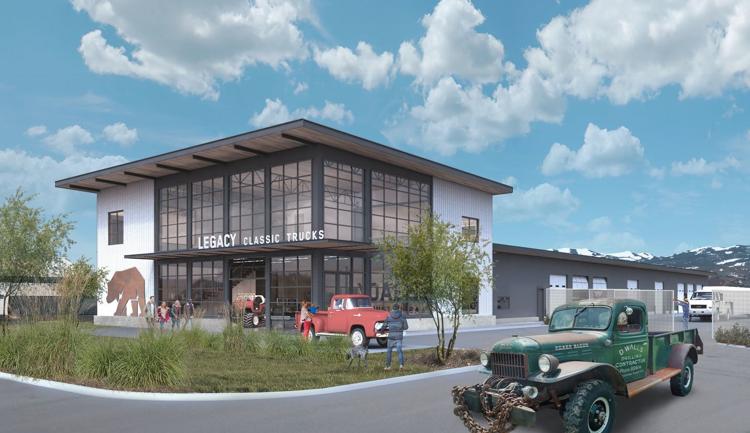 That expansion is partly prompted by a big project in the pipeline: Legacy Classics was selected by the concessionaire Xanterra Travel Collection to rehabilitate Glacier National Park's iconic fleet of red White Motor Company buses. The 33 buses, manufactured between 1936 and 1939 and last rehabilitated in 1999 by Ford Motor Company, make up the oldest continually operating motor fleet in the country.
Bent was chosen two year ago as a consultant to guide the fleet's next restoration, and then decided to make a bid for the project. Each bus will be fitted with an electric hybrid system that was designed at Legacy Classic to reduce fuel consumption and emissions during the routine trip up and down the Going-to-the-Sun-Road in Glacier National Park.
"It's a tremendous honor," Bent said. "At the same time, you'd have to be nuts to work on antique buses. It's totally time-consuming."
He explained that the White Motor Company made its bus frames out of wood with aluminum hammered onto it. That wood needs to be replaced by hand. Everywhere on a bus where aluminum touches stamped steel pieces, electrolysis causes the paint to bubble and flake, so those layers need to be separated by zinc. It can take up to 1,000 hours of labor just to prepare a bus before the shop can start restoring it.
Legacy Classic will receive six buses each fall for the next five years, and after expansion, the old shop space will be dedicated to bus storage.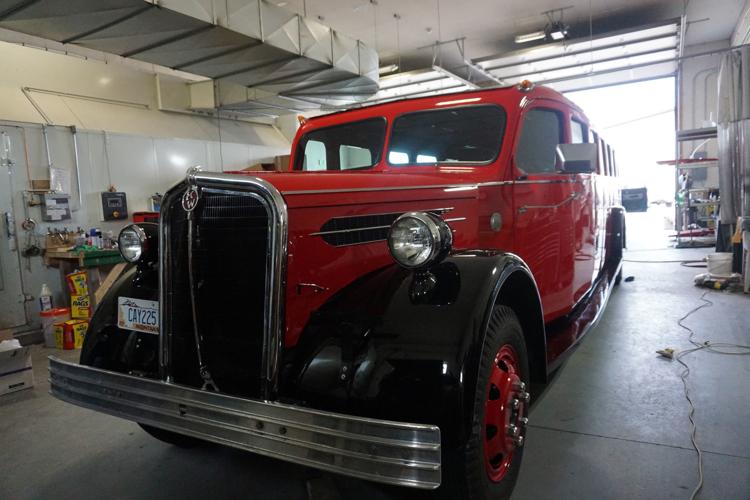 In the mean time, Legacy Classic has a long wait list for its custom resto-mods. Resto-mods are vehicles with classic bodies that are updated with modern engines, brakes, suspension, and electronics for a comfortable driving experience. On a Power Wagon, Bent estimated that a full conversion takes around 3,000 hours, "enough to frame out a decent house," and that's why they cost several hundred thousand dollars. It's 1,000 hours to convert the original two-door truck into a four-door and expand the cab, another 1,000 to do the body work and paint, 500 to upgrade the suspension and brakes, and 500 to redo the interior with custom leather, carpet, and fixtures.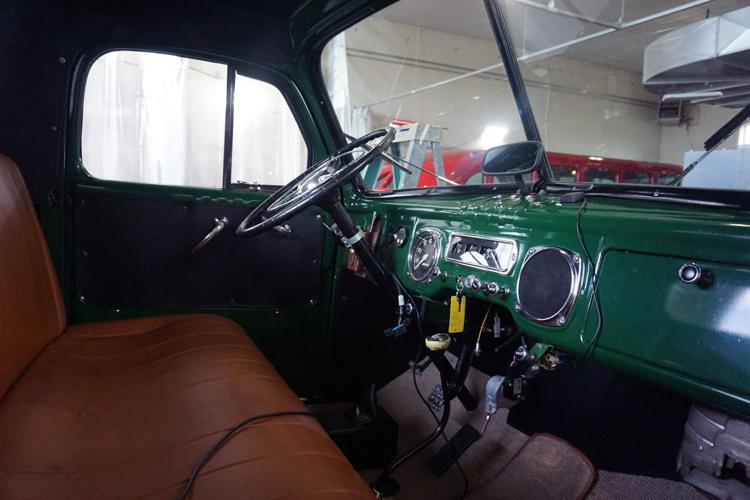 First, in the chassis fabrication shop, mechanics build the truck up with modern pieces as a proof of concept, to make sure everything is compatible. Then they completely disassemble it for paint. The final rebuild happens slowly, carefully, with extra attention to detail. While Bent doesn't have time to work on trucks much anymore, he does personally drive each vehicle 500 miles before it goes to the customer. As a reverse commuter, that means Bent takes each vehicle over Teton Pass from his home in Wyoming to work in Driggs, and he said there's no better proving ground for an automobile than Teton Pass.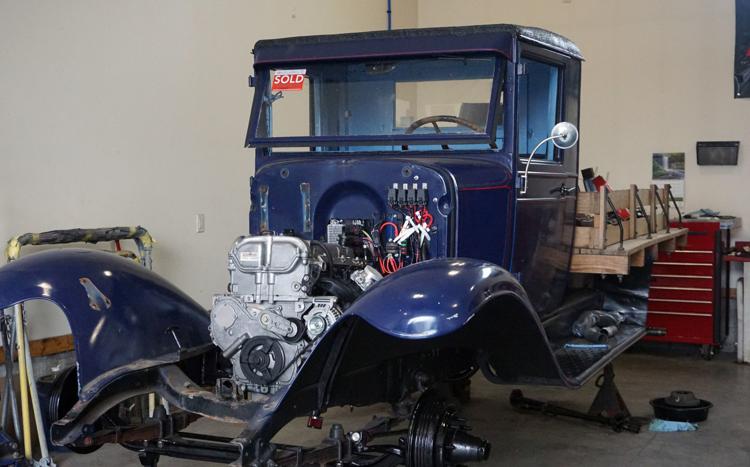 With a two-year wait list for some models and more than a few ultra-rich and celebrity clients, Legacy Classic has kept a low profile in the valley. But now that the ten-year-old business seeks to expand, Bent said he wants people in the community to know what's happening behind those garage doors.
"I don't own a $350,000 truck," Bent said. "I realize that they're super expensive. But I want everyone to check out what we're doing and appreciate the history of these trucks. I'm proud of what we do."