Late Bloomer Ranch will serve as farm incubator
Corinne McAndrews started farming by accident.
She describes her younger self as a lost soul who wandered into a WWOOFing gig in Spain (World Wide Opportunities on Organic Farms is a network that promotes farm stays in exchange for labor) and "kind of hated it," but after the experience she couldn't stop thinking about farming.
"It planted the seed, if you'll excuse the pun," McAndrews said. She enrolled in Prescott College's agroecology program and worked on farms every summer in Arizona before moving to California, where she eventually started her own business. Then a wildfire nearly eradicated her vegetable farm.
"That fire made it so indisputable that it was time to leave," she said. "I wanted a place where the pace of life and food culture was different, a place with water and seasons."
Her father lives in Wilson, so she was familiar with Teton Valley.
"I was really interested in where the local food scene was, because it feels like it's about to burst wide open," she said.
In January of 2019 she started looking for land to rent or buy. Her first stop was the old Full Circle site behind Mountainside Village, and while Full Circle owners Erika Eschholz and Ken Michael were supportive and helpful, it wasn't enough space and was limited by city zoning. Eventually she landed on a 66-acre property across from the animal shelter east of Driggs, abutting Teton Creek.
There, at Late Bloomer Ranch (so named because both McAndrews and the flowers that thrive in the Tetons take some time to grow) she is raising pigs and chickens, but harbors dreams of much more: an agricultural incubator where small farmers can experiment and grow their businesses without big up-front risks and costs.
McAndrews explained that she had to overcome some major hurdles, particularly in securing a USDA loan, that she hadn't anticipated, despite over a decade of farming experience.
"At an incubator, people can have their own taxable business from day one, and have a proof of concept and modest income to present to the USDA," she said.
There are also economies of scale realized by bringing producers together, not to mention the fostering of new ideas.
"You always hear stories about aging farmers and major farm consolidations," McAndrews said. "How are we going to make it easier to farm, not just for the people who have the support of their families or who inherit land? I've had some amazing mentors who are second or third generation farmers, but we also want to see fresh faces in agriculture, more folks with new ideas."
She has joined the Teton Food and Farm Coalition, a group that connects farmers, food processors, distributors, restaurants, and nonprofits to strengthen the local food economy. In building a more resilient local food economy, McAndrews said that consumers benefit as much as producers, when local products are available and affordable in stores as well as at weekly markets.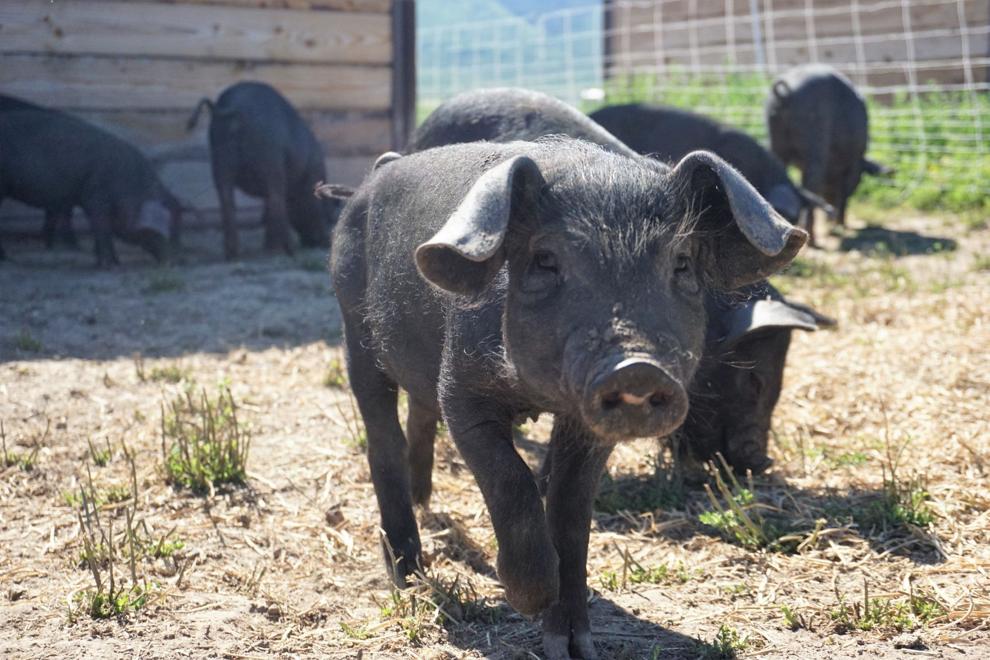 Part of the farm incubator model includes employee housing on site. That's why McAndrews has applied for a conditional use permit with the county that would allow a "campground" of seven tiny homes or Airstream campers on the 1.15-acre northwest corner of the property.
The Teton County Planning & Zoning Commission considered the application on July 14, but tabled it and requested more information, including clarification on the style of units and a wildlife study, which McAndrews is now pursuing.
The partners of the Teton Creek Corridor Collaborative weighed in, expressing concern about the impact a short-term campground near the creek could have on the riparian habitat and wildlife migration corridor that the group has spent millions of dollars to restore and preserve. Part of their concern is that a CUP stays with the land, meaning a future owner would be entitled to build a large commercial campground, for example.
While McAndrews did apply for a campground, she explained she's only seeking that conditional use because it's the best fit to accommodate trailers and tiny homes on wheels. She clarified that Late Bloomer Ranch won't be a commercial campground or intended for tourists looking for a short stay.
She added that on the Teton Creek Corridor website, the partners state that the Teton Creek pathway will "connect local families to nature and the Valley's agricultural heritage, and providing economic benefits for the entire community."
"Our only intention is to be aligned with this vision, not in opposition to it," McAndrews said.
She added that providing on-site housing met her values and those of the county comprehensive plan by decreasing the carbon footprint of farm commuters, providing affordable housing, and fostering diversified agriculture.
"These aren't new ideas, they aren't my ideas," McAndrews said. "We can't think about food issues and sustainability without thinking about affordable housing and generating new businesses. We need to think of the people who are left out of access to land and capital and farming. In ten years, success for Late Bloomer looks like a growers' co-op, some former incubator farmers who have become permanent partners, more land, more people, a consistent supply of products sold from Bozeman to Salt Lake City, a price point that doesn't make you want to cry, and supporting real people with families by giving them good wages and health insurance."