When you imagine an animal acting like a full-on diva, what sort of critter comes to mind? Perhaps an aloof cat, only doling out affection when her bowl is empty. Or even a bird, constantly preening and admiring himself with adoring chirps in the mirror.
Your first thought probably wasn't "goat." But if you get to know the cadre of critters at Winter Winds Farm, owners Mark Farmer and Jessica Konrath are confident that you'll quickly be able to determine which of their 70 goats are assured of their own diva status.
"Goats are extremely smart and extremely social animals," explained Mark. And like many other four-legged individuals, the goats have a variety of personalities. "Goats have a complex social hierarchy," added Jessica. "And within the group there are about ten who are just steadfast workers and natural leaders."
These leading ladies are key to the daily routine around the farm. They're the first to fearlessly pop into the milking parlor for daily milking during productive months, and their willingness to lead the way minimizes hesitation among the rest of the herd. Some have a reputation for being "chatty," and others are the welcoming committee: first to greet a visitor with friendly, nosy nuzzles.
Mark and Jessica bought the Winter Winds Farm in Teton Valley in May of 2020 when they relocated from Washington, D.C., acquiring 8 acres, 60 goats, and an already-flourishing artisan goat cheese business. They've since added about ten more goats, and are looking forward to the arrival of a gaggle more "kids" in April. "Each mama goat has one to four kids," Mark explained. "We're expecting anywhere between 90 and 120 kids this spring."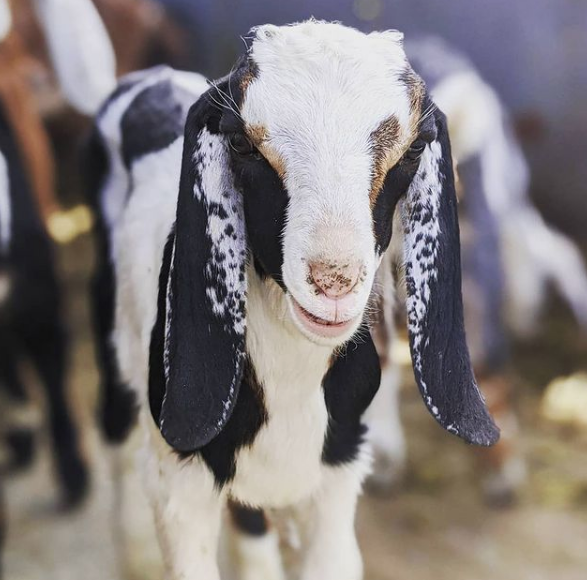 And, because these goats benefit (like dogs) from socialization — not to mention that having confidence in humans makes Mark and Jessica's jobs much easier — they're looking forward to inviting visitors to the farm in May to pay the mini-goats some attention. "It's really important to us to have the farm really be a part of the community. We love the goats, and we want other people to as well. And we absolutely want to use this as a great educational opportunity," said Mark. The team relishes the chance to give locals a better understanding of where their food comes from, and how the connection to the animals and earth are central to the farm's success.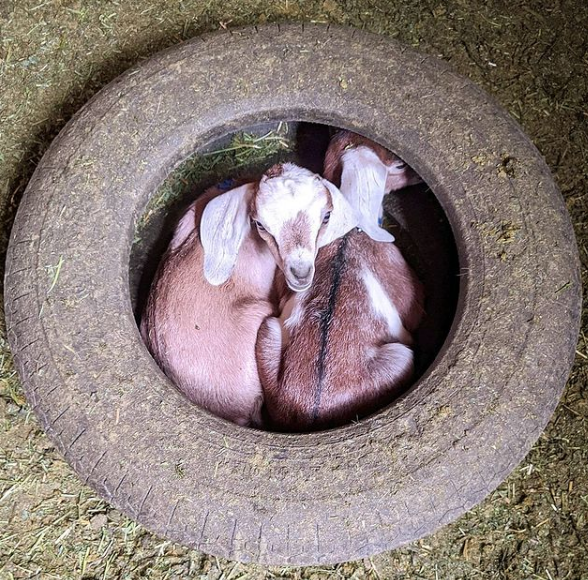 Each year, the group of new kids are named according to a theme; past cadres have been dubbed in honor of snack foods, actual divas, states, and other less-expected groupings, too. Mark and Jessica know each goat by name, and — though you probably shouldn't mention it to the other goats — have their own favorites.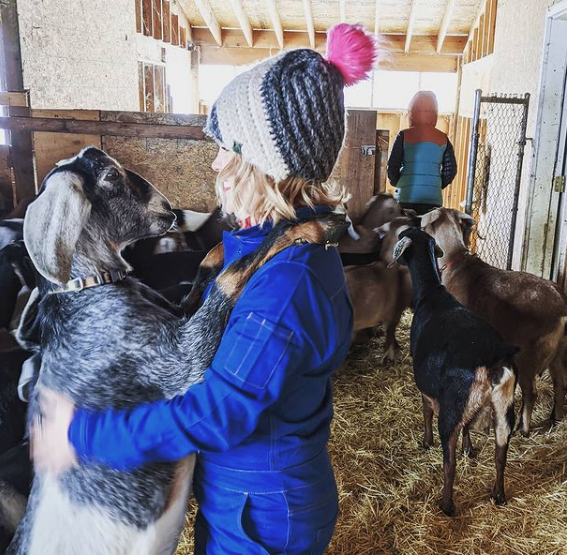 When you visit the farm, they said, you're most likely to receive enthusiastic greetings from Donut and Mary Kate. "Mary Kate loves attention. She's just the sweetest, most affectionate goat," laughed Jessica.
While the goats are the biggest gang of critters on the Winter Winds Farm, they're hardly the only ones. Two fluffy, bright-eyed orange cats serve quite honorably in the roles of pest regulation. Jack, who is about five, came with the Winter Winds Farm when Mark and Jessica bought it. Known as "The King of the Goats," Jack greets colder weather by snuggling with his goat compatriots. More than once, he's been seen in full lounge-mode on a goat's back.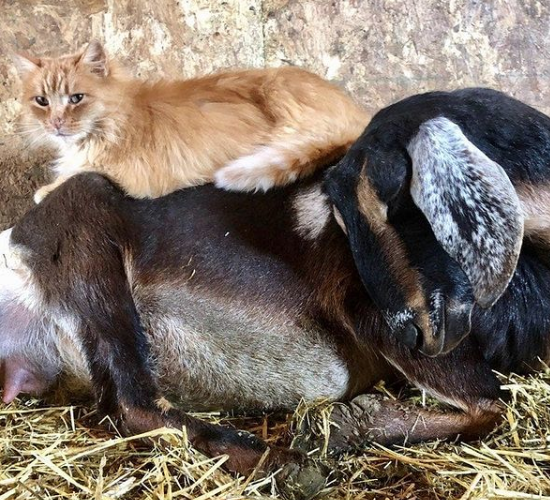 Hot Cheeto, the more recent addition to the feline pest mitigation squad, also relishes his role in keeping mice to a minimum. Splitting his time between patrolling the pastures and barns, and enjoying the warmth of the couple's house, he enjoys the best of both indoor and outdoor worlds. "The cats absolutely help keep the farm as clean as possible," explained Mark.
Additionally, the crew enjoys the unwavering enthusiasm of Blossom: the canine Chief Morale Officer. Mark and Jessica rescued Blossom just prior to their move west, bringing Blossom from a high-kill shelter on the east coast to a new life in the mountains of Idaho. Like the cats, Blossom is not only helpful around the farm, but contributes plenty of affection to the human occupants.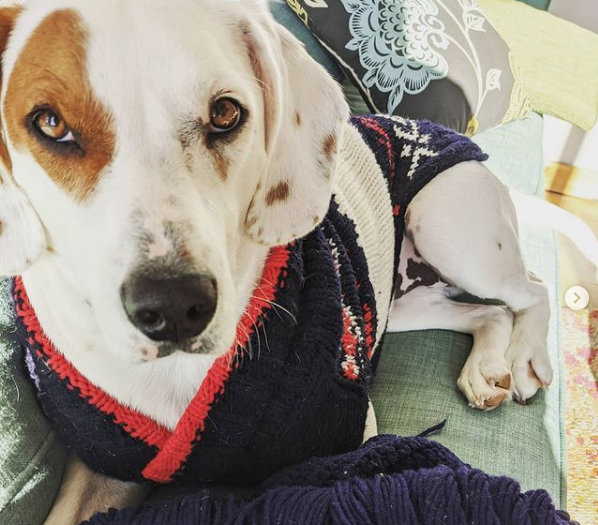 As a team, they produce a variety of delicious cheeses: soft, fresh cheeses throughout the summer and fall with a diversity of styles and herb blends, as well as some aged cheeses that are available year-round. Find them at farmer's markets in Teton Valley and Jackson, as well as at Barrels & Bins, and on a variety of restaurant menus around the valley. And when you take your first bite, you'll know that it came from a team of goats, cats, humans, and one enthusiastic dog — all of whom are blissfully happy and having the time of their lives at Winter Winds Farm.