A lightning strike that killed five and injured nine from Darby Girls Camp on August 1, 1951 was recently remembered when one of the survivors, Karma (Rasband) Lambert, now 79 years old, made the journey back to the site earlier this month. Lambert has had both hips and a knee replaced and the six-mile round-trip hike took her 11 hours. But she made it to the memorial honoring the victims and shared the trip with her family who had grown up hearing the story. Lambert had later returned to the camp as a counselor during her college years, but hadn't been back to the memorial for a very long time.
The following information was taken from written accounts by Lambert, her daughter-in-law Magen Morse, TVN archives and an interview with Lambert.
The incident
The morning was rainy. Karma and 37 other girls and their leaders met with Driggs citizen and avid scouter Fred Miller, who was to be their guide. There was some discussion about the weather preventing the hike, but suddenly the sun shone through the clouds and the trip was on. The girls at camp that week were all from the Idaho Falls area. Karma was with two of her classmates, Carol Engstrom and Bernice Malone, a younger girl, Merry Dee Severson and their leader Ora Holst.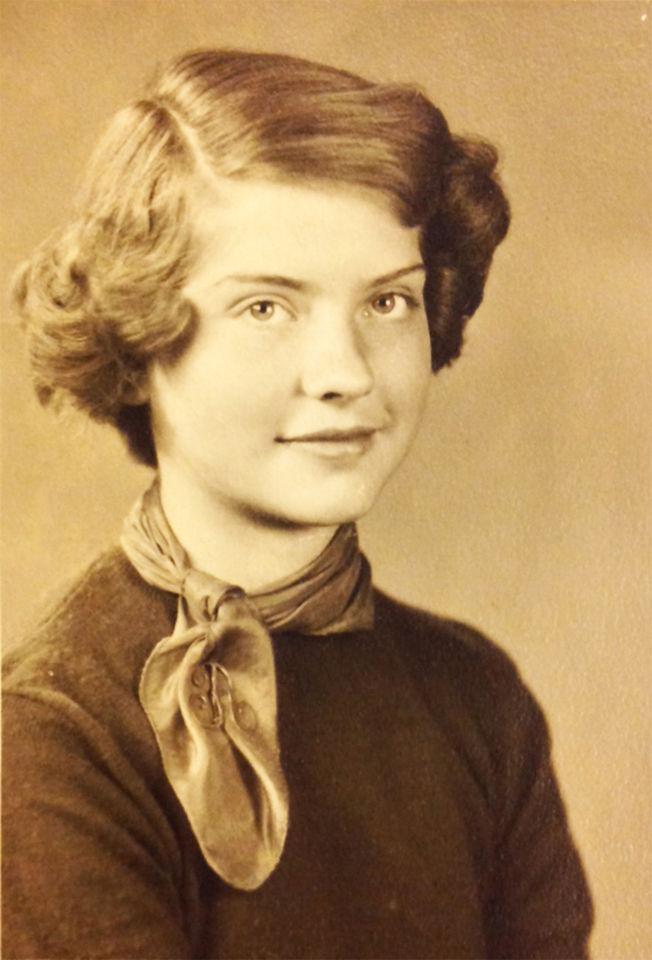 Karma said Carol was the life of all the parties and she and Bernice were not content to lag behind. Carol said she wanted to see if she could carry Mr. Miller's pack. It was heavy because it contained emergency equipment. Karma remembers Carol pestering Mr. Miller until he relented, thinking she would last only a few minutes. She carried the pack half way up the trail.
"It was a beautiful morning," recalled Karma. "We laughed, giggled and enjoyed each other's company."
When Carol and Bernice exited the cave, it was raining.
"They picked out the perfect spot for our lunch," wrote Karma. "It was underneath a Balsam Pine."
When Karma, Ora and Merry Dee came out of the cave they quickly joined them.
Lighting struck the tree they were under. The victims were leader Ora Holtz, Carol, Bernice, Merry Dee and Betty Kerney. Karma and eight others were injured. Karma was the only survivor out of the girls sitting under the tree.

Karma's nylon underwear was melted into clumps and the soles of her Saddle Oxfords were ripped off. The metal flashlight in her pocket had burned her hip.
What she remembers
Exiting the cave was the last thing Karma remembered. The next thing she knew, she was being carried down the mountain on a stretcher.
She said the rest of the story was what she was told by others.
Miller was the last out of the wind cave to make sure everyone was out.
Once he was out he yelled at the girls to move to the clearing because of the storm.
Karma and three others were taken to the hospital.
"I was really quite out of it," she said. Karma and one of the girls wore size nine shoes, which she said was rather large in that day. She said they had always teased each other about having big feet. In the hospital she remembers she was upset about being the only one left with size nine shoes. Karma said it was a silly thing to moan about, but "in other words, I was really sad to see my friends gone and my teacher gone."
Thoughts after
Karma felt guilty.
She said it was a great loss for the victim's families. They were all special girls. Carol, she said, was especially needed in her home. Carol's mother had been diagnosed with MS, her father was in the veteran's hospital and her sister was legally blind. She said it was so sad they couldn't be part of their families.
What she didn't realize at the time was that she was very much needed in her home, too. She was raised by a single mother who didn't own a car. The opportunity to go to camp was a big deal.
"It didn't occur to me that I was the only daughter and (my mom) really needed me too."
Ever since, she's been very nervous about lightning. He children grew up hearing the story and when it would storm they would go outside and dance around in the yard.
"I would have a conniption and chase them back in," she said.
The hike: 64 years later
The trip was incredibly challenging for Karma, but she was determined. She walks two miles every day, but the elevation and uneven trail made it a challenge. She has had both hips and a knee replaced.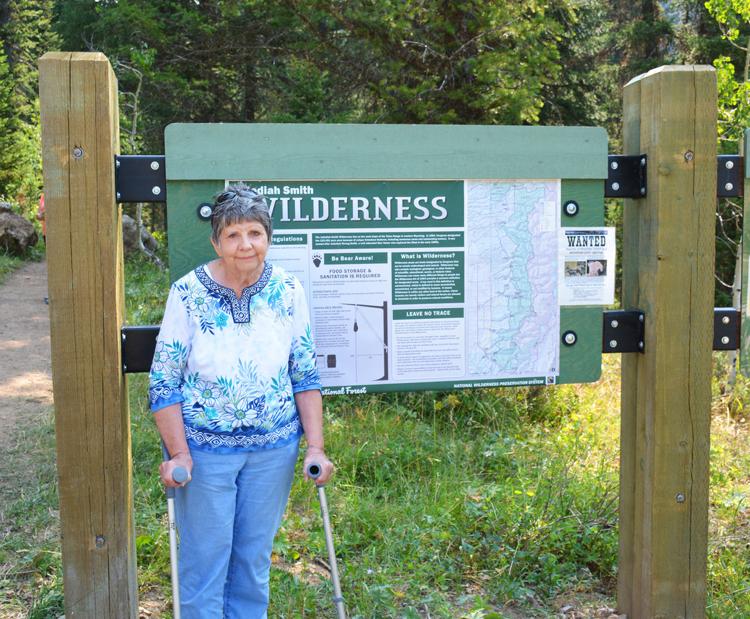 "I was really not up to the task," she said. "However, since I started, I hated to give up." They stopped to rest a lot and it took her all day to hike the 6.5 miles round trip.
Karma became a trail celebrity that day. During the many breaks, the family had the chance to share her story on the trail. By the end of the day, the hikers were all rallying around Karma, offering water, snacks and encouragement. A family from Michigan gave her a flashlight after they realized she wouldn't be done until after dark.
"I thought I would have to be carried down on a stretcher again," she said. "But just like all those years ago, when the community rallied around that horrible situation, I'm so touched by the kindness of all these strangers here today."
Meeting up again
She wanted to go to the funerals and see the families and tell them how much her friends meant to her, but the doctor had said she needed to stay in bed and keep quiet.
During the recent hike back to the monument she said she again thought about how much she missed them.
"I just hope, that good Lord willing, I'll met up with them again," said Karma. "I'd just like to tell them how much I've thought of them over the past few years."
The community
Karma, who now lives in Burley, Idaho, said Driggs has always held a special place in her heart. After the incident, she said Sheriff Loosli quickly rounded up men and horses to come to their aid and carry the bodies out.
Dr. Jensen also responded and went down the mountain with Karma part of the way to make certain she could breath on her own. Karma said Sheriff Loosli teased her the whole way down to help keep her conscious. He also personally called her mother to let her know Karma was alive.
Karma recalled meeting the daughter of one of the volunteer horseman that helped respond. The woman told her that her father was haunted by the memory of that day and always remembered the girl's long blonde hair hanging down across his horse.
The monument
A month after the tragedy, Karma and her mother, along with an aunt and uncle who drove them, Ora Holst's husband, Rasmus, and many others went back to the site of the accident to build a monument. Rasmus worked at a foundry and made the plaque that is on the monument. Horses carried the plaque and cement powder and they gathered stones from the area. Sixty-four years later, Karma said she stood by that monument "and remembered those five people and thought how much was lost that fateful day in 1951."
Recently, karma said she received a call from a scout in Teton Valley who wanted to build something explaining the monument for his Eagle Scout project and asked her permission.
"I said, well that's wonderful."