Teton Arts presents "On the Wings of a Song", a multimedia art exhibit by Mary Lou Oslund and Sydney Smith, at the Teton Arts Gallery, May 21-July 17 inside the Driggs City Center Building. An opening reception is scheduled for Friday, May 21 6-8 p.m. with light refreshments and music by Bev Charette. The City of Driggs' Covid protocols include wearing a face covering and physical distancing in the gallery.
An ode to the pandemic, this project expands on a previous collaboration by the two artists. For this exhibit the artists worked miles apart on a theme dear to their hearts — birds of all kinds. Show sponsors include the Idaho Commission on the Arts, the National Endowment for the Arts, and Teton Arts.
Mary Lou and Sydney have known each other 56 years. They attended Kansas City Art Institute together and bonded over their love of nature and how to present the theme artistically.
After graduating from the art institute with a BFA degree, Mary Lou received a Master's in Education from Colorado State University. She also earned her Master and Craftsmen degree, is a Certified Professional Photographer and has received the National Award from Professional Photographers of America. She is also a life member of Professional Photographers of Idaho and a member of the American Society of Photographers.
During her career, Mary Lou worked as a professional photographer for universities and corporations, owned two photography studios, and taught photography, art and technology at the high school level.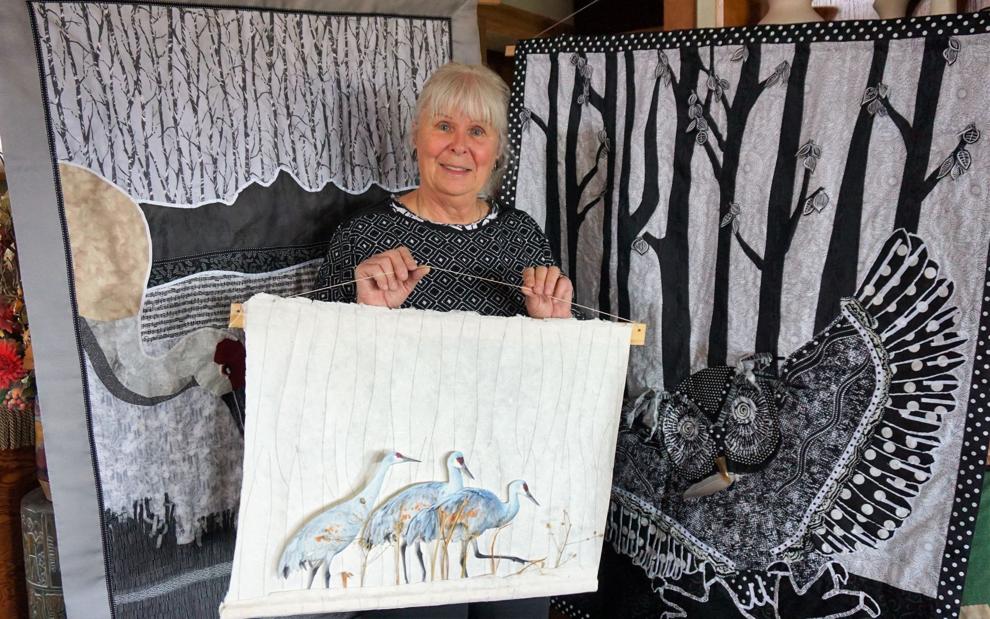 Currently, she has a studio in Teton Valley and is recognized for her murals, calendars, and fabric arts at craft fairs and farmer markets. She also experiments with fused glass and quilting. Mary Lou creates wildlife images, as she documents what is happening to the environment. She has exhibited in Idaho, Arizona and Colorado.
Sydney received a BFA in painting and drawing from the Kansas City Art Institute and a Master of Arts from the University of Iowa. She taught art and multiple subjects in elementary schools in the Los Angeles area before retiring and moving to the East Coast. Sydney coordinated a yearly show of student art work at USC. She also wrote grants for the Performing Arts Magnet that allowed all grades in her school to receive ceramic classes with graduate students.
Sydney has studios in Worcester and Beverly, MA and exhibits in both locations. She creates in a variety of media including pastel, acrylic, watercolor and woodcuts, exploring abstract patterns in nature with line and color. Currently, she is collaborating with her brother and illustrating his children's book called "Run Away Puppy". Sydney also illustrated the Eldon Elf book series written by Annette Williams.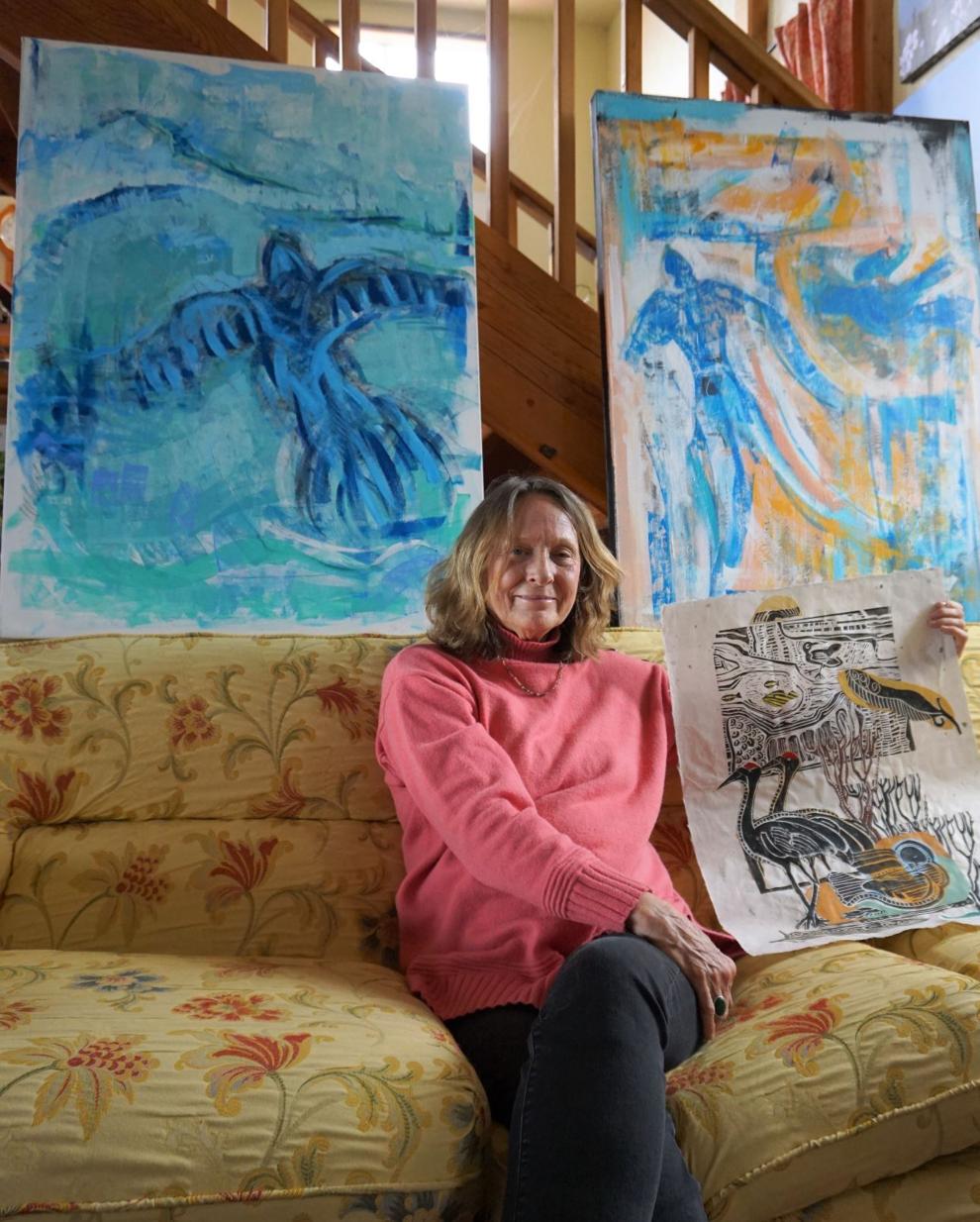 Mary Lou and Sydney meld their artistic talents for this collaborative Teton Arts exhibition, highlighting birds like the graceful Sandhill crane, colorful blue bird, elegant Trumpeter Swan, inquisitive owl, alert hawk and curious loon. "On the Wings of a Song" is a perfect title for the exhibit by two talented artists. Mary Lou and Sydney seem to "fly" in perfect unison, blending their art intuitively.
During this past year of the pandemic, both artists found solace in their own yards. In the city or the country they listened, watched, and gained insight from their feathered friend's habits. The daily ritual brought comfort and healing while staying home.
These two artists created individual pieces for the exhibit while also exchanging canvases, fabric, and photographs through the mail. Trusting each other implicitly, they literally worked on the other's pieces without a preconceived notion of artistic outcome. They experienced a deepening of their friendship through this unique process that infused new energy into their collaboration and finished artwork.
When asked about the exhibit, Sydney said it was because of their friendship that she has worked so hard and travelled to Teton Valley to be a part of it. "It's a tribute to Mary Lou and all that she meant to me on my life's journey. This friendship has been full of caring and believing in each other which goes beyond words and is a very strong connection that goes all the way back to our days in college. This exhibit is very special to me as we come out of the pandemic…. It has literally been a life line for me both personally and creatively."
And Mary Lou said of Sydney, "It goes back to working on an exhibit some forty years ago when we had a two person exhibit in Deadwood, SD. Sydney was visiting us in Rapid City, SD and we were checking out the tourist sights in Deadwood when we found this wonderful gallery in an old building. After being told by the gallery director that we could have an exhibit together, we walked outside and found a colorful butterfly on the walkway and it became our inspiration! We both took the metamorphosis of the butterfly and worked on the exhibit in two different locations, Rapid City SD and New York City, NY for about six months. What we created in that gallery environment was so magical! Visitors to the gallery talked about it in glowing terms and the memory still brings a smile to my face. It was an experience that stays with you over a lifetime."
"Because of this unique experience, I knew we could do it again! We are committed people whose friendship is made up of teamwork. Working on this exhibit gave us both an outlet to be creative and we felt less isolated during the pandemic! Over the last year, we grew our exhibit by discussing ideas and techniques and even sending artwork to each other to work on. The desire to fill a gallery with our combined artwork kept us going toward our goal. As we hang this exhibit, we celebrate what we created with our friends, family, neighbors and visitors in Teton Valley both physically and virtually!"
The website to view the exhibit will be www.tetonarts.org/shop after May 21, 2021.