Teton Valley Health Chief of Staff explains the seriousness of COVID-19 in Teton Valley
Just before the Governor of Idaho issued a 21-day statewide order to stay at home, Dr. Erin Prissel, the Chief of Staff at Teton Valley Health, Teton County's largest medical facility, pointedly said on Wednesday that the cornonavirus, COVID-19, is here.
"I do think community spread is here," said Prissel in an interview with the Teton Valley News. "As you look at the graph, the prediction is that we will see an increase in East Idaho and all of Idaho. That trend is expected to continue for an unforeseen amount of time."
Teton Valley Health released a graph model based on current Center for Disease Control trends between February 12 through March 16 of what could happen here, should Teton Valley residents do not heed the message to stay home and and self-isolate. The graph is based on an estimated population of 13,500 residents in Victor, Driggs, Tetonia, unincorporated areas of the county, and Alta, Wyoming. The graph is set up to show both high and low numbers of people who will need hospitalization, require ICU care, and deaths.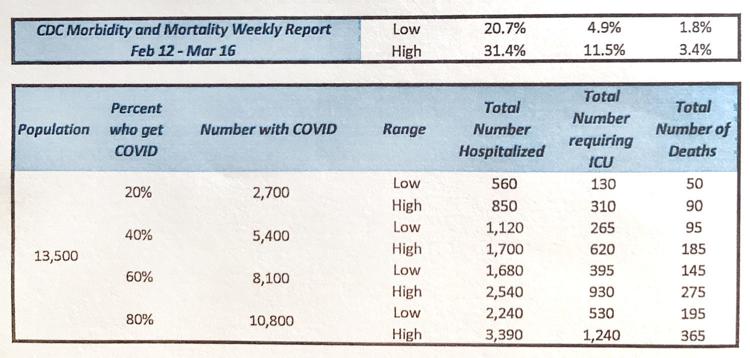 "The cat is out of the bag and our community was exposed and every person counts," Prissel said of working to flatten the curve and self-isolate.
Prissel acknowledged the shortages in testing availability, but added that despite the lack of information gleaned from increased testing for COVID-19, "We know what will happen by looking at what's happening in other countries."
"Do I think I've seen cases (of COVID-19) that are mild, yes," she said of patients at Teton Valley Health. "I send them home and say, don't pass it around. I say that whether it's flu, RSV, the rhinovirus, or corona. Most people are responsive to that. We really want to save the tests for patients with known exposures."
Teton Valley Health CEO Keith Gnagey said today that he and a group of community members are working to raise funds to purchase testing equipment. A press release today read, "We're actively working with emergency management, state officials and suppliers to increase our supply of PPE (personal protective equipment) and testing media. Public and private labs are working to increase lab capabilities. We have also assembled a group to try and raise money and procure testing equipment and media that would allow us to perform significantly more tests and to return results within an hour of the test."
The press release identifies Teton Valley Hospital board vice chair Dr. Mike Wine along with Director of Philanthropy Jessica Pozzi and community members John and Linda Unland.
In a follow up with the TVN, Gnagey said he was not sure how much money was needed to accomplish the goal, but hoped to secure 10,000 kits.
Prissel said she's been asking local, regional and state officials to mandate a stay at home order (which the governor passed today, Teton County issued a notice). She said the time for waiting for government action is over.
"Everyone here has been really focused on preparing for four weeks," Prissel said of TVH. "We have a gift of little bit of lead time so when people start showing up to the ER, we can take care of them. The testing is a national problem. But to wait for the government to step up to the plate — I cannot stress enough that the spread has already to occurred."
Gnagey said that the hospital has been in communication with the Church of Latter-day Saints to use the neighboring stake house if there is need put patients in that building. In a worst case scenario, the Armory will be needed to house more patients.
"We do not have an ICU," said Prissel of the 13-bed critical access hospital in Driggs. "In the worse case, the health care system is overwhelmed. That's what is happening in New York, that's what happened in Italy. Once you start, the numbers keep increasing."