A day before the final two county-level mask mandates expired in eastern Idaho, two of the region's most populated counties were the nation's worst COVID-19 hotspots.
The metropolitan area of Idaho Falls is the nation's top hotspot for new coronavirus cases by population over the past two weeks, and Rexburg is close behind in third place, according to the New York Times' coronavirus outbreak tracker. A White House Coronavirus Task Force report from March 12 lists both Idaho Falls and Rexburg as the only two metro areas within Idaho that are in the "red zone" for high rates of infection and positive tests.
From March 1 to March 17, 1,201 Bonneville County residents have reportedly been infected with the coronavirus, according to the local health district. In Madison county, 312 new infections were reported so far this month. Across eight mostly rural counties in Eastern Idaho Public Health, 1,817 new cases were reported in that time. The state of Idaho, meanwhile, reported just under 5,000 new cases, according to state numbers.
It's not the first time Rexburg has been that high on national charts. Last fall, as thousands of college students returned to the roughly 40,000 population area, it became one of the nation's worst hotspots, according to the Times.
The latest hotspot designations cap two weeks of reversals in eastern Idaho's coronavirus infection decline.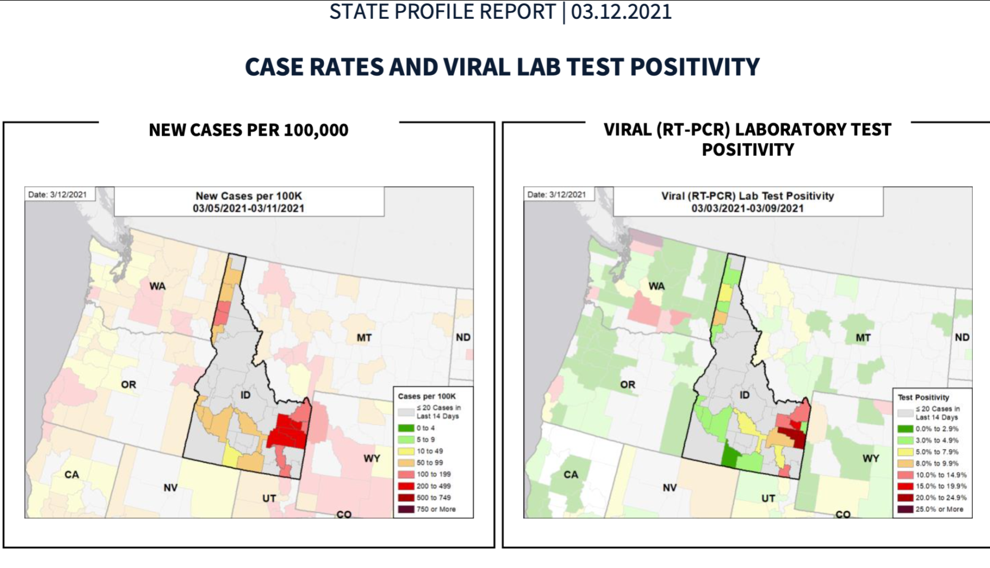 The rapidly rising infection rates for eastern Idaho have come after regional officials stepped away from issuing any pandemic control measures, despite warnings of more infectious virus variants. On March 4, the Eastern Idaho Public Health board voted to stop issuing mask mandates as routine orders of business. The health board set the last two mandates, in Teton and Bonneville counties, to expire on March 18.
Rural and metropolitan areas alike in the region have driven up the state's reported coronavirus case count, flooding hospitals with more COVID-19 patients and pushing intensive care units to stress levels unseen since last November, when hospitals narrowly approached a resource crisis that would've left the sickest to wait to access precious resources while doctors try to save people with the best chance of survival.
By Tuesday night, about 90% of all staffed ICU beds in the region were full. An average of eight were available over the past three days, according to the health district. In Idaho Falls, which holds the bulk of the region's less than four dozen staffed ICU beds, four of 39 beds were free last week, the Post Register previously reported.