Donation-funded food goes to essential workers
On a breezy Friday afternoon, Devin Dwyer and Corinne Wicke ferried over 30 milkshakes from the Corner Drug in shopping carts to the employees of Broulim's.
"It wasn't that warm out, but the employees were stoked about it," Dwyer said later about the milkshake delivery.
The treat was funded through donations to Teton Valley Boost.
Last month, a Jackson realtor and Instagram influencer started the crowd-sourced movement The Hole Quarantine to support Jackson businesses while providing meals and gifts to health care workers. Inspired by The Hole Quarantine, Dwyer and Wicke decided to start Teton Valley Boost, but they ditched the idea of "quarantine," because, Dwyer explained, the community will feel the effects of the pandemic long after doors reopen.
"No one really knows what it'll be like, but businesses will need a boost for a while," she said.
Since Teton Valley Boost was launched just a few weeks ago, they've received several thousand dollars in donations and have been able to deliver boosts nearly five days per week. Jackson photographer Lindley Rust contributed to the fund by donating the proceeds from a series of front porch portraits for valley families, and Dwyer has more artist partnerships planned out.
So far they've patronized Badger Creek Cafe, Yeti's Post, Big Hole Bagel, Alpine Air Coffee, Corner Drug, Naughty Fruit, and 460 Bread, and expanded beyond health care workers to supply a pick-me-up to other essential employees who don't have the option of working from home, including law enforcement officers, first responders, post office employees, pharmacy employees, assisted living facility staff, and trash haulers.
"It's so fun," Wicke said. "I feel like I've learned so much about the community already."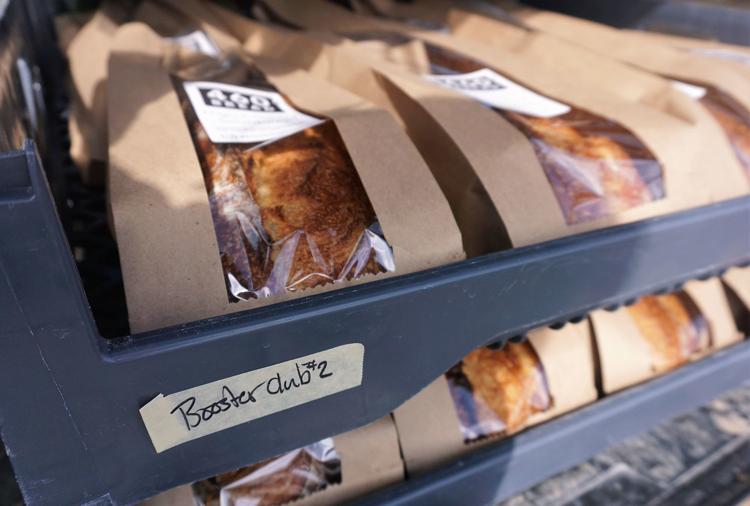 She and Dwyer had already talked to Ty Mack, the co-owner of 460 Bread, about buying bread to distribute, when serendipitously one donor sent money specifically to supply a 460 loaf to each of the 152 Teton Valley Health employees that work at the hospital and clinics. On April 22, Dwyer and Wicke shuttled the loaves of 460's new High Country Sourdough over to Teton Valley Hospital, where administration was tasked with distributing them to employees.
While grocery store business has been bustling for 460 Bread, restaurant closures have impacted sales, said Mack, and he and his staff were happy to get the big order from Teton Valley Boost.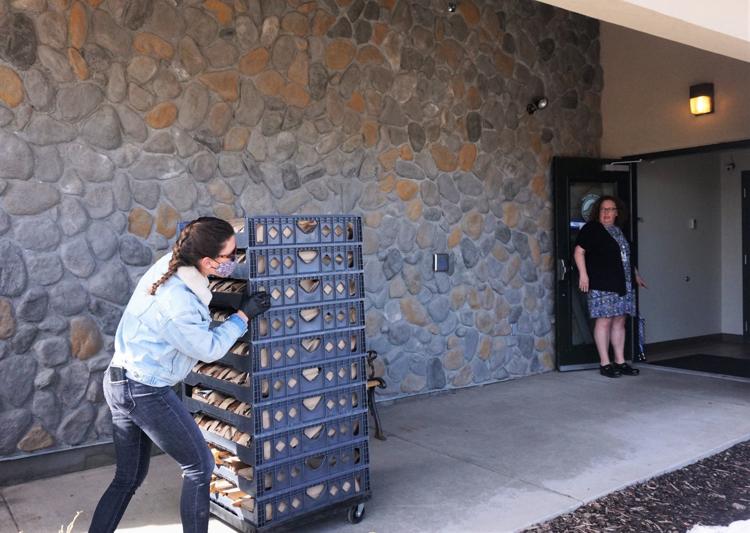 Dwyer and Wicke are also supporting salons and other businesses that are closed by buying gift cards and giving them away. They have a couple flower shares from Red House Flowers in Victor to give away or distribute to seniors through Meals on Wheels deliveries. They're thinking about future recipients like gas station employees, transfer station staff, and bus drivers, and also intend to circle back to give another boost to past recipients. The next planned boost, if Teton Valley Boost raises $550 by this Friday, will be for school district lunchroom workers.
"It's been a blast supporting businesses and essential workers," Dwyer said. "Everyone has been so excited."
To donate to Teton Valley Boost or send a note of thanks to essential workers, go to tetonvalleyboost.com.